//end headline wrapper ?>
Get a daily rundown of the top stories on Urban Milwaukee
For a while, it seemed that Milwaukee was anything but bike-friendly. Sure, most streets have incorporated bike lanes and Milwaukee's  messengers proved to be the hardest of the hardcore, braving sub-zero temperatures with an almost eerie sense of ease and determination. Now with the advent of bike racks on our buses (slated to be installed by June 30), the revitalization of some of the city's better riding paths and more inclusive group riding events we're seeing more riders on the roads and coming to appreciate this clean and energy efficient mode of transportation.
And yet there remains a bit of apprehension for some when it comes to biking in the city. Some fear that riding in an urban environment is unsafe, that commuting by bike is time-consuming and takes too much effort. In this series I'll be hanging out and riding laps with some of Milwaukee's biking bon vivants to celebrate the culture of cycling and take in a view of Milwaukee that you can only get on two wheels, beginning with the Riverwest 24 Hour Bike Race.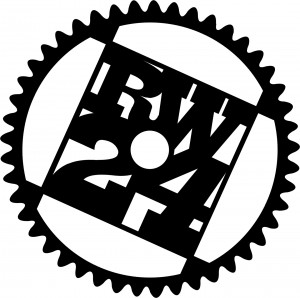 The RW 24's mission statement reads:
"Riverwest 24 is a community event that has as its goal to build our neighborhood. By encouraging bikers and spectators to come out for a full day we hope to show off Milwaukee's Riverwest neighborhood and encourage biking in an urban environment. Through this exercise in stamina, team work and merriment we hope to build an event that all people in Milwaukee and beyond can enjoy by participating in, volunteering for or by cheering for the riders."
Last summer, during what was arguably the hottest weekend of  the year and when gas prices were teetering around almost $4 a gallon, riders in the 24-hour bike race were shredding the streets. The concept is simple: the race is open to anyone 18 and over in several different categories (tandem, solo, team) and racers  ride throughout the night and day. The individual/team that  makes the most laps  in 24 hours is the winner in their respective categories. Along last year's route, riders engaged with neighborhood residents at block parties, got punk-rock haircuts (among other things) at bonus checkpoints and took in a view of the neighborhood that is seldom seen. The turnout was epic, with riders coming from all over the state, old and young, male and female to tough it out for a full day of cycling.
And, amid the chaos, the sense of community was overwhelming. Alderman Nic Kovac gave a moving opening speech, a neighborhood church and the Riverwest Co-op hosted meals for the riders, block parties abounded with live music and pit stops and, quite possibly best of all, Xav Leplae, owner of Riverwest Film & Video, dominated the solo category with 50 laps wearing flip-flops and riding a mountain bike.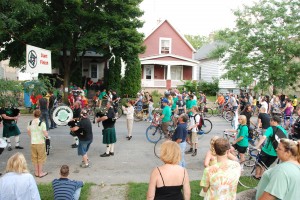 The entire event is not for profit: all riders pay a minimal entrance fee to cover the cost of t-shirts, water bottles and meals, but the rest comes from community donations. In addition to some AMAZING prizes that were donated by shops and retailers (including a Flying V ukulele!!!), winners for each category received one-of-a-kind awards made from scrap bike parts and crafted by a Milwaukee artist. It was a whirlwind weekend for everyone involved, and this year promises more of the same. I sat down with co-founder and organizer Paul Kjelland to talk about the origins of the RW24, what it means for Milwaukee and what's in store for the future.
TCD: How did the RW24 originate?
PK: In the spring of 2008, Chris Fons came up with the original idea. Jeremy Prach and I had just done the Baja 1000 with other motorcycle riders from Milwaukee, so between that and Chris Fons saying that we should do a 24 hour bike race in Milwaukee, we kind of put all the pieces together with Mike McGarry and Kelly Hillard and just started planning.
TCD:What were some of the first steps in organizing the race? What were some of the difficulties in putting it all together?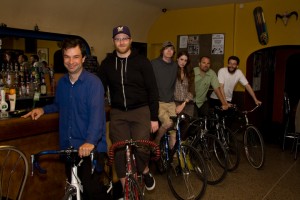 PK: I think the most difficult part was just spending the time to figure out what this thing was, because when you first say "we're gonna do a 24 hour bike race," you think "alright, let's do it." Thinking about what you would actually need to do to  put on a bike race and what it really is — that took the most effort.  It was challenging, because everyone had a different vision. But throughout the planning, everything just sort of fell into place and it allowed the race to be really organic.
I think the most important part about the bike race is that we set it up to let it become what it wanted to be, if that makes sense. We set some parameters — we picked the date, we picked the course, made some rules  — but the best part about the race is that … once we set up the parameters, all of these other people could take their ideas and plug them into a time frame. That's how we ended up with all of the different bonus checkpoints and community groups … because they were able to make one segment of [the race] and make it their own.
TCD: Tell me about some of the bonus checkpoints from last year.
PK: The bonus checkpoints are a way to showcase the neighborhood culturally and the diversity of business and non-profit organizations and collective groups of people on the neighborhood. It gets you through the doors of places that you wouldn't normally go to and makes you feel more comfortable going to them again. It's a combination of that and just exploring the neighborhood and what it has to offer — the different cultures, the different types of people.
It gets people out of their element too. Last year, Club Nutz was really great. It was a tiny room in the top floor of a warehouse building. There was a guy up there dressed as a cowboy and you had to tell him a joke. You would have to tell him a joke on the spot, and you only got points if he laughed,  so it just forced you to interact with this crazy character.
TCD: How was the turnout last year in terms of people from Milwaukee vs. those from out of town?
PK: It was pretty regional. We had some people from Appleton, a group from Sheboygan and some from Madison. One thing that I think will be different this year is that there will be a bigger draw, just from looking at where the website is being accessed. We're getting hits from all over the country, probably from people that are interested but might not actually come, but we're getting a lot of Midwest interest.
One of the things that we really tried to push this year was that, even if the race doesn't get huge — and I know that it will keep growing in numbers over the next few years as things become more organized and word spreads — but, I think a really important aspect about this race is how inclusive it is. Anybody can participate, and spreading that idea has been a big push this year. It can be really empowering to get other people to do stuff like this.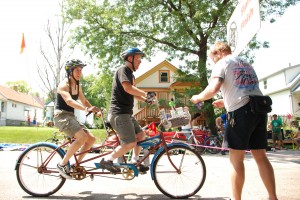 TCD: I think one of my favorite things from last year was seeing the variety of people that came out to race.
PK:It's for people who just like to ride their bike; that's what this event was about from the beginning. We wanted to make sure that everyone knew that this was for anybody of any ability. Even if you don't want to ride, there are still ways that you can help this thing happen. For me, it's less about bikes and more about getting people to interact with each other. It's one thing to go to a street festival, where you run into a group of friends and just hang out with the people you know. Last year, I had so many people come to me and tell me about how they met all of these great people and didn't even know that they lived in the same neighborhood. Just the camaraderie of it, when you know that everyone has something in common — that's what was really great about it.
TCD: So … how do you fund this? Do you rely on sponsorships?
PK: We set the race up to be completely self-sustaining. The entry fee covers a t-shirt, water bottle and two meals, but beyond that it was nice to be able to take in this money from wherever the people were coming from and filter it to places like the Riverwest Co-op, or use it to take care of others in the neighborhood. People didn't donate money to us and we didn't ask for money. We asked for prizes for the riders or maybe food for the meals. We're just kind of helping to connect people in a sustainable economy.
TCD: Are there any changes coming up this year?
PK: Well, the route is different, but I don't think the race itself will change. Obviously there will be changes every year because different people will be stepping in, so I'm sure that certain things will be different. We'll have an opening ceremony this year and rumor has it that there may be bagpipes again. There will also be different bonus checkpoints this year. Other than that, things will hopefully run a bit smoother.
TCD: Does that mean that you might actually get to relax a little this year?
PK: [laughing] Yeah! I hopefully won't be up for 48 hours before the race and then another 24 for the actual race!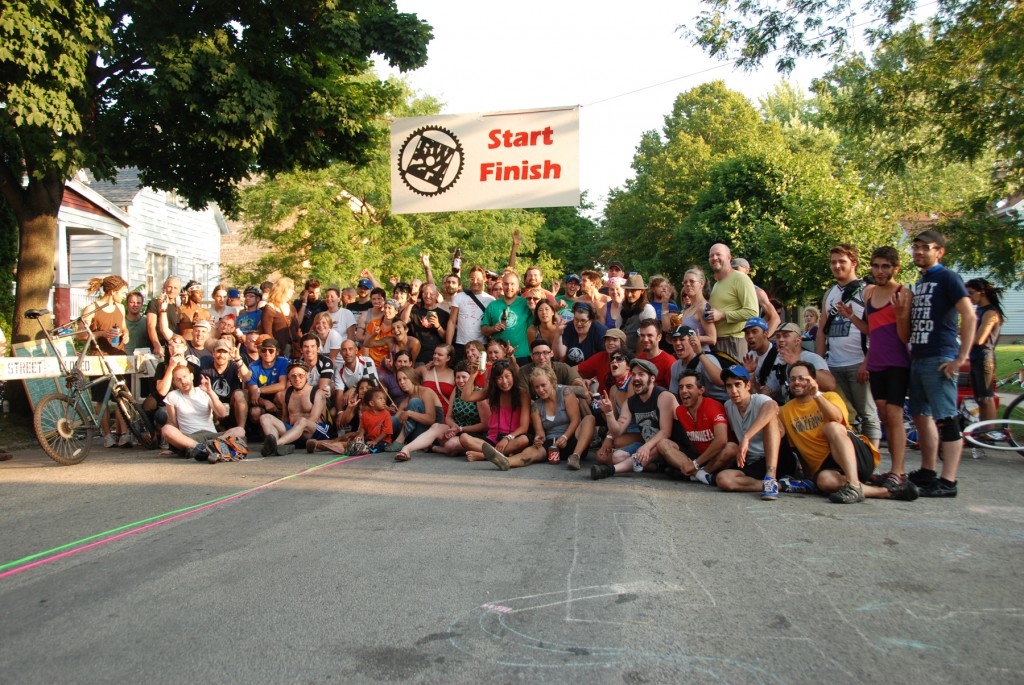 This year's RW24 gets into high gear on July 24, but don't want until the last minute sign up- Your $20 entry fee will help ensure that everything is in place come race day. Volunteers are stilled needed at checkpoints, to  help with registration and to host bonus checkpoints. Visit www.riverwest24.com to see how you can get involved, and join the Milwaukee Bike Federation on Friday, July 10 for the premiere of the Riverwest 24 documentary!