Get a daily rundown of the top stories on Urban Milwaukee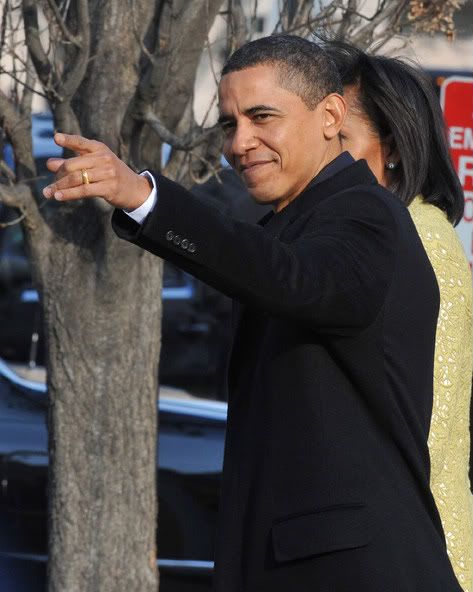 (Getty)
We just inaugurated a young, smart, black, basketball-playing president and said goodbye to George W. Bush. Expectations aside, overblown or otherwise, something feels cosmically righted today.
I was too young to vote during the 2000 elections, but I spent a lot of energy protesting the Bush campaign, and when he was reelected in 2004, the mood on our small liberal arts campus was dejected, and angry. It was drizzling, cloudy and cold. I watched a normally level-headed and considered professor throw a student out of our discussion group in a fit of frustration.
Today we had a humble potluck at the office, with veggie tacos and pasta salad and some cheap champagne leftover from one of our gallery nights. There were just a few of us, but the mood was gleeful, and together we watched the what may have been the most joyful civic moment of my life. For almost a decade, it's been hard to feel stirred or called to action by moments of national togetherness given the heavy, dampening hand of the Bush administration and every form of war they waged. Even the fortifying unity of protest and dissent became exhausting over time; if neither the UN nor the biggest anti-war protests of all time couldn't stop the President, there was a feeling that nothing could — not even, perhaps, the 2008 election.
But this morning we all hugged each other as we watched W.'s helicopter disappear on the horizon, roused and comforted and ready to move on. Barack may be inheriting the country's most dire climate ever, but I don't think that our grand expectations will cripple him, nor do I expect that it will take a miracle for him to succeed. In fact, his primary strength as president may be the incredible ability he has had so far to inspire a massive shift in public attitude, erase a thick layer of chalky cynicism in one sweep and rally the world's adoration.
We all got misty this morning as we watched — and felt — the turf of history shift underneath us. For most of my adult life I've felt that we lived in a world too treacherous to bring new people into, but I have never wanted kids so badly as I wanted kids today. The call to take the momentum of the last 12 months and use it to take responsibility for our future and the future of our country and the world resonates:
In the year of America's birth, in the coldest of months, a small band of patriots huddled by dying campfires on the shores of an icy river. The capital was abandoned. The enemy was advancing. The snow was stained with blood. At a moment when the outcome of our revolution was most in doubt, the father of our nation ordered these words be read to the people:
Let it be told to the future world…that in the depth of winter, when nothing but hope and virtue could survive…that the city and the country, alarmed at one common danger, came forth to meet.
America. In the face of our common dangers, in this winter of our hardship, let us remember these timeless words. With hope and virtue, let us brave once more the icy currents, and endure what storms may come. Let it be said by our children's children that when we were tested we refused to let this journey end, that we did not turn back nor did we falter; and with eyes fixed on the horizon and God's grace upon us, we carried forth that great gift of freedom and delivered it safely to future generations.
The time has come.