//end headline wrapper ?>
Get a daily rundown of the top stories on Urban Milwaukee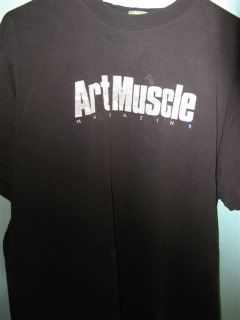 Possibly the last remaining Art Muscle t-shirt in M'waukee? Born at 9th & National in the days when we had a great big beautiful art publication, this shirt is from "Fruit Of The Loom." At one time, AM's shirt inventory included long-sleeved versions. Art Muscle also sold pocket protectors, buttons and coffee mugs, and oh yeah, the shirt was available in black with white letters, or white with black letters. Just so you know.
Wearing one of these t's meant you were with it, hip & hot. A fellow blogger wrote that he'd personally order four, if only they were currently available. Actually he bought the last remaining t-shirt before AM closed their doors. "I'd have driven 50 miles to get one," he admits, though it's unclear if he still has his.
If anyone out there still has an ART MUSCLE shirt, write Stella Cretek pleeze. In the meantime, you might want to consider a Vital Source t. To wear one is to be hip & hot.