Open Letter to Mayor Barrett Concerning Transit
//end headline wrapper ?>
Get a daily rundown of the top stories on Urban Milwaukee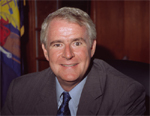 Mayor Barrett,
On Monday, November 10th, your representative to the Regional Transit Authority (RTA), Sharon Robinson, will cast an important vote for the future of transit in our city and region. We write to you to encourage her to vote "yes" to any sales tax funding proposals. While we have recently outlined why we think RTA's are an efficient way to deliver regional services, we have a few more things we think you should consider.
Milwaukee's transit system (MCTS) is in a sad state. Route cuts, service reductions, and fare increases have been the outcome of ugly budget battles. While MCTS is managed by Milwaukee County, and is paid for by the state of Wisconsin and Milwaukee County, it would be foolish to think the city does not have a stake in the game. The transit system constitutes a large part of the image of Milwaukee and is heavily used by city residents. With the RTA managing regional transit, you will have gained some control of a system that is critical to the life of the city. Today you have zero votes on how the system is managed, tomorrow you can have 1.
The creation of a regional transit authority that actually manages transit will improve the image of the region by ultimately bringing all the systems under the same branding and management. This should make the transit experience both less confusing and more appealing for residents and visitors. This will also end the question of "who runs Milwaukee's transit system?" A straw poll of ten people on the street would certainly reveal a significant number who believe the city is responsible for the buses.
This is a regional effort for a region that has been very fragmented to-date. It would be a big win for you to say you're working for the city and the region.
This is the start to building the funding mechanism to unlock the $91.5 million in federal funding for a new starter system. This is a way to end the deadlock with Scott Walker.
The Milwaukee County 1% Sales Tax Advisory Referendum recently passed, a clear sign that residents are ready for change.
The business community is behind the RTA. They are ready for regional governance that can get their employees to and from work. Transit Now has a lengthy list of supporters.
Please join your counterparts from Racine and Kenosha in voting yes for a true regional solution on November 10th.
Sincerely,
Jeramey Jannene & Dave Reid