Get a daily rundown of the top stories on Urban Milwaukee
By Erin Wolf, DJ Hostettler and Amy Elliott
Photos by Erin Landry
No musician is an island, and in the music biz, it's all about who you know, whether you're a mainstream corporate unit-mover or a DIY street punk. Even the rare musician who does it all – writing, designing, photographing, recording, mixing, mastering, promoting, booking and fixing – needs to collaborate to stay fresh (and sane). And in Milwaukee, "it's who you know" tends to take on an egalitarian, community-based context. You can have the songs, the chops and the style, but what do you do when you need band photos – and everyone needs to be in front of the camera?
We caught up with four local musicians and the local artists, photographers, technicians and production teams that help them get the job done to discuss their working relationships and the friendships they've formed. We may not have built this city on rock and roll, but in the end, it's all about the love.
The mechanics of instrumental romance
"I've screwed up my guitars plenty of times," says Quinn Scharber, head of Milwaukee four-piece Quinn Scharber and The … "I can specifically recall winding my strings backwards on the tuning pegs multiple times in my younger days."
Quinn started playing on his brother's cheap electric guitar, then got an acoustic, which he still uses, when he was sixteen. "I'm glad I started on electric, because all I really wanted to play at that time was 'Whole Lotta Love' by Led Zeppelin, and that song is pretty hard to rock on an acoustic guitar."
'Rocking' a guitar can take its toll. Constant strummings, pickings, tunings, jolts, cable ins and outs, amp fry-age and normal bumps and bruises require maintenance and repairs. Scharber's first experiences in instrument mechanics came up short. "I think the first time I had work done on my guitar was when I was in college and I needed the electronics replaced on it … They charged me a lot and I had to take it back in two times to get it done right," he recalls. Scharber soon started to shop around, and found a trusty and skilled 'guitar mechanic' in Jeff Benske of Top Shelf Guitar Shop in Bay View.
"I just stopped in there one day about five or six years ago with [bandmate] Thom Geibel when we were having a 'let's go check out some guitars' day. I've pretty much been hanging around Jeff's shop and pestering him with questions ever since."
Says Benske of his first impression of Scharber, "He started off buying the usual parts and then came in with some non-standard projects … some custom stuff," he said. Quinn's whip, a tricked-out Epiphone Casino, hasn't changed over the years. "We've done the electronics in it, and it's set up just the way he wants it."
Scharber appreciates the work that Benske has done with his Epiphone. "I take my guitars to Jeff because he'll do it right the first time, and he can usually get it done in a short amount of time. If my gear is properly working before a show, it's one less thing I have to worry about."
Benske says, "Quinn's usually pretty on top of things … he's always got a backup plan."
Adds Scharber, "Jeff isn't the type of store owner who's going to try to sell you crap you don't need or make repairs that aren't necessary. And he's dependable. He'll also point you [toward] someone who can get the work done if it's not exactly what he specializes in, rather than risking something. I have a lot of trust and respect in Jeff and his shop, and I think that's the most important thing when turning your instrument over to someone else."
Sound and vision in the eye of the beholder
A bad promo photo isn't always a deal-breaker when it comes to a musician's success, but it sure can't hurt to have one that's good. That's what The Celebrated Workingman had in mind as they sought out photography to promote their new album, Herald The Dickens. Lead singer/guitarist Mark Waldoch says, "It's surprising how often bad photos go hand-in-hand with a bad band. I worked [at Atomic Records] for so long and saw some real doozies.
"I don't believe that a photo 'makes or breaks' a band. Bad music does. I read an interview with Steve Albini once, and he said, 'A band has a responsibility to know when they're just bad.' … If they can't figure that out, most likely their photo and artwork has a good chance of being horrendous. Most bands just look milquetoast from their band pics to critics and reviewers, anyway."
Luckily for The Celebrated Workingman, they have the chops to stand up to the recent photos that local photographer Jennifer Bastian snapped. Mark says, "Our record label owner, Brian Kirk, introduced us, and she pulled it together on a moments' notice. Spectacular!"


Photographer Jen Bastian
Bastian, who has been photographing since she was 11 years old, when she had "this little purple 110 camera with a mint green button to trip the shutter," had only recently begun to shoot for musicians.
"I had done some photographs for Quinn Scharber, whose band I've shot before during a couple of shows as well. I'm sure [I took] some terrible high school photos of friends' bands at some point, but I do think photographing The Celebrated Workingman was my first experience photographing a band I knew very little about."
Waldoch adds, "We wanted simply to get it done. We had no money – Jen was paid in Maker's Mark, I believe – and we needed it to be the best it could, and it is! In the beginning, we brainstormed doing [a photo shoot] in a courtroom or taking pictures of only our feet, but really, we just wanted a new photo of us, being us. That's the best we hoped for. Nothing convoluted or too staged in appearance."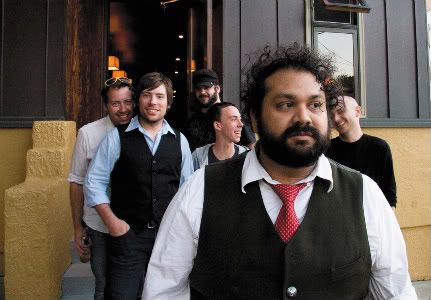 The Celebrated Workingman, photographed by Jen Bastian
Going into the shoot, Bastian wasn't very familiar with the band's music, but she knew Mark – and she knew she'd be able to play with whatever came along.
"I rarely do any thorough research about subjects. I want to meet them as people and imagine what they need from me, figure out what will show who they are without any frills. I suppose this is a form of 'winging it', but it's also a method of looking for the most honest exchange possible between photographer and subject.
"[I think] about things from the point of view of musicians and consumers of music, because in a sense you are attempting to capture and show the persona or image of the band. This isn't something I have to think about regularly, so it's a totally fascinating challenge."
From the look of her work, she's up for it.
Where art meets craft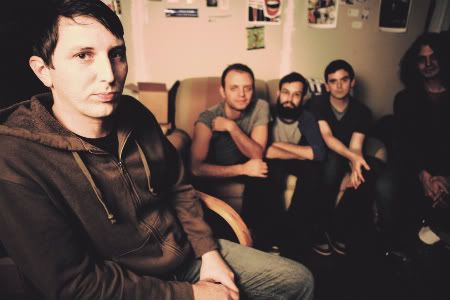 Brian Kriederman (left) with Disguised as Birds
The tried and true method of show promotion (besides word of mouth, of course) is the show flier. In bold black and white or color, adorned with the usual suspects – band(s), venue, date and time – they're dually regarded as valuable carriers of crucial information and works of art on a pint-sized canvas. Employing both original artwork and lifted images, the show flier also serves as a documentation of a certain band, genre or era. Milwaukee graphic artist Brian Kriederman's fascination with this art form dovetails with his interest in music. "The first album cover that really caught my eye was Sunny Day Real Day Real Estate's album Diary," he remembers. Kriederman's been tacking his self-created fliers at local venues ever since he started delving into the art form.
"One of my grandpa's hobbies was painting, and I remember sitting at his basement workbench when I was probably six or seven, drawing or tracing birds or whatever, while he sat at his easel painting still lifes of fruit baskets, flowers and landscapes." Kriederman sketched throughout his adolescence and took his burgeoning interest in art with him to college.
"I got really into pastels for a while, but a lot of traditional art methods went out the window once I bought a computer and got a pirated version of Photoshop from a friend. I guess you could say that it opened up a door or two for me."
Local band Disguised as Birds had the good fortune to pique Kriederman's interest in 2005. The result? A portfolio of visually arresting fliers for their shows, no asking involved.
"Riddle Of Steel [out of St. Louis] was supposed to play a show at The Cactus Club with Disguised As Birds, but Cactus Club fell through as a venue at the last minute and the show moved to a basement in Riverwest," Kriederman explains.
"I didn't know anything about Disguised as Birds at the time … but I was a huge fan of Riddle of Steel and felt the show needed some promotion because I wanted there to be a good turnout. I'm pretty sure I made the poster in a few hours and sent it off to [Birds drummer Kevin] DeMars to be printed and hung around town two or three days before the show. After seeing and hearing them for the first time that night, it turned out that I liked the Birds quite a bit, and the collaboration on posters and artwork sort of went from there."
DeMars points out, "That's the beauty of the whole thing …we don't even have to ask. There'll just be a flier already made. We're kinda spoiled." Kris Endicott, guitarist and vocalist adds, "Yeah, Brian, you're in for life! The first poster that Brian did for us? It was such an awesome show."
Kriederman says, "I try to put the year on posters, because I'll look at them, and think 'What year was that?'"
"Even if the show was bad, at least you have a beautiful document of a wretched night," Endicott says.
"I'd work with anyone, provided that their music or art is something that I can get behind and really enjoy, and that they aren't pretentious about themselves or taking things too seriously. If I can't sit down and comfortably have a few beers and goof around with a band, I probably wouldn't want to work with them, you know?" Kriederman says. He's already collaborated with the Birds on fliers and the artwork for their recent album Seeds, and has worked or is working with Hoss, The Customary Silence and Year of the Scavenger. Kriederman's bright and bold designs reflect the work of other artists he admires such as Jason Farrell and Andy Mueller, who make band art for everyone from Bluetip to Fugazi to Jimmy Eat World and Hum. It's obvious that Kriederman appreciates both art and music and is enjoying this collaboration to the utmost. "I don't do it to get paid. I do it for the fun and to escape my day job. I know that everyone that's in a band is not rolling in money."
The beat goes on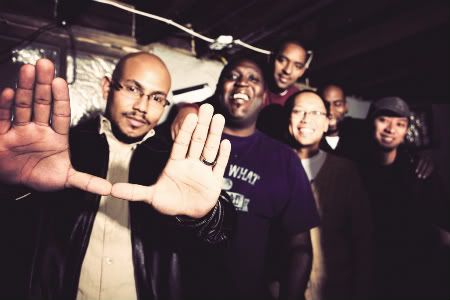 Fres Thao and the Invisibleman Music crew
When Fres Thao hired Darryl Rheams to be his assistant manager at a retail auto parts store last year, he got way more than he bargained for.
"I didn't picture him to be a music man," Fres says, "but on his truck he had his logo stenciled on his back window."
Fres told Darryl that he was an actively performing and promoting hip-hop musician with a full-length album already under his belt. Darryl, a producer and the "Invisibleman" of Invisibleman Music, gave Fres a few demos to check out.
"I was not feeling what he had produced," says Fres. "His projects were a bit too on the 'street' side of hip-hop to me, but he insisted I meet with the rest of the crew to feel them out."
"Fres wanted to take his hand out of producing so that he could put all of his energy into writing," says Diallo Burks, who heads up the Beats Abound production core for Invisibleman, "and we needed an artist who was doing shows to get our music out there."
Fres remained skeptical – until Diallo threw down some beats. They've been working together ever since. Now, Fres, the Invisibleman team and filmmaker Jason Morgan of 37th & Burleigh Productions work together to bring socially conscious, funk- and rock-infused rap and hip-hop to the city.
"We've formed an understanding of what kind of sound we want to bring to Milwaukee's hip-hop scene," says Fres, a first-generation Hmong American who's worked with a number of out-of-town producers. He finds that working face-to-face with a local company provides more control, better opportunities for organic composition and beginning-to-end fine-tuning.
"With Invisibleman Music, we actually can sit together and tweak and tweak and tweak until we find something we can all agree on," he says. "Most tracks are started from scratch now," instead of with pre-arranged beats, and with Darryl on the piano and Diallo on percussion, every song can be custom-built from the bottom up.
The ultimate result of their collaboration is a dynamic fusion of creative minds and a final product that gives everyone traction in their pursuits.
"I make films," says Jason Morgan. "Films need scores and soundtracks. Musicians need videos." Jason has made music videos and promotional films for Fres, and several of Fres's songs have appeared in Jason's films, including Blood, Sweat and Tears, a documentary about the CIA's exploitation of the Hmong in Laos during the Vietnam war.
Jason and Fres are working on a music-intensive anti-gang film with a score by Invisibleman and Beats Abound, as well as a few shorter music video projects. Meanwhile, the Invisibleman team is working on another Fres full-length, and Fres is self-producing a re-release of some older material, adding a few freshly cut tracks. Everyone is trying to increase their presence on the web and around town. And at the end of the day, everyone is working hard, independently and collaboratively, at what they love.
"Fres raps whether we're involved or not," says Jason. "The power is in coming together, focusing our talents on projects that showcase all of our skills, and building something." VS