//end headline wrapper ?>
Get a daily rundown of the top stories on Urban Milwaukee
No, not that one. Or the other O's either. I'm talking here about the O that counts on Tuesday, November 4th. You'll be setting your watches, clocks, and other timepieces back one hour on November 2, which means you'll have an extra hour before casting your vote two days later. It's almost over, all the months of waiting, considering, reading and arguing. I'm beginning to wonder what I'll do with my time when the die is cast. And what will all those pundits do?
The Atlantic
has redesigned their magazine in keeping with the times, which is to say, they're trying to be hip and with it. In the publishing biz for 151 years (1,791 issues), the November issue has a great piece on "China's Neurosis," and for the hipsters, a feature by Andrew Sullivan on "Why He Blogs." Jeffrey Goldberg writes about the "Idiocy of Airline Security," and there's more, much more, between the screaming black, gold and red cover. And just so you know, the
New Yorker
is going to be publishing online (totally dude) in a few months.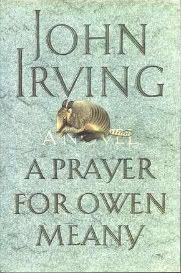 Yesterday I picked up a copy of John Irving's A Prayer for Owen Meany, a novel that set my hair on fire and set me on the track to reading everything he ever wrote. The lone copy of Prayer looked lonely sitting next to Irving's unimpressive Until I Find You. Over the years I've purchased several copies of the former and have given all the copies to friends who I deemed worthy of reading his work. Sadly, it seems when the author went Hollywood, he also slipped into a deep depression and well, his writing hasn't been the same since. Updike and Oates are still writing, so life isn't entirely grim, but they're getting old and soon I need to tap into authors of equal quality. Who are they?