//end headline wrapper ?>
Get a daily rundown of the top stories on Urban Milwaukee
My son was about six or seven when Alan Bean blasted off in November 1969, piloting the lunar module of Apollo 12: Destination, moon. Bean became the fourth person to trod there. At age 76, he's alive and well, and recently had an exhibit of his artworks at the Lyndon Baines Johnson Library and Museum in Austin, Texas. Last year I gave my son a signed print of one of Bean's original moon-related paintings. The originals are going for great big bucks these days…. astronomical, you could say.
He left NASA in 1981, figuring his talents were best put to use as a serious painter. An article at www.msnbc.com described his work as "Monet-like," but that is a bit of a stretch, and could be applied to any and all artists who sway toward impressionism. While the paintings certainly aren't hyper-realistic, they do speak of a place we will never visit, at least not me. I've looked into the depths of Monet's Lily Pond painting many times at the Chicago Institute of Art, and while it's worlds away from the moon, perhaps there is a connection, if only through the "remembering" of a specific place in a specific time.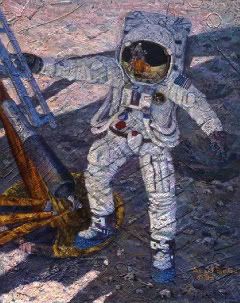 Coincidentally, I think Bean was in a group of astronauts who were touring Peru in the early 70s. I happened to also be in Lima, Peru at the time, dining in a splendid restaurant, when the astronauts and their wives strolled in for dinner. Naturally, I got their autographs, but when my son left for college, the treasure was thrown out. I admit I was the thrower. Anyway, the astronauts' wives were true to their Texas roots when they entered the eatery. The weather was warm (actually Lima is dry as a dessert), but in they came, wearing mink stoles, their hair piled high, looking every bit like tourists, albeit celebrity tourists. At that moment, I was thrilled to be an American. A few weeks later in my Peruvian adventure, I took a train to Machu Pichu and spent a memorable overnight in a spider-trap of a hotel room. The return flight home was equally memorable, punctuated with an earthquake that rippled the runway as the plane lifted skyward. Two weeks later, Lima was devastated by a really big one.
I have to chuckle when I think about Bean blasting to the moon and living to paint his memories. The space age seems light-years away. As we prepare to blast off and elect a new President, I'm almost wishing I was on the moon, viewing earth from a safer place.