ON ASSIGNMENT
Iowa in T-minus 24 hours
Get a daily rundown of the top stories on Urban Milwaukee

Friends, it's almost Labor Day.
Summer is setting, and with it, the horizon of possibility for reckless adventure, late-night wanderings, wine by the bonfire and naps on the beach recedes. I don't know about you – but I'm scared.
It hasn't been the best summer for me. I would go so far as to call it "crummy." But it's still summer. For every personal catastrophe, awkward social situation and case of the stomach flu there's been grilled corn on the cob, rowboat-ing and long afternoons at the pool. I think I have the best tan of my life. And as much as I want the litany of disaster and disheartening failure to stop, I don't want summer to end.
Luckily, we still have Des Moines. Yes, Des Moines.
Remember Branson? Sure you do:
We had the time of our lives in Branson, forceful suppression of irony aside. And now we've been invited to Des Moines. Branson might be God Country's family-friendly answer to Las Vegas, but based on the research we've done so far, Des Moines might surprisingly hold its own to the Sin City. We're not even joking.
Originally we were going for a boxing tournament, which has since been rescheduled. And even Wayne Newton – Mr. Las Vegas himself – is going to be there this weekend, judging the Iowa Gold Star Futurity.
We'll be dining at the historic Embassy Club at the top of one of the tallest buildings in Iowa, hitting up the piano bar and hopping all around the East Village, where our fancy downtown hotel is located. We'll see you at El Bait Shop, a Mexican-BBQ-70s-fishing themed bar and grill featuring more than 170 beers on tap, and maybe Des Moines' oldest bar, The Locust Tap, which sounds kind of like the Landmark, or maybe Polish Falcons. From what we can gather, the city's LGBT community is HQ'd in the East Village, too, which is great news, because gay men love Matt Wild.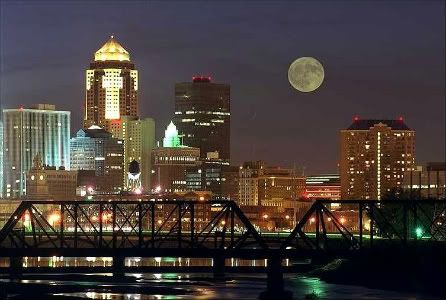 We're really excited to see the State Capitol and the history museum and shop at the Des Moines Downtown Farmer's Market, one of the biggest and best in the country – they actually shut down the downtown city streets on Saturday morning. And even though we like to play fast and loose on these trips, I am secretly holding out for a few moments of peace and quiet, maybe in Brown's Woods, the state's largest urban forest preserve, or on the beach at Saylorville Lake, or amid the crab apple trees at the Arie den Boer Arboretum.
Also we're stopping by the Field of Dreams on our way home.
Really, all of this sounds just picture-perfect, a far cry from the Midwestern kitsch-trip we had kind of expected when planning our On Assignment series. I really can't wait. I need a vacation.
Good thing we're leaving tomorrow morning. Des Moines ahoy! Stay tuned for frequent blogging and video updates, and tell all your friends!