//end headline wrapper ?>
Get a daily rundown of the top stories on Urban Milwaukee
By Nicholas Grider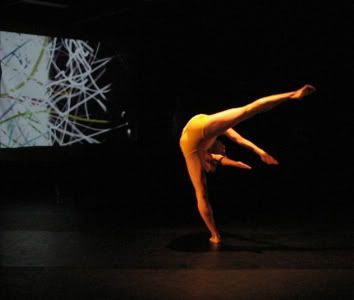 Triptych sells itself as a cross-disciplinary experiment in the ways that three different media — visual arts, dance, and music — mesh and fail to mesh in a performance setting, and on those terms alone it's a great success, despite the somewhat apologetic attitude of the piece's creators. The result of both collaboration and independent (but side-by-side) work, Triptych presents the efforts of composer Christopher Burns, visual artist Leslie Vansen and choreographer Luc Vanier to explore how effectively their methods might be synthesized. The fact that the answer to this question is yes and no provides the audience with a rich, provocative experience of a work that already has multiple points of entry. And besides that, the work is a sheer pleasure to watch.
Luc Vanier's choreography, in particular, was a welcome shove away from traditional dance concert, with roots in the work of the Judson Dance Theater and Allan Kaprow's early happenings (as well as a pretty direct nod to Goat Island). Vanier uses the various rooms of the performance as a means to break or ignore many of the conventions of traditional dance theatre. My favorite piece of inspired recklessness: the well-lit floor space where you expect the dancers to stay doesn't represent any real boundaries at all, and often dancers would swing very close to the audience or move completely out of the light so matter-of-factly that the rooms themselves became sculptural spaces and light became as much of a participant as the music, choreography, or animations. (Also keep your eyes peeled for the play with gender roles in the duet in part two.)
There were smaller signs of a tossed-aside rulebook, too – like the lack of presence or tension in the dancers' arms during their more quotidian moves – but in the mashing-together of art, music, and dance, it is Vanier (and the uniformly excellent dancers) who does most of the heavy lifting. This is not to say that Burns and Vansen's contributions aren't just as engaging – just crowded out a little by the physical fact of bodies in motion. This is one discovery that Triptych makes, and even if it's not new, it's relevant: it's awfully hard to balance very different modes of expression (as was the plan in part two of the triptych). Sometimes simply setting things alongside each other is more successful, as it was with Burns' lead-off percussion solo in the first act (think Morton Feldman with the volume cranked) and the labyrinth of the triptych's third part, in which Vansen's drawings and animation appeared as projections through which dancers and audience members have to navigate, filling Vansen's elegant abstractions with the narrative implications of both the dancers' and spectators' shadows.
I still feel, here, as if I'm selling Triptych somewhat short, because what's ultimately thrilling about it beyond its quality is that it's openly and unrepentantly an experiment, a kind of willingness to raise the stakes that Milwaukee has rarely seen since Theatre X in its heyday and something that ought to happen here a lot more often. If there's anything that would improve the production it would simply be more confidence and less well-intentioned concern that we, as an audience, can keep up. VS