"Ball don't lie." – Rasheed Wallace
Get a daily rundown of the top stories on Urban Milwaukee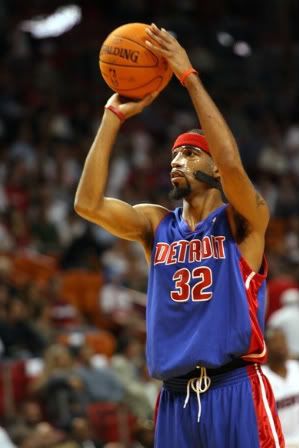 I don't know how or why it happens, but every year it's like the flip of a switch: someone or something reminds me that basketball exists. And that I love it. And that the Pistons fucking rule.
This year I was standing in the dark cavern of the Echo Base warehouse, beholding my spring bike strewn about the shop in pieces (soon to be resurrected as less of a death trap), when my phone rang. It was Fernando, a friend from Ann Arbor, one member of a small pod of Michiganeers-cum-Milwaukeeans I associate with here.
"You watching the Pistons game tonight?"
"What game?" I asked, completely unprepared for the flush of basketball fever that was about to bring me to my knees.
"I thought you were a Pistons fan? It's a pretty important game in the series."
An hour later, I was sitting at the bar in the dark cavern of Major Goolsbys, sharing a pitcher of Spotted Cow, stupid with the thrill of an imminent victory over the Sixers – a total about-face from my everyday life and identity. Damn.
Days later, my best friend from home called from Baltimore, where he works as a homesick public radio producer. Our lives run on crossed threads, even at great distances – we've only ever been at great distances, in fact, since we graduated from high school six years ago.
"I don't know what to do tonight," he said. "I feel like drinking a little too much and being drunk a little too early."
"That's all I've been doing," I said, "all week. Because of the playoffs."
"The playoffs?" he said. "Is there a game tonight?"
It's some sort of tic in the expatriate Detroiter subconscious. When you miss the city you come from – not just because you don't live there, but because you know it's never going to be the city you wish it could be, because every time you go back it's a little stranger, a little more fantastical – you let yourself believe in anything that makes you feel a part of it again. If it's the NBA – so be it.
When the playoffs are over – or when the Pistons are out of the series – I'll stop going to the bar straight from work and I won't drink so much Spotted Cow. I probably won't return to Major Goolsby's, maybe not even next year – who knows where my Michigan crew will roll then, or if any of them will even live here anymore.
I'll think about 2005, when I was lonely, tired and frustrated in Turkey's southeastern desert, when I got a text message about the Spurs' victory over the Pistons and broke down crying in the middle of the market. I'll think about 2006, when we lost to the Heat and impenetrable, infuriating Shaquille O'Neal, and I mourned quietly in my parents' chilly basement in the suburbs, watching him say, in an interview with a bimbo sportscasterette, that he was looking forward to the day his kids could look up to him and say, "Daddy was a bad motha-shut-yo-mouth."
I'll think about the 2004 championship, drinking Heineken in a friend's parked car all night to celebrate, sneaking into the strip mall where we worked and smoking cigarettes in the women's bathroom. And how the playoffs made all of the hard-knock, tough-love men I worked with at the guitar store come together in the cause of something great and powerful, and how when we closed up for the night they would all join forces to sneak me into the sleazy bar across the highway so I could watch the game. We all embraced when it was over, in triumph when we won and in comfort when we lost. By the time we won the playoffs, I'd been initiated into a brotherhood, and I spent my whole summer cavorting with them, going to see their loud cover bands play in backyards, drinking whiskey by bonfires, cruising the empty highways of Detroit too late at night. Basketball made it all possible.
I'm ready for this summer to really get moving. I think it's going to be amazing. But the first glimmer of enchantment and magic, for my whole adult life, has been the playoffs. This year has been no different, even though watching the playoffs from Milwaukee isn't the same at all.
(When not hunkered down at M.G.s with my ragtag roundtable of kids from the mitten state, I've somehow managed to wander into a great deal of art openings, and it's been very exciting: Dwellephant's cupcake show at Eat Cake was delightful, even amidst torrential downpours; Jeff Kenney — who plied me with chardonnay — and Neil Rongstad showed standout work at a lovely new show at the Katie Gingrass Gallery and down the street, Hot Pop blew my damned mind. This store is straight outta Tokyo, or at least the most painfully cool neighborhoods of New York City, and totally defies description: deck art, graphic novels, urban fashion, sneakers, movies, really crazy toys and a gallery full of edgy, colorful artwork from Milwaukee and Chicago. It's worth a visit or ten. Tonight I'll be at the grand opening of The Armoury – and maybe The Blatz Building?
If you're an ex-member of Michigan, or if you really love Detroit basketball, and you want to join our team of ne'er-do-wells, boozers and burger lovers for a game or two, leave a comment. I'll be in touch.)