//end headline wrapper ?>
Get a daily rundown of the top stories on Urban Milwaukee
Where have I been? I'm so glad you asked.
Painting the town red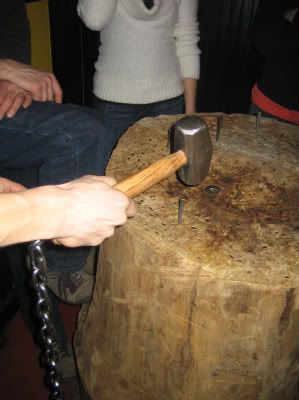 I've been to the Old German Beer Hall (once on my birthday, for shots on skis and that hammer/stump game; again, days later, after the Scarring Party show at Turner Hall with Brent Gohde and Matt Wild, where I ran into a bunch of guys I sort of knew in college) and I've seen bar time at the County Clare, BBC, Roots, the Riverhorse and Walter's. On St. Patrick's Day I drank gin and tonics with some financiers at the Hi-Hat and lost my wallet not once but twice – first at the Landmark, then at the Nomad (I got it back the first time, but lightning never strikes the same place. Milwaukee bartenders and bouncers, beware; that pretty girl with the dubious Michigan driver's license is SO not for real.) I've sidled up at Foundation with Captain Rick and Eddie Kilowatt and I've hunkered down at The Social , Coppola zinfandel precariously in hand, to get the inside story on Milwaukee film culture (and other less serious subjects) from scenesters like Andrew Swant and Bobby Ciraldo of Special Entertainment and Milwaukee's own Mark Metcalf, who told me how he drove from Ann Arbor to Detroit in 1967 to see the riots — while he was on mescaline.
Seeing shows
I've been spending a lot of time at the Echo Base Collective down in the factory district, which on the basis of my three visits I've inferred is ALWAYS a good time, regardless of whether it is packed with hundreds of people watching an Israeli punk band light themselves on fire or attended by two dozen high school kids watching their friends jump up and down on a beat-up crash cymbal. Dave Casillo (the brains AND the brawn behind the organization) brings in shit-crazy local and underground bands (think Geocash, We'rewolves, Cougar Den) and some folksy, understated operations (like the soft-psychedelia of Minneapolis' Daughters of the Sun). He also fixes up bikes for kids. This was the first place I thought to seek shelter during that terrible Friday snowstorm when my car was buried in high, desperate drifts, and I was comforted with beers, a puppy, terrific music and a couch on which to crash.
There's also been the typical noise issuing forth from the Bermuda Triangle of the Pabst/Riverside/Turner – the aforementioned Scarring Party CD release show at Turner Hall, the champagne-brunch-appropriate Pink Martini at the Pabst two days later, Stephen Malkmus & The Jicks (that was the show where PR maven Cecilia Hrobsky crab-walked across the floor of the Cudahy Pub to score a tote bag) – and just last night, Swedish pop crooner Jens Lekman with his honey-voiced tales of love, woe, excitement and incredible beauty.
Hiding away
I house-sat in Wauwatosa and stayed in all weekend playing waltzes on my accordion, drinking tea and cuddling with an elderly schnauzer, leaving only for a well-documented trip to Rooter's with Matt Wild, Chinese take-out on the East Side and a little accordion/marimba jam with Alex Cain of The Candliers at his parents' house.
A long-lost friend came to Milwaukee and I shared the town with him, of course the Art Museum (and the long-awaited Infinity Room), the lake, the parks, the buildings I like to see, the food I like to eat, the walks I take every day. We had a picnic in my living room that night, with French bread, garlic and good olive oil, apple slices and rioja, and we talked about the lives we live now, the lives we used to live, and our current orientation to the rest of the universe. He's returned to his faith after a long, searching absence, and in the morning he woke me up early and we walked to the Cathedral of St. John the Evangelist for daily mass. When it was over, the sun was bright, the bells were ringing, the day was fresh and we chased geese in the square.
I guess what I'm saying, here, all in all, is that this month has been fleet, but fuller than just about any time in my life I can imagine, which is why, dear and patient reader, I haven't been blogging. And there has been time apart, whole days given over to rest and reconsideration, more than I have allowed myself to have in a very long time. I guess what I'm saying is that time might be flying, but that gives us all the more reason to get everything we can out of every second – and that the more we fill our days with, the more our days give us, and the more time expands for us.
That's esoteric, and I don't mean it to be, but here at the outside of March, about to give way to frantic, troubling April, I'm feeling as though I've earned the right to be obtuse.
Check back often next month. I'll be blogging more – and dancing more and doing more and loving more and giving more and having more as a consequence. I hope the same will hold for you, too.