The Roundup
Let My People Shop!
//end headline wrapper ?>
Get a daily rundown of the top stories on Urban Milwaukee
Earlier this month Ald. Tony Zielinski was able to put a hold on the granting of a liquor license for the Jewel Osco store at Humboldt and North. Now we know why – it is one of the few leverages available to the south side alderman against the huge grocery concern. He has no problems with letting the folks from Riverwest buy booze at the store. He is upset, though, that Jewel Osco has taken steps to prevent a new grocery store in his district.
At issue is the fate of a former Piggly Wiggly store at 13th and Oklahoma Avenue in his district.
"The place is an eyesore, and it was hurting my neighborhood," the south side alderman said. "So I decided to find out who bought the building, and I discovered it was owned by Jewel Osco." The purchase of the real estate by the giant grocer seemed at first to be good news, he figured.
"Then Jewel Osco sold it to developers." The only change made to the building, it appears, was on paper: Jewel Osco added a deed restriction prohibiting the property from ever operating as a grocery store again.
According to Zielinski,  lobbyist
H. Carl Mueller
, working on behalf of Jewel Osco, wants the deed restrictions to stick. Why?
"The company has another store about 12 blocks away, [at 123 W. Oklahoma Ave.] and they didn't want any competition. They figured people would just have to shop at their existing store, and did not want anybody else in the neighborhood," he said.
"I feel very strongly about this issue. It is hurting my neighborhood."
Zielinski called for a news conference Monday, August 30 near the store property, where he was to call for the lifting of the deed restrictions.
Joining Zielinski in the call were Milwaukee County Supervisor Marina Dimitrijevic, state Rep. Josh Zepnick and Mark Bold, president of the S. 13th St. Area Business Association, and other neighborhood leaders.
Ald. Zielinski said the deed restriction is classic "corporate greed" that has the effect of penalizing residents who live in the neighborhood. "It is unconscionable that Jewel Osco has decided that it alone knows what's best for that important location," said Ald. Zielinski.
"There are hundreds of people in that neighborhood – many of them senior citizens – who would walk to the Piggly Wiggly to do their shopping, and many of those same people have contacted me and said they're willing to back me all the way on the effort to have Jewel Osco lift the deed restrictions," said Ald. Zielinski, who has collected more than 1,500 signatures of petitioners asking Jewel Osco to lift the deed restrictions.
The store's location is important because it served as an anchor location on that business strip, Ald. Zielinski said. "If the neighborhood is going to truly upgrade its quality of life and the business district is going to maximize its potential, then it's critical that there be a grocery store at that location," he said.
Of course the resources of an ad hoc neighborhood committee are less than that of Jewel Osco, so the hold on the Jewel Osco liquor license is one of the few weapons in Zielinski's arsenal. "I have the votes to hold it for a month, or so, but not enough to do so forever," he said.
Another weapon is popular opinion, and this Zielinski hopes to exploit.
It seems that many grocery chains operate strictly from a model that favors suburban locations. Roundy's has shown otherwise with its Merto Market, aimed at urban professionals. Many other neighborhoods – like Westown  and the South Side – are underserved by groceries, forcing residents to pay premium prices for inferior merchandise. Likewise, many smaller grocers that would like to convert themselves to a more lucrative specialty store status, find themselves forced to carry many items simply as a service to neighbors – many of them elderly – who have no other options for shopping. Let us see what an outraged citizenry can accomplish. Let My People Shop!
Vote Quota Revealed
As we mentioned last week, the confusion in the Republican party, where Rep. Glen Grothman has decided to challenge Mary Panzer for her 20th District Senate seat, has given the Democrats a chance to field a candidate, if only to stir things up a bit, as if Grothmann were not doing enough already.
Of course, the Democrats were tardy coming to the decision to run a candidate in the bedrock Republican district, but newcomer Elysse Chay decided to run as a write-in candidate. Last week, the Democrats estimated it would take about 1200 signatures for her to succeed in winning a place on the November ballot, pending a review by the Wisconsin State Elections Board.
Now, the final number has been released – Chay will need to convince 867 voters to write in her name in the September 14th primary.
According to the board, "staff used the formula provided in S. 8.16 (2) Wis. Stats., which instructs that the number of write-in votes needed is at least 5% of the total number of votes cast for the Democratic candidate for governor in the 20th State Senate District at the preceding gubernatorial election.  The preceding gubernatorial election was November 2002.
"If more than one write-in candidate meets this threshold, the candidate with the most votes is eligible to appear on the November general election ballot."
Well, there you go! If you would like to further muddy the electoral waters in the 20th Senate District, why not get yourself some write-in votes?
Chris Heinz Stumps for Stepdad
Wisconsin Young Leaders held its inaugural event at the Lakefront Brewery Palm Garden on Monday August 23rd when the fledgling organization of Democrats drew hundreds of people to rally them for the upcoming elections.
There were some who thought the main attraction for the event was Chris Heinz, who was billed as "Son of Teresa Heinz Kerry and Stepson of Senator John Kerry."
Heinz himself knew better. "I saw the flyer announcing the event with my name on it," Heinz told the crowd. "And then beneath my name it said 'with FREE BEER!', so I know why you are really here!
I talked to Heinz, and it was the first time I was ever able to tell somebody, "I have a bunch of pictures of your mom on my website."
Chris Heinz, dressed in jeans, was a comfortable speaker, and raised the point that the nation must do something to restore other people's faith in us.
"Bush absolutely squandered a chance. After 9/11 we had the whole world community in our corner, and then we lost everybody's support with this war in Iraq." The solution: elect John Kerry for president.
Heinz did get personal with the audience, and revealed that John Kerry has always been a fine step-father. Of course, Heinz was accustomed to having a senator as the head of his household, since his father also was a member of the world's most exclusive club. Heinz said he heard of his father's death on the day he heard he had been accepted into college. A happy moment turned to a soberingly sad one when his father's passing was revealed to him.
Barrett Means Business
If you want to celebrate the first full day of autumn bright and fresh, then start networking now until you find a member of the Milwaukee Athletic Club who will consent to take you along as a guest on Wednesday, September 22nd at 7:30 a.m. when Mayor Tom Barrett will be the kickoff speaker for this season's installment of the MAC Business Roundtable.
"Mayor Barrett will highlight his plan for the city, and share insights based on his vast political experience." The cost is $17 for MAC members and guests, and includes breakfast for those whose stomachs function at that hour.
Barrett has also been firing off letters to business owners in the city asking them to contact Frank Cumberbatch, the most successful of Barrett's primary campaign challengers. (Although Cumberbatch was way back in the pack, he is the only challenger to land a job with the Barrett administration, so I suppose you could call that successful.)
"A healthy economy and business community are the foundation of a dynamic city. I want to be sure City government is doing all it can to support an environment that fosters your success. To determine how City Hall can do a better job, I'd like to hear from you. I'm interested in two things: the advantages and disadvantages of running your particular business in Milwaukee, and your thoughts on how City government can better help your business succeed here.
"I've asked Frank Cumberbatch of my staff to serve as my personal liaison to the business community."
Toward that end, Barrett enclosed Frank Cumberbatch's address, which is:
Tell him what you think, and we'll talk to Cumberbatch later and see how many people got in touch with him.
A Miracle on Canal Street
A miracle will soon happen on Canal Street, that Menomonee Valley thoroughfare. At a press conference Thursday, August 26th, Mayor Tom Barrett and Governor Jim Doyle announced that the street will actually connect with other streets in the city, particularly to the west.
Doyle said "I want to tap the full potential of the Valley," and apparently in order to do that he has decided to release $5 million of federal Surface Transportation Program Urban funds that were his to dole out. Another $3 million is to come from the city.
The idea is to extend the street west from 25th street all the way to Miller Park Way. The city and the state are already working on reconstructing the street east to 6th street.
The western extension will open up as much as 80 prime acres for redevelopment. According to Mayor Barrett, the land is zoned industrial and is in the heart of the city's neediest population district.
"Redevelopment on this site is expected to attract 1,000 family supporting jobs adjacent to the city's most densely populated, economically distressed, and minority neighborhoods."
Barrett said the benefits of the road would be fourfold.
"First, it will provide mitigation of traffic during construction of the Marquette interchange.
"Second, it will bring new life in the Valley [Here Barrett thanked former Department of City Development Commissioner Julie Penman, who was present, for her efforts in the past]
"Third, it will address environmental issues
"Fourth it will provide some detention ponds, paid for by the Milwaukee Metropolitan Sewerage District."
As you remember. Barrett lost to Doyle in the 2002 Democratic gubernatorial primary, but the two seemed to hit it off well enough while behind the podium. Barrett arrived first that morning at about 9:30 a.m., but not until after he had dropped one of his children off for the first day of school at St. Sebastian's. Barrett travels in an SUV driven by his cop/driver.
Doyle arrived some minutes later, and he travels in a more elaborate entourage, including an SUV of his own, and a staff car in the rear. Doyle sits in the front seat, which is stocked with newspapers, and a cupholder for his bottle of iced tea, or Snapple, or whatever.
Among the dignitaries in the audience were Secretary of Transportation Frank Busalacchi and Common Council President Willie Hines, who noted his father worked at the rail yards in the valley to support his family.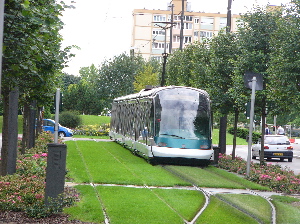 Another alderman was present in the form of Robert Bauman who represents the district. Bauman made it very clear to milwaukeeworld that he is not pleased with the project as proposed. As has been reported here in the past, he was concerned about the lack of a transit corridor through the geographically-isolated site.
Bauman was not invited to the podium to make these remarks, but Barrett said he was interested in Bauman's opinions, and might be able to work something out in the future.
Alderman Bauman proposed that a middle of the street grass strip be designed in Canal Street for future transit use. Pictured here an example mid-street transit design from Strasburg France.
Displaying political contributions between people mentioned in this story. Learn more.
The Roundup