Murphy's Law
The Embarrassing Failure of Miller Park
//end headline wrapper ?>
Get a daily rundown of the top stories on Urban Milwaukee
The Milwaukee Brewers have begun the season with a horrendous start, one that is setting franchise records for futility. It's certainly possible that the team will rebound, but few expect the Brewers to compete for the division title. A second season of failure in Miller Park is likely to raise questions about the new stadium, and what its impact was supposed to be on the franchise.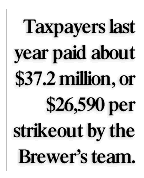 Miller Park was built as part of an implicit bargain with the metro Milwaukee community. The taxpayers of the five-county area would be charged to build a new, state-of-the-art ballpark. And in return, their gift would assure that the Milwaukee Brewers would become a competitive baseball team.
Time and time again, Bud Selig lamented the small market status of the Brewers and told the citizenry that the team needed more revenue to become competitive. The Brewers told potential investors that, once Miller Park was built, they would pay 110% of the major league average payroll, to help assure competitiveness.
Promises, promises. This season the Brewers payroll stands at $50.8 million, which is just 75% of the average major league payroll. The team ranks 21st among 30 teams, with a payroll that is $75 million behind the top-ranked New York Yankees.
This is about the same as the team ranked last season, when its $44.7 million payroll left it about $18 million below the median payroll and about $66 million behind the damn Yankees. The Brewers are beginning to resemble the post-
Michael Jordan
Chicago Bulls, who have finished last in their NBA division for three years running. Both teams are very active, making lots of trades and shuffling lots of players, but nothing ever seems to change. If anything, both teams keep getting worse.
Back in 1995, when the Wisconsin legislature passed the stadium-financing bill, the Brewers ranked second last among major league teams for player payroll. In 1996, when the team again went to this community for yet more financing (provided by the Bradley Foundation, city and county government), the Brewers ranked fourth last in money spent on payroll.
Today, after a total commitment by taxpayers of $1.1 billion, what have we gotten for our investment? The Brewers now rank tenth last, leaving them a bit further ahead of the worst teams but even further behind the best teams than they were back in the mid-1990s. The Brewers are actually less competitive, in terms of won-lost record. Last year, the team had its worst winning percentage (.420) since 1984 and set a major league record with 1,399 strikeouts.
This was no ordinary record for futility. In some 125 years of major league baseball, no team ever had more strikeouts than hits in a season, until the 2001 Milwaukee Brewers. For this extraordinary spectacle, taxpayers last year were charged about $37.2 million (the first year's toll for building Miller Park), or about $26,590 per strikeout, you might say.
But the citizenry offered more support than that. Last season they packed Miller Park, attracted by its novelty, and the Brewers had a record-setting year for attendance, more than doubled their revenue, and were one of the most profitable teams in major league baseball. Other teams that enjoyed such a bump from a new stadium have typically jacked up their payroll to assure a more competitive team, and thereby keep the high attendance going. The Brewers, however, are laden with debt (perhaps as much as $140 million going into last season), and barely increased their payroll for this season.
In short, it's quite possible the window of opportunity to improve this team is closing. Attendance will be lower this season, and assuming another poor finish, even worse next season. As the Brewers' revenue begins to decline, it will become even harder for the team to raise its payroll. We taxpayers may have spent all this money on Miller Park simply to help pay-off the debts of the Brewers owners, while doing nothing to improve the competiveness of Milwaukee's team.
(Note: the 30-year tax bill of $1.116 billion for creating Miller Park is based on research done by yours truly and detailed in the February, 2001 issue of Milwaukee Magazine. The figure includes the property tax subsidy and other buried costs that lowered the price of business for the Milwaukee Brewers and Miller Park.)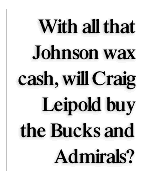 The Buck's Future Owner?
The name of businessman Craig Leipold often comes up when a Milwaukee franchise seems endangered. The Milwaukee Admirals are looking to sell and Leipold's name has been suggested by some as a possible buyer. Then there is the Milwaukee Bucks franchise, which owner Herb Kohl is likely to sell at some point in the future.
"There are always rumors that Craig Leipold wants to own the Bucks," Milwaukee Mayor John Norquist recently noted to me. "He owns the NHL franchise in Nashville, but he spends most of his time up here."
Leipold has recently gotten publicity as a key supporter of Gov. Scott McCallum, but just how much time he spends in Wisconsin is unclear. Formerly a CEO of Rainfair in Racine, Leipold purchased the Nashville Predators hockey team some four years ago and owns a luxury apartment in The Cumberland in downtown Nashville. He seems to be a celebrity of sorts in Nashville.
"This franchise has been embraced by the community, and I really think that is because Craig Leipold has been embraced in large respect," a vice-president of marketing for the Predators named Nelson Eddy told the national press.
"He's a very outgoing, down-to-earth individual who happens to own a sports franchise,"
Gerry Helper
, another spokesperson for the Nashville Predators, told me. "He's as comfortable going for a hamburger as sitting at a chi chi restaurant." That should firm up Leipold's credentials as a proletarian eater: he eats hamburgers, just like George Webb's fan Herb Kohl.
Most of Leipold's money presumably has come through his wife, whose father is Sam Johnson, owner of Johnson Wax and Wisconsin's richest man. Leipold bought the Predators for $80 million and the team is now valued at $130 million. That has apparently allowed the team to hire a lot of spokespersons.
Last November, news reports suggested Leipold wanted to sell the Predators. He took until January to deny the story. As for his interest in the Bucks, he declined my requests to discuss this. "He said he didn't want to get into it," said Helper. "There's nothing to it. At this point Craig is focused on the team here."
Should Leipold buy the Bucks after tax money is spent to renovate the Bradley Center, the team's value would have escalated through no contribution of current owner Herb Kohl. As far as Norquist is concerned, "the public affected the sale price and maybe part of the sale price should be devoted to maintaining the Bradley Center." The mayor might want to get together with Leipold and Kohl to discuss that concept. Over hamburgers, of course.
This article was originally published by Milwaukee World.