Murphy's Law
How Tom Ament Gave Himself a Golden Parachute
//end headline wrapper ?>
Get a daily rundown of the top stories on Urban Milwaukee
Observers have often described county government as an "old boy's club," where veteran politicos and long-term county employees get preferential treatment. For evidence of this maxim, consider the pension settlement overseen by County Executive F. Thomas Ament last year. Ament helped create and then approved a plan that could result in him getting a lump sum payment of $1.6 million when he retires, plus an additional payment of about $37,000 per year for the rest of his life. When you add in the fact that county employees get health insurance coverage for life, Ament's retirement looks like it will be pretty golden indeed.
The new pension system Ament oversaw will give comparable benefits to veterans like District Attorney E. Michael McCann, and will have a lower but still wonderful payout for old-timers like County Treasurer Dorothy Dean and Register of Deeds Walter Barczak.
If Ament runs for reelection in 2004, as expected, he has just handed any potential opponent a very juicy issue. By my accounting, taxpayers will have to award Ament an additional $500,000 in personal pension money, should he be elected to another term. In short, we can save a guaranteed half-million dollars by throwing Ament out of office in 2004.
The county pension system has always given preferential treatment to old timers. Up until the most recent negotiated settlement, employees would get an annual pension equal to about 1.5% of their total salary for each year they work. If they worked 30 years, this was multiplied times 1.5, yielding a pension equal to 45% of the average salary earned in their last five years. But employees who were hired before 1982 would get 2% for each year worked. After 30 years they would earn 60% of their salary, and in their case was measured against the average salary earned in their last three years. Not bad.
But old-time elected officials, those who served since 1982, like Ament or county board members Rich Nyklewicz and Tom Bailey – they got the best deal: 2.5% per year. Should Ament decide to retire in 2004, his 36 years of service would be multiplied by 2.5, bringing him up to the maximum level a county employee can earn – 80% of salary earned in your last three years. Since Ament's salary for 2004 will be $149,364, he would retire with an annual pension of $111,277.
But Ament has been aggressively raising money for reelection, and says he intends to run for reelection in 2004. Should he serve until 2008, his salary would peak at $168,110 and he would leave with an annual pension of $130,609.
But Ament and his Director of Human Resources, Gary Dobbert, decided that wasn't enough. Last fall, during negotiations with the county employees union, they suggested a huge increase in the pension benefit for all employees, with the biggest break going to those employees hired before 1982. This favored group would be given a 7.5% increase in their annual pension for each year worked after 2000. This annual increase would continue until May 2004, which happens to be when the term for elected officials like Ament ends. Any employee who stays on until then thus gets a 25% increase in their annual pension.
Ament claims this benefit was something the county employees union demanded. "It was part of it," he says of their negotiation demands.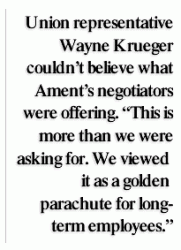 But Wayne Krueger, who negotiated the new settlement for the union, was amazed management was offering this new benefit. "We felt all along, we don't believe what they're giving us," he says. "This is more than we were asking for. We viewed it as a golden parachute for long-term employees. But we weren't going to look a gift horse in the mouth. It's probably going to be pretty expensive for the county."
Indeed. In the case of Ament, this new handout will increase his annual pension to a spectacular $163,261 should he stay on until 2008. That's a $32,653 annual gift from the taxpayers.
For McCann, who now earns $110,574, the 25% increase means an annual gift of about $23,000, should he choose to retire in 2004, bringing McCann's annual pension to somewhere around $115,000. For Register of Deeds Walter Barczak, whose salary will rise to $78,177 by 2004, the new system gives him an annual gift of about $15,000, bringing his annual pension up to about $75,000.
But there's another feature of this golden parachute for veteran employees, something called "back drop." In essence, it allows longtime employees to go back to the year they were first eligible to retire and choose that level of retirement benefit. Why choose a lower annual pension? Because under the backdrop feature, you will also get a lump sum payment of all the pension money you could have gotten since then, had you retired, and the county kicks in 8.5% compounded interest on all that money.
Take Ament. In 1990, he was 53 years old and had already worked 22 years for the county, making him eligible to retire under the county's "rule of 75." His last three years of salary were much lower than he makes today, but he can apply the new increase of 25% in the pension benefit (which you still get under the backdrop provision), thereby bringing his annual pension as of 1990 up to about $37,000. Ament could then make the county pay him 8.5% interest through his retirement in May 2008. Result: Tom gets a lump sum payment of $1.6 million and collects $37,000 in annual pension for the rest of his life.
Dobbert says this bonanza for Ament and other county veterans was done as part of an "employee retention and recruitment strategy." Dobbert claims the county was having trouble retaining employees and this pension benefit was designed to entice veteran employees to stay on.
But why did the county need to entice elected officials to stay on? That's why we have elections, to decide if we want Ament and others to remain in office. Ament concedes that an employee retention strategy "doesn't apply to elected officials."
"In doing this," he adds, "the idea was to do it pretty much across the board."
But the county has always treated elected officials differently, going back to before Ament took office in 1968, giving them a better pension benefit. So why weren't they treated differently in this instance, when there's clearly no reason to hand them this golden parachute? Ament offered no explanation, but then again, it really isn't necessary. He has $1.6 million worth of reasons to back the new deal.
This article was originally published by Milwaukee World.