Murphy's Law
Is Ald. Herron Leaving Town?
//end headline wrapper ?>
Get a daily rundown of the top stories on Urban Milwaukee
City Hall has been rife with rumors that Ald. Terrance Herron is leaving Milwaukee. The rumor begins with the fact that Herron's wife, Kim Tubbs-Herron has gotten a job as regional manager for Microsoft in the Washington, D.C. area. Ald. Herron, says one hall source, has been asking around about possible contacts to a Washington D.C. political job.
"I have no intention of leaving town," Herron says. "I have no intention of going anywhere."
Herron met his wife at a political conference and she moved to Milwaukee around the time of their marriage two years ago. "My wife came here to live with me but there weren't opportunities for her to advance," Herron says. "There are no opportunities for African American women in this city. I can't really tell her 'you be a real good little woman and stay here with me.'"
Herron's wife has two children from another marriage who are living with her in the D.C. area, and Herron says he now commutes to his wife's home on some weekends, but denies reports that he's traveling east every weekend. He expressed frustration that his personal life was the subject of media attention.
This is not the first time Herron's residency has fueled rumors. Herron, a former county supervisor, ran successfully for former Ald.
John Kalwitz
's former seat, but only after weathering claims by his opponent Lenard Wells that Herron didn't live in the district. Herron has a home on N. 68th St. he has owned for many years, but his wife purchased a home in Franklin after moving here. At the time, Herron's attorney
John Finerty
explained to the press that Herron "stays overnight at the homestead of his wife when his responsibilities as a husband and father require him to be there."
During the campaign, Herron supporters who visited his 68th St. home found a home that didn't look occupied, says one visitor. "It didn't look lived in," says the source. "It looked like someone was either moving in or moving out."
But architect Bill Kissinger, a friend of Herron, says this is untrue. "That was a pretty vicious whispering campaign." As a result, he notes, "his wife sold the home basically to clear the air."
Herron then took his home, which was a duplex, and converted it into a single family home, to create more living space for his family. Now his wife has moved out and Herron is left by himself. And he is beset with rumors about his imminent departure. "I was at a fundraising meeting last week and Terry went out of his way to refute that rumor," says Kissinger.
Short Takes
Suppose you threw your hat in the ring and nobody noticed? Ald. Tom Nardelli had to be disappointed by the coverage the Milwaukee Journal Sentinel gave his announcement that he would be running for mayor. The MJS gave it one paragraph buried deep in its second section.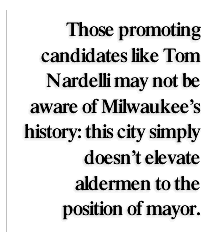 Nardelli is a great resource for reporters, a veritable font of quips who routinely ravages those he believes are on the wrong side of an issue. That unguarded style works fine for alderman but could result in Nardelli alienating people as he reaches out to voters throughout the city. Nardelli's announcement, however, stressed that he will not be speaking negatively about the abilities or personalities of his opponents, so maybe he will attempt to curb that colorful style.
Perhaps a bigger problem for Nardelli is that this city simply doesn't elect aldermen to the top post. The last time it happened was way back in 1910, when Ald. Emil Seidel was so elevated on the wave of the Socialist revolution, an event that is unlikely to be repeated. It's difficult for an alderman to look like a mayoral policymaker when his main concern is making sure his district gets the garbage picked up and handling other constituent demands.
But Nardelli seems unfazed by this history, and is the only candidate to officially announce for mayor, which means he can start collecting up to $3,000 per donor, compared to the $375 limit for alderman.
Planning a comeback? Lunching last Friday at the tony D.C. restaurant La Ruche, 1038 31st NW, was former Wisconsin Assembly Speaker Tom Loftus (D-Sun Prarie), former Speaker Pro-Tempore Dave Clarenbach (D-Madison), former representative Richard Flintropp (D-Oshkosh), former state senators Paul Offner (D-Lacrosse) and Rod Johnston (R-Glendale), and former Legislative Fiscal Bureau analyst Judith Woodward.
Many will remember when this gifted group served in the legislature during the late 1970's and early '80's, back when the Democrats dominated state government. Loftus challenged
Tommy Thompson
for governor in 1990 and lost, and went on to gain a post as ambassador to Norway.
Offner's name received a lot of buzz during the confirmation hearings for Attorney General John Ashcroft. Offner accused Ashcroft of asking Offner's sexual orientation when he applied for a job with Ashcroft back in 1985. Offner, who has a PhD from Princeton, worked as senior health care adviser to the Senate Finance Committee and on Hillary Clinton's health task force. He is now on the faculty at Georgetown University and writes policy papers for the Brookings Institution. Back when he was a Wisconsin legislator, he also created what still remains the best campaign bumper sticker in memory, "Vote Offner." Get it?
Black Out: As the state investigation of the legislative caucuses continues, negotiations continue for some way to reform them. Word has it Senate Majority Leader Chuck Chvala (D-Madison), Minority Leader Mary Panzer (R-West Bend) and Assembly Speaker Scott Jensen (R-Waukesha) had all agreed on a plan to outright abolish the caucus staff, but Assembly Minority Leader Spencer Black (D-Madison) killed the idea. Black, notes one observer, has the least ability to raise money for other members of his caucus (Assembly Democrats), and thus resisted eliminating the caucus staff, which have been used for years to campaign for legislators.
This article was originally published by Milwaukee World.