Press Release
The Villa's Renaissance Garden Officially Opens Sunday, June 3 With Free Admission
Café Sopra Mare's Summer Music Season also kicks off Sunday, June 3
Milwaukee, WI – May 9, 2018 – The Villa Terrace Decorative Arts Museum's Renaissance Garden officially opens to the public Sunday, June 3, with free admission and extended hours from 10:00 a.m. to 5:00 p.m.
In conjunction with the opening, the Villa Terrace Decorative Arts Museum opens its 2018 weekly summer music series, Café Sopra Mare in the morning, featuring vintage jazz music by Milwaukee Hot Club. Specialty coffees and pastry items provided by Roast are available for purchase. The 2018 summer season will feature live music from many different styles and genres. The musical performances commence at 10:30 a.m.
Make everyday free at the museum along with special event discounts, by becoming a member. As part of the celebration, the Villa Terrace is offering $20 memberships for new members who sign up at the opening June 3.
Café Sopra Mare Summer Music Schedule:
Sunday, June 10 – Joseph Di Frances – Classical Guitar
Sunday, June 17 – Peter Baime & Agusta Brilla – Flamenco Artists
Sunday, June 24 – Good Vibes Jazz – Vibraphone, Guitar, Drums
Sunday, July 1 – Gorenc & Di Cristo – Accordion, Bass
Sunday, July 8 – J Ryan Trio – Blues-Jazz Combo
Sunday, July 15 – Neal Bardele – Keyboard Artist
Sunday, July 22 – Myserk – Celtic Ensemble
Sunday, July 29 –
Toco Rio
– Mandolin, Guitar
Sunday, August 5 – The Flute Studio Quartet
Sunday, August 12 – Dale Palecek & Friends – Dulcimer, Mandolin, Guitars
Sunday, August 19 – Bob Maynard Jazz Quartet
Sunday, August 26 – Jack Grassel & Garrett Wait – Three Necked Guitar Artists
Sunday, September 2 – Joseph Magnno – Accordion Master
Sunday, September 9 – Frogwater – Violin & Guitar Duo
Sunday, September 16 – Carolyn Wehner – Keyboard Artists
Sunday, September 23 – Siempre Flamenco Ensemble
Sunday, September 30 – The Worldwind Jazz Trio
About the Renaissance Garden
From the Parnassus Terrace to the Demmer Neptune Gate, the Renaissance Garden of Villa Terrace charts a path of beauty from the villa to Lake Michigan. Along the way, one encounters foliage, flowerbeds, water features, statuary and more. The home's original garden was designed by Rose Standish Nichols in 1924. The nonprofit Friends of Villa Terrace raised $1.5 million and marshaled volunteers to reimagine and restore the garden, which reopened in 2002 with a landscape plan by Dennis Buettner. The Friends continue to raise funds for garden and its ongoing maintenance. More information about the garden and its features is available at villa terrace.org
About the Villa Terrace Decorative Arts Museum
Overlooking Lake Michigan, the Villa Terrace Decorative Arts Museum is an Italian Renaissance-style villa designed and built by architect David Adler in 1923 as the residence of Lloyd Smith of the A.O. Smith Corporation, his wife Agnes and their family. The villa's courtyards, terraces, and Renaissance garden flowing down to the lake make it unique to Milwaukee. The permanent collection features fine and decorative arts from the 15th through the 18th centuries and the Cyril Colnik collection and archives, with many excellent examples of Colnik's wrought-iron masterpieces. Curated exhibitions are mounted several times each year along with a variety of other arts programming.
Location: 2220 N. Terrace Avenue, Milwaukee, Wisconsin. For general information, please call 414-271-3656.
Museum Hours: Wednesday, Friday – Sunday 1:00 p.m-5:00 p.m. Thursday 1:00 – 8:00 p.m. General Admission: $7 for adults, $5 for Seniors (62+), Military and Students with a valid ID, and FREE for Museum Members and Children 12 and under.
Mentioned in This Press Release
Recent Press Releases by Villa Terrace Decorative Arts Museum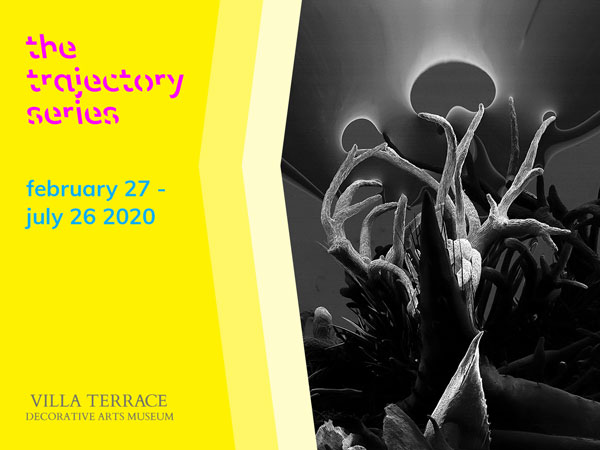 Aug 6th, 2019 by Villa Terrace Decorative Arts Museum
Enter Through the Neptune Gate For Thursday Nights in the Garden at the Villa Terrace Decorative Arts Museum August 15, 2019 through September 12, 2019 Featuring Live Music and Neptune Bar