Press Release
Sip & Purr Cat Café Rescues Homeless Kitten in Cairo, Egypt
"Saving Nala was 100% unplanned," says McHugh, founder and owner of Sip & Purr Cat Café.
It was in the streets of Cairo where Sip & Purr founder Katy McHugh and her 12-year-old son Cole stumbled upon Nala, the now famous Egyptian kitten who is taking up residence and soon awaiting a forever home in Milwaukee, WI.
"Saving Nala was 100% unplanned," says McHugh, founder and owner of Sip & Purr Cat Café. On February 21st, while exploring Cairo, Katy's son Cole happened to spot a kitten living alone in a cage of a Cairo pet store. No other cats were in sight, no mother or siblings. "The kitten was in rough shape, clearly malnourished and sickly," says McHugh.
McHugh purchased Nala for 5 dollars, the only option other than leaving her to meet an uncertain fate. "My rescue radar kicked in. I knew I had to do something to save this kitten."
After bringing her back to the hotel, which involved discreetly hiding Nala in Katy's jacket, McHugh realized Nala had no idea how to eat solid food. "She was still nursing when she most likely was taken from her mother to be sold."
Immediately Katy contacted a Cairo veterinarian and her kitten rescue team in Milwaukee. Lexa Hodkiewicz, whose parents own Lake Geneva Animal Hospital, was on the phone with McHugh despite the nine-hour time change, helping her through the steps to save Nala. "Syringe feeding a kitten, in Cairo, in a hotel, with very limed supplies was new to me," Katy states. Sip & Purr, a café on Milwaukee's Eastside, specializes in rescuing cats over one year of age.
After a few days of syringe feeding and a vet visit, which included an exam, medical treatment, and issuance of an international health certificate required for flight, Nala safely made the 15-hour journey from Cairo to Chicago O'Hare.
For now, Nala will be fostered at the McHugh's home. "She has a long way to go in terms of gaining weight and strength, receiving additional medical care, and adjusting to life in America," says McHugh.
After fostering, Nala will make the move to Sip & Purr where she will socialize with other cats and humans, waiting to find the perfect family.
Mentioned in This Press Release
Recent Press Releases by Sip & Purr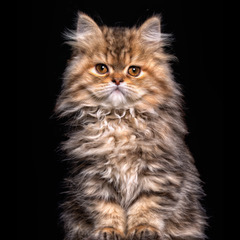 Apr 19th, 2019 by Sip & Purr
Sip & Purr has also adopted out 14 homeless cats from Doha, Qatar.