Press Release
Science author John Adam Gives Family-friendly Talk About Patterns in Nature
The presentation is family-friendly, free and open to the public.
MILWAUKEE _ Beneath the arching colors of a rainbow or the delicate swirls of an ice crystal lie complex and beautiful mathematical patterns.
On Oct. 23 at 4:30 p.m. in the Wisconsin Room of the UWM Student Union, UWM's College of Letters & Science welcomes John A. Adam from Old Dominion University for the Dean's Distinguished Lecture in the Natural Sciences. Adam's talk, "Patterns in Nature: A Treasure Trove for the Curious," uses stunning visuals and beautiful photographs to introduce us to the science and math behind rainbows, ice crystal halos, water and atmospheric waves, and other natural phenomena.
The presentation is family-friendly, free and open to the public.
In addition, Adam's books ("Mathematics in Nature," "A Mathematical Nature Walk" and "Guesstimation: Solving the World's Problems on the Back of a Cocktail Napkin") will be sold before and during the lecture by Boswell Book Company. Adam will autograph books after the talk.
Adam has been professor of mathematics at Old Dominion University since 1984. He holds a PhD from the University of London in theoretical astrophysics, and he has broad interests in mathematical modeling and applied mathematics, ranging from mathematical biology to meteorological optics. He is a frequent contributor to Earth Science Picture of the Day.
About UWM
Recognized as one of the nation's 115 top research universities, UW-Milwaukee provides a world-class education to 27,500 students from 91 countries on a budget of $689 million. Its 15 schools and colleges include Wisconsin's only schools of architecture, freshwater sciences and public health, and it is a leading educator of nurses and teachers. UW-Milwaukee partners with leading companies to conduct joint research, offer student internships and serve as an economic engine for southeastern Wisconsin. The Princeton Review named UW-Milwaukee a 2019 "Best Midwestern" university based on overall academic excellence and student reviews, and the Sierra Club has recognized it as Wisconsin's leading sustainable university.
Mentioned in This Press Release
Recent Press Releases by University of Wisconsin-Milwaukee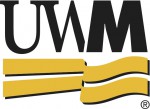 May 7th, 2019 by University of Wisconsin-Milwaukee
The two-story campus facility, at the corner of Kenwood Boulevard and Maryland Avenue, serves as both UWM's public "front door" and a new address for transforming the region's economy.