Press Release
Record numbers to travel by bus this Memorial Day
The upcoming 2015 Memorial Day weekend is expected to see its highest level of passenger traffic on scheduled motorcoach service in at least 25 years.
The upcoming 2015 Memorial Day weekend is expected to see its highest level of passenger traffic on scheduled motorcoach service in at least 25 years, according to a new report by DePaul University's Chaddick Institute for Metropolitan Development.
DePaul University forecasts that as many as 1.8 million people will ride on motorcoaches May 20-25, Memorial Day weekend, up five percent over 2014.[1]
"The DePaul report shows that motorcoach travel continues to be more popular now than ever," said megabus.com CEO Dale Moser. "Memorial Day is traditionally a high traffic period and our industry will take millions of Americans to and from their holiday destinations safely and affordably."
"Motorcoach companies are all about providing exceptional service every day at a fair price. That commitment, along with free Wi-Fi and power outlets, is just one of the reasons why more people are traveling on buses," said American Bus Association President and CEO Peter Pantuso.
According to the American Bus Association Foundation's latest Motorcoach Census, the entire motorcoach industry provides an estimated 1.65 million passenger trips per day, or 605 million passenger trips each year. Over the six-day period surrounding Memorial Day, those figures would translate into nearly 10 million total passenger trips on all forms of motorcoach service, including scheduled, charter, and tour.
Highlights of the Report
Passenger travel on scheduled bus lines is expected to be at its highest level in 25 years, surpassing all previous Memorial Day holidays since at least 1990. This trend reflects a continuing revival in the intercity bus industry. [2]
Unlike air travel, in which travel is heaviest on Friday, motorcoach travel is expected to peak on Wednesday, May 20, and Thursday, May 21. Travel is expected to be as much as 20-24 percent higher than the typical day throughout the year.
A strengthening economy is fueling growth in bus travel. Declining fuel prices for car drivers have had only modest effects on the demand for travel by bus.
The increase in traffic will result in about 10% of bus departures operated during peak hours on Thursday and Friday consisting of "extra sections," or additional buses that operators add to existing departures to meet passenger demand.
Demand is bolstered by the growing availability of city-to-city express services such as megabus.com. These carriers, in some cases, offer reserved/guaranteed seating, free Wi-Fi and power outlets.
This Memorial Day also marks the first major holiday in which travelers may have the option to reserve specific bus seats. In late March 2015, megabus.com introduced this service to travelers over its U.S. system.
Scheduled service carriers typically report significant increases in ridership around holidays, as individuals take leisure trips, groups plan tours, and students travel to and from universities.
"The motorcoach industry is thriving. We're pleased to report that the number of passengers on buses during the Memorial Day weekend will be at its highest level in years," said Professor Joseph Schwieterman, director of the Chaddick Institute for Metropolitan Development at DePaul University. "The Wednesday, Thursday and Friday leading up to the holiday will see particularly strong passenger traffic on scheduled service carriers as travelers seek to avoid the hassles of flying and driving. The strong demand shows, once again, that the motorcoach industry is a vital part of the nation's transportation system."
According to data released last year by the Chaddick Institute, city-to-city bus service cumulatively saves consumers $1.2 billion annually compared to other modes of travel and bus customers who purchase tickets on carriers such as megabus.com one day before departure save an average of more than $300 roundtrip over what they would spend for airline tickets booked a week in advance.
###
[1] This figure was reached by evaluating the amount of service being made available to the public on more than 100 scheduled bus operators and estimating the number of passengers per bus departure. The research in this report by DePaul University's Chaddick Institute was independently produced. DePaul University does not receive any financial support from the American Bus Association, its members or the bus industry for this work.
[2] This estimate is based on a comprehensive review by DePaul of the amount of service that was made available to the public in past decades. The Chaddick Institute's Intercity Bus Data Set. This data set provides estimates of the amount of bus service that is provided nationwide by various types of carriers.  Details of the data set can be found in the Intercity Bus Travel Estimate Methodology, available at http://las.depaul.edu/Chaddick.  The scheduled service estimates do not include charter bus operations, local transit operations, and airport-shuttle operators.
Mentioned in This Press Release
Recent Press Releases by Megabus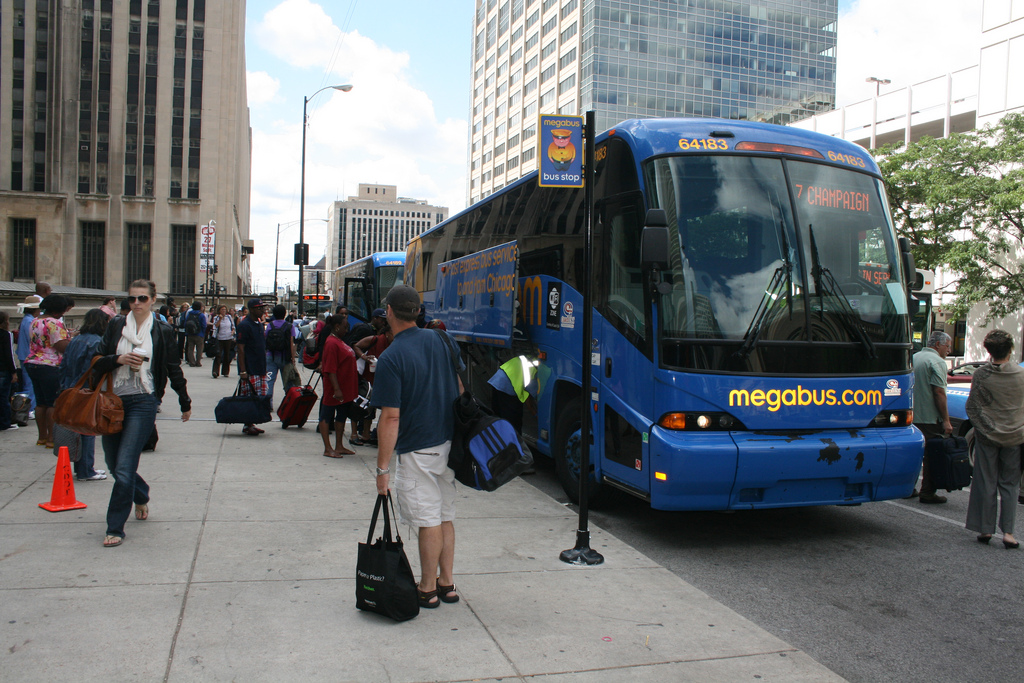 Nov 10th, 2016 by Megabus
The expansion of our operations in Wisconsin and Ohio, will allow us to more effectively meet customer demand for our services.