Press Release
Marquette University receives $6 million in grants from Burke Foundation for Trinity Fellows and Burke Scholars programs
The Burke grants allow for an expansion of the Trinity Fellows program.
MILWAUKEE – Marquette University has received $6 million in grants from the Burke Foundation to continue and expand two longstanding, highly regarded scholarship programs founded by Richard A. Burke: the Trinity Fellows program for graduate students and the Burke Scholars program for undergraduates. Both programs incorporate volunteer service as a key component.
Burke, former president of Trek Corp., is a 1956 graduate of Marquette's College of Business Administration. He served on the university's Board of Trustees from 1996 to 2005, and in 2005 he was elected trustee emeritus for life in recognition of his service to Marquette.
"Marquette's Catholic, Jesuit tradition and its mission to develop leaders in service to others aligns well with the goals of the Burke Foundation," said Deanna Singh, the foundation's executive director. "We are committed to urban education and making a difference in the lives of youth through leadership programs that help them fulfill their potential. The Trinity Fellows and Burke Scholars whose educations we have supported have made an important impact in Milwaukee and other communities."
"As a Catholic, Jesuit institution, we are called to improve the communities we reside in, to enhance urban education and to especially tend to those people on the margins of society," said Marquette President Michael R. Lovell. "The Burke Foundation is constantly seeking to make a difference in the lives of youth in these areas, and we are really excited to extend our partnership."
Trinity Fellows program expands, celebrates 15th anniversary
The Burke grants allow for an expansion of the Trinity Fellows program, which is celebrating its 15th anniversary with a reunion event for current and past fellows on the Marquette campus, Friday, April 29, 2016. The new funding will support five additional fellowships, boosting the program's enrollment from 10 to 15 graduate students annually, as well as a new assistant director position and additional alumni programming.
The Trinity Fellows program was created to develop urban leaders with a commitment to social and economic justice – an ideal central to Marquette's Catholic and Jesuit mission. In addition to their full-time studies, Trinity Fellows work in nonprofit Milwaukee organizations for 18 hours per week during the academic year and 40 hours per week during the summer. Fellows work in a variety of settings, including educational nonprofits, job training sites, schools, economic development partnerships and organizations dedicated to advocacy, neighborhood building, health, housing, and human services.
Applicants must meet graduate admission requirements. Prior Peace Corps, Jesuit Volunteer Corps, AmeriCorps or other comparable post-baccalaureate full-time volunteer service is also mandatory. Fellowships include a full-tuition scholarship and a monthly stipend for books, health insurance and other living expenses.
Burke Scholars supports undergraduates
For more than 22 years, the Burke Scholars program has encouraged undergraduate students not only to excel academically but to develop a life around a humanitarian ethic through a commitment to serving others. It is awarded annually to up to 10 academically talented Wisconsin high school seniors who receive four-year, full-tuition scholarships to Marquette. Award winners participate in extracurricular activities sponsored by the program, as well as special academic programs focusing on the spirit of Jesuit education and service to others. Burke Scholars must maintain a 3.0 GPA and volunteer at least 300 hours of meaningful service every academic year.
About the Burke Foundation:
The Burke Foundation seeks to make a difference in the lives of youth by investing in creative, cost-effective educational opportunities that enhance and improve:
The character, quality and access to education
The personal, social and intellectual development of children and youth
The educational and social quality of community life
The Burke Foundation has supported innovative opportunities and programs that improved urban education, youth and leadership development by focusing on the well-being of youth and future leaders, and addressing long-term viability in the changing community.
Mentioned in This Press Release
Recent Press Releases by Marquette University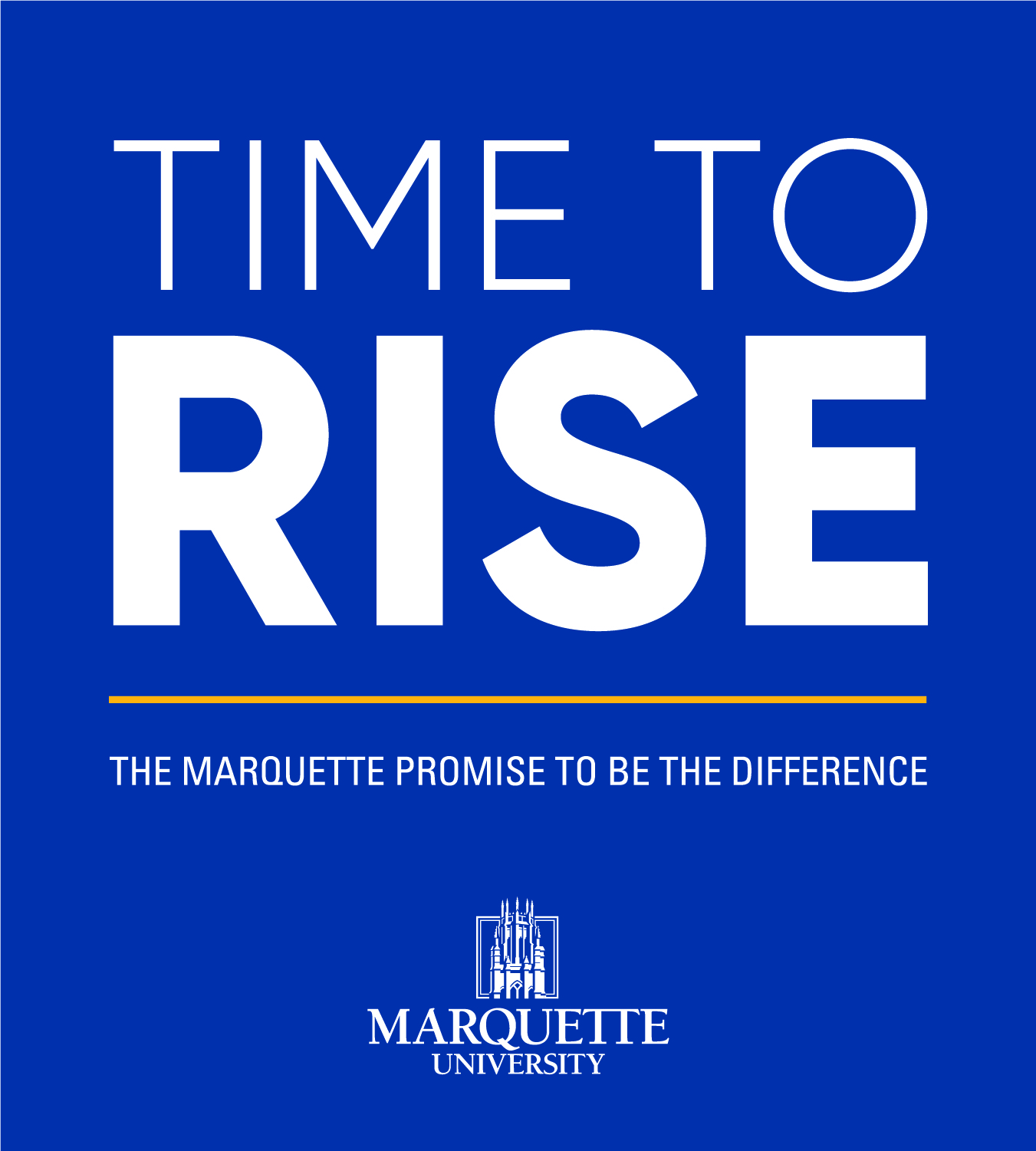 Apr 8th, 2021 by Marquette University
Time to Rise is largest comprehensive fundraising campaign in university history