Press Release
Marquette University names Ian Gonzalez as new vice president for finance
Marquette alumnus joins university from locally based Briggs & Stratton
MILWAUKEE — Ian Gonzalez, CPA, CFA, has been named Marquette University's new vice president for finance, Senior Vice President and Chief Operating Officer Joel Pogodzinski announced today. Gonzalez, who most recently served as corporate controller for Wauwatosa, Wisconsin-based Briggs & Stratton Corporation, will begin in his new role on Nov. 11.
A Marquette alumnus, Gonzalez earned his bachelor's degree in accounting from the College of Business Administration in 2002. He is a licensed Certified Public Accountant and holds the Chartered Financial Analyst designation.
"Ian is an experienced finance leader with a strong track record of collaborative problem-solving and leading diverse teams. His background will serve Marquette well in continuing our momentum forward," Pogodzinski says. "He is also a passionate and engaged Marquette alumnus, who will bring a clear commitment to our Catholic, Jesuit mission and values."
"I am honored and excited to join my alma mater during a transformational time in its history. Marquette and its mission are incredibly special to me," Gonzalez says. "Energized by this career transition into higher education, I am eager to lead the finance team while partnering with university stakeholders to help execute Marquette's strategic plan, Beyond Boundaries."
Gonzalez has served in progressive financial leadership positions with Briggs & Stratton since 2010, culminating with his most recent position as corporate controller. In that role, he was a key finance partner in developing and executing the manufacturing company's long-range strategic plan, while leading the finance functions for the company's Corporate and Global Engine business units. Additionally, Gonzalez served for eight years as secretary of the Briggs & Stratton Pension Plan Investment Committee.
Prior to that, he served in a variety of senior audit roles with global accounting firm KPMG where he worked from 2003-10.
Gonzalez has served on the Marquette University Business Administration Alumni Association board since 2018, where he also serves as a member of the Career Awareness Committee and participates in the Mentor Program.
Mentioned in This Press Release
Recent Press Releases by Marquette University
Nov 11th, 2019 by Marquette University
According to President Lovell, the office will amplify Marquette's vision to develop more holistic off-campus collaborations and partnerships for community impact.
Nov 11th, 2019 by Marquette University
The summit will feature a variety of activists, artists, authors and academics converging to discuss the lived experience of disenfranchisement and offer solutions to some of the most pressing social justice issues affecting us locally, nationally and internationally.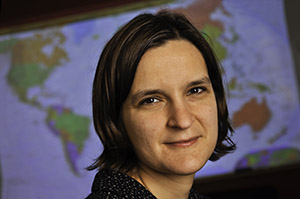 Oct 28th, 2019 by Marquette University
Dr. Esther Duflo is also a co-founder and co-director of the Abdul Latif Jameel Poverty Action Lab.