Press Release
Itzhak Perlman Performs With Milwaukee Symphony Orchestra
Undeniably the reigning virtuoso of the violin, Itzhak Perlman enjoys superstar status rarely afforded a classical musician.
MILWAUKEE, WIS. 04/07/2015 – The Milwaukee Symphony Orchestra presents An Evening with Itzhak Perlman on April 28, 2015 at the Marcus Center for the Performing Arts. Associate Conductor Francesco Lecce-Chong leads the orchestra in Brahms's Symphony No. 2, and Itzhak Perlman plays Mendelssohn's Violin Concerto in E minor.
Brahms's Symphony No. 2 in D major was composed in the summer of 1877 and premiered in Vienna in December 1877. It has a cheerful and pastoral mood, which often invites comparisons to Beethoven's Sixth Symphony. Brahms composed the symphony in the seaside village of Pörtschach, and he wrote of the surroundings that "…the melodies flow so freely that one must be careful not to trample on them."
Mendelssohn's Violin Concerto in E minor, Opus 64 is his last large orchestral work. It began in 1838, but was not completed and premiered until 1845. Mendelssohn proposed the idea to the concertmaster of the Leipzig Gewandhaus Orchestra, Ferdinand David, who was a close friend. It was one of the first works to be composed with the input of a violinist, and it remains part of the standard repertoire today.
ABOUT THE ARTISTS
Undeniably the reigning virtuoso of the violin, Itzhak Perlman enjoys superstar status rarely afforded a classical musician. Beloved for his charm and humanity as well as his talent, he is treasured by audiences throughout the world who respond not only to his remarkable artistry, but also to his irrepressible joy for making music. Having performed with every major orchestra and at venerable concert halls around the globe, Itzhak Perlman was granted a Kennedy Center Honor in 2003 by the John F. Kennedy Center for the Performing Arts in celebration of his distinguished achievements and contributions to the cultural and educational life of the United States.  He has performed multiple times at the White House, most recently in 2012 at the invitation of President Barack Obama and Mrs. Obama, for Israeli President and Presidential Medal of Freedom honoree Shimon Peres; and at a State Dinner in 2007, hosted by President George W. Bush and Mrs. Bush, for Her Majesty The Queen and His Royal Highness The Duke of Edinburgh. In 2009, Mr. Perlman was honored to take part in the Inauguration of President Obama, premiering a piece written for the occasion by John Williams alongside cellist Yo-Yo Ma, clarinetist Anthony McGill, and pianist Gabriela Montero.
Born in Israel in 1945, Mr. Perlman completed his initial training at the Academy of Music in Tel Aviv.  He came to New York and soon was propelled to national recognition with an appearance on the Ed Sullivan Show in 1958. Following his studies at The Juilliard School with Ivan Galamian and Dorothy DeLay, he won the prestigious Leventritt Competition in 1964, which led to a burgeoning worldwide career.  Since then, Itzhak Perlman has established himself as a cultural icon and household name in classical music. In 2008, Itzhak Perlman was honored with a Grammy Lifetime Achievement Award for excellence in the recording arts. His recordings regularly appear on the best-seller charts and have garnered sixteen Grammy Awards.
American conductor Francesco Lecce-Chong, currently associate conductor of the Milwaukee Symphony Orchestra, has worked with orchestras around the world, including the Atlanta, Indianapolis, and St. Louis symphony orchestras, Saint Paul Chamber Orchestra, and the Hong Kong, Pitesti (Romania), and Ruse (Bulgaria) philharmonics. Equally at ease in the opera house, Mr. Lecce-Chong has served as principal conductor for the Brooklyn Repertory Opera and as staff conductor for the Santa Fe Opera. He has earned a growing reputation and critical acclaim for dynamic, forceful performances that have garnered national distinction, including the Solti Foundation Career Assistance Award and The Presser Foundation Music Award. In summer 2014, he served as the associate conductor at the Grand Tetons Music Festival and had guest appearances with the Toronto Symphony Orchestra, Las Vegas Philharmonic, and Breckenridge Music Festival.
In his role with the MSO, Mr. Lecce-Chong works closely with renowned Music Director Edo de Waart and is directly responsible for leading over forty subscription, tour, education, and community concert performances annually. In his acclaimed subscription appearances with the MSO, he has collaborated with soloists such as Itzhak Perlman, Ignat Solzhenitsyn, Augustin Hadelich, and Joyce Yang. In addition, Mr. Lecce-Chong has curated and conducted a special three-week series at venues around Milwaukee using thematic elements to draw together a diversity of works from outside the standard repertoire.
As a trained pianist and composer, Mr. Lecce-Chong embraces innovative programming, champions the work of new composers, and by example supports arts education. He brings the excitement of new music to audiences of all ages through special presentations embodying diverse program repertoire and the use of unconventional performances spaces. Mr. Lecce-Chong also provides artistic leadership for the MSO's nationally-lauded Arts in Community Education (ACE) program – one of the largest arts integration programs in the country. He is a frequent guest speaker at organizations around Milwaukee and hosts Meet the Music, the MSO's pre-concert lecture series.
Mr. Lecce-Chong is a native of Boulder, Colorado, where he began conducting at the age of sixteen. He is a graduate of the Mannes College of Music, where he received his Bachelor of Music degree with honors in piano and orchestral conducting.  Mr. Lecce-Chong also holds a diploma from the Curtis Institute of Music, where he studied as a Martin and Sarah Taylor Fellow with renowned pedagogue Otto-Werner Mueller. He currently resides in Milwaukee, Wisconsin. Follow his blog, Finding Exhilaration, at lecce-chong.com.

ABOUT THE PERFORMANCE
An Evening with Itzhak Perlman
Francesco Lecce-Chong, conductor
Itzhak Perlman, violin
Uihlein Hall, Marcus Center for the Performing Arts
Tuesday, April 28 | 7:30 p.m.
Tickets range from $50-160. For more information, please call 414.291.7605 or visit mso.org. Tickets may also be purchased through the Marcus Center Box Office at 414.273.7206.
ABOUT THE MSO
The Milwaukee Symphony Orchestra, under the dynamic leadership of Music Director Edo de Waart, is among the finest orchestras in the nation and the largest cultural institution in Wisconsin. Now in his sixth season with the MSO, Maestro de Waart has led sold-out concerts, elicited critical acclaim, and conducted a celebrated performance at Carnegie Hall on May 11, 2012. The MSO's full-time professional musicians perform over 135 classics, pops, family, education, and community concerts each season in venues throughout the state. Since its inception in 1959, the MSO has found innovative ways to give music a home in the region, develop music appreciation and talent among area youth, and raise the national reputation of Milwaukee.
Mentioned in This Press Release
Recent Press Releases by Milwaukee Symphony Orchestra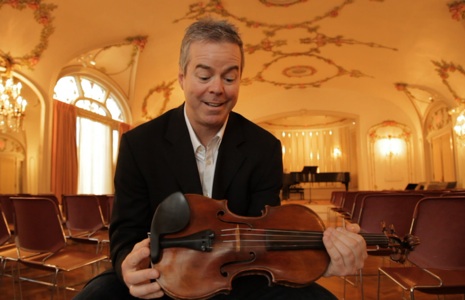 Sep 20th, 2019 by Milwaukee Symphony Orchestra
As the Charles and Marie Caestecker Concertmaster Chair of the MSO, Almond holds arguably the most prestigious and visible role within the orchestra.