Press Release
"Hansel and Gretel" provides Food for Thought
Community audiences will laugh while learning
Audiences will love Milwaukee Public Theatre's entertaining retake on the classic Hansel and Gretel fairy tale.  Giant puppets, masks, music, comedy and dance promote healthy eating, active lifestyles and encourage urban and community gardening.
The Fondy Farmer's Market, 2200 W. Fond du Lac, is featuring a performance of Hansel and Gretel – Food for Thought at 11:30 on Saturday, August 2. The setting is ideal for the whole family to enjoy a show about healthy lifestyles while shopping for fresh, locally-grown produce. The public is also invited to gather at Alice's Garden, 2136 N. 21st St. at 10:30 to learn about the Milwaukee County Breastfeeding Coalition, and join their "Walk" to Fondy Market to see the show at 11:30.
All of the scheduled shows are free and open to the public, including several at MPS Recreation sites.

Thursday, July 24, 1:00 pm, COA-Goldin/Auer Avenue School, 2320 W. Burleigh Street
Friday, July 25, 1:00 pm, John C. Cudahy YMCA, 9050 N. Swan Road
Thursday, July 31, 1:00 pm, Silver Spring Neighborhood House, 5460 N. 64th Street
Saturday, August 2, 11:30 am, Fondy Farmer's Market, 2200 W. Fond du Lac Avenue. Perfect timing for the whole family to attend!
Originally created by the critically-acclaimed Quasimondo Milwaukee Physical Theatre, Hansel and Gretel has been newly adapted to highlight the health, fitness and gardening themes of MPT's Food for Thought project. The cast and creators are all local:
Mother/Witch: Edward Winslow
Hansel: Brian Rott
Gretel: Jessi Miller
Garden Man: Andrew Parchman
Mother, Witch, Hansel and Gretel puppets created by Bian Rott and Jessi Miller
Garden Man, a new puppet created by Edward Winslow for Food for Thought
Comments about Hansel and Gretel, presented at schools during the spring semester:
"Students found the performance to be unique and engaging.  The mixture of puppets, dance and drama fascinated them.  The music had them singing along, and I think the show got the message across in a fun way while introducing the importance of healthy eating."    ~ Tyne Turner, Theatre Teacher, Golda Meir School
"My students were very intrigued about how the story plot was different from the traditional talk and the more recent movie. They were very excited over the costumes as well." – Hopkins Lloyd teacher
"The junk food idea was great." "My students enjoyed it. They loved the rap, music, and dancing."
– Clark Street School teachers
"They enjoyed it. They thought it was funny/entertaining. They talked about how they try to play outside too, not just have 'screen' time."  – Manitoba School teacher
Information about other aspects of MPT's Food for Thought project (StoryBridge and Amani Gardens) can be found by calling 414-347-1685 or at www.milwaukeepublictheatre.org/food-for-thought.
These free performances of Hansel and Gretel – Food for Thought are underwritten by MPS Partnership for the Arts and Humanities and the Helen Bader Foundation, with additional funding from the United Performing Arts Fund, Milwaukee County CAMPAC, and the Wisconsin Arts Board with funds from the State of Wisconsin and the National Endowment for the Arts.
Mentioned in This Press Release
Recent Press Releases by Milwaukee Public Theatre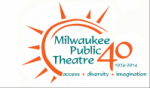 Jul 5th, 2016 by Milwaukee Public Theatre
Previously, Carolina served as the Executive Director of The Southside Community Justice Center.