Official Biography
The suite-style residence hall being renovated on the northeast corner of 17th Street and Wisconsin Avenue is the Rev. James McCabe, S.J., Hall.
Father McCabe was Marquette's president from 1908-11. In 1909, Marquette became the first Catholic university in the world to offer co-education as part of its undergraduate program.
McCabe Hall will house 216 students in suite-style rooms. Plans for the first floor include a student lounge, prayer room, hall store, laundry room and hall offices. The architects and contractors have worked to salvage some of the original architectural details in the eight-story building, including plaster details, archways, high ceilings, terrazzo flooring and woodwork detailing.
Content referencing McCabe Hall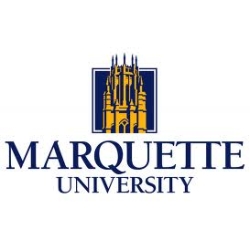 This meeting had few files acted on but Marquette University's request for a change in zoning of a variety of university owned properties shows Marquette University is moving ahead on significant projects in downtown Milwaukee. [inaarticlead]It was pointed during the meeting that out that of the 8000 undergraduates at Marquette University approximately 6,500 live within […]
Jan 8th, 2009 by Dave Reid