Building Info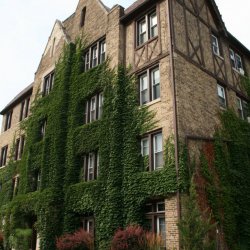 Address

:

1743 N. Cambridge Ave.

Taxkey

:

Status

:

Assessment

:

$1,663,000 (2014)

Year Built

:

Size

:

26,734 sq-ft
The Cambridge Manor Apartments is an apartment building on Milwaukee's Lower East Side. The 40-unit building is located just north of E. Brady St. at 1743 N. Cambridge St.
The apartment building is made up of 24 studio units, 13 one-bedroom units, and three large one-bedroom units.
The building has a large amount of ivy growing on its eastern facade.
The building was acquired by Donald Allen and Monroe Investment Partners (doing business as Cambridge-Monroe LLC) on December 23rd, 2011 for $1,675,000 from Cambridge 1743 LLC. According to a listing on LoopNet, the building was 90% occupied in May 2011.
In 2005, the building was acquired by Sean O'Driscoll (Cambridge 1743 LLC) for $1,775,000.
As of November 2014, the building is managed by Siegel Gallagher. Michelle Doyle serves as the manager.
In at least 1947 and 1950, the building was home to meetings of the First Ward Democratic Club, according to articles in the Milwaukee Sentinel.
Assessment History
2013 – Land: $280,000 – Improvements: $1,394,000 – Total: $1,674,000
2012 – Land: $280,000 – Improvements: $1,331,000 – Total: $1,611,000
2011 – Land: $280,000 – Improvements: $1,331,000 – Total: $1,611,000
2010 – Land: $280,000 – Improvements: $1,331,000 – Total: $1,611,000
2009 – Land: $280,000 – Improvements: $1,340,000 – Total: $1,620,000
2008 – Land: $150,000 – Improvements: $1,486,000 – Total: $1,636,000
2007 – Land: $150,000 – Improvements: $1,486,000 – Total: $1,636,000
2006 – Land: $150,000 – Improvements: $1,482,000 – Total: $1,632,000
Learn More
Photos
Activity
| | | | |
| --- | --- | --- | --- |
| ID | Date | Type | Description |
| PLB-18-03707 | 2018/08/10 | Permit | Building Plumbing Permit. |
| ID | Date | Description | Type |