Building Info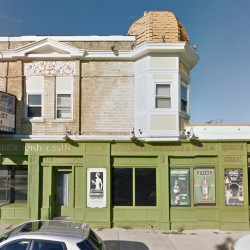 Address

:

5328 W. Blue Mound Rd.

Taxkey

:

Status

:

Assessment

:

$774,000 (2015)

Year Built

:

Size

:

15,089 sq-ft
Future home of DugOut 54. DugOut 54 will be owned by Karlis "Chuck" Vecitis, who formerly owned Kelly's Bleachers . Victis was a 50% owner in former tenant Burke's Irish Castle. According to a license application, DugOut 54 will generate 75% of its revenue from alcohol, 20% from food and 5% from entertainment.
DugOut 54 will operate as a full service restaurant, tavern, night club, banquet hall and cocktail lounge according to the November 2015 application. The business will operate from 8 a.m. until bar time seven days a week.
Former home of Burke's Irish Castle tavern, which closed in December 2015. Burke's originally opened in 2012, following long-time tenant Derry Hegarty's Irish Pub.
Also includes four 3,008 sq-ft, one-bedroom apartments on the second floor.