Help for Troubled Teens
La Causa's Wraparound program provides comprehensive care to teens with mental health and emotional needs.
//end headline wrapper ?>
Get a daily rundown of the top stories on Urban Milwaukee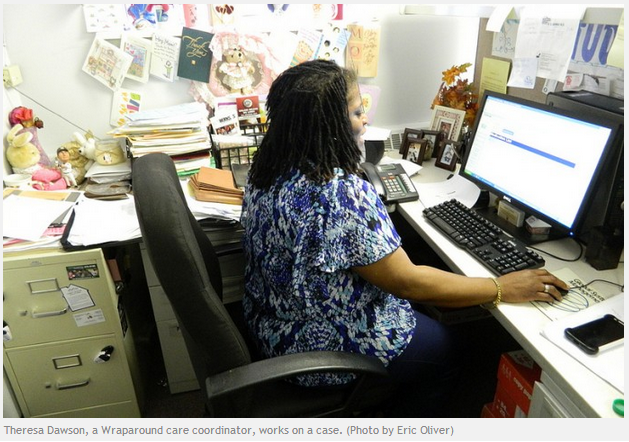 The teenager stood nervously before a judge knowing that when the hearing was over he could find himself in a juvenile correction facility. John (not his real name) had violated his probation for an armed robbery conviction, and his future was in the hands of the judge.
Fortunately for the young man, the judge decided to send him for treatment at La Causa Social Services, one of dozens of local agencies that participate in Wraparound Milwaukee. The nationally recognized program provides comprehensive, individualized care to teenagers and children with mental health and emotional needs. A court order is required to participate.
Megan Larscheid, a social worker who is now a supervisor in the Wraparound REACH program, was assigned to the troubled teenager in 2011. Wraparound REACH utilizes the Wraparound method, but participation is voluntary.
Larscheid created a plan of action for the teen, who was a heavy marijuana user, often skipped school often and had committed smaller crimes before escalating to armed robbery.
The action plan called for John to undergo therapy to address his drug abuse. He also was assigned a "tracker" to make sure he attended school, Larscheid said.
Once his attendance at school picked up, Larscheid helped him obtain a driver's license, and get a tuxedo so he could go to prom. When the program concluded, he successfully completed his probation, and got a job at Pick N' Save.
During the year the two worked together, according to Larscheid, he turned his life around and became a contributing member of the community.
John was one of approximately 300 individuals who participated in Wraparound and Wraparound REACH in 2011, the most recent year for which data is available, according to Chad Meinholdt, program manager at La Causa. Overall, the agency, located at 1212 S. 70th St., served just over 6,000 people in 2011. Data for 2012 is expected to be released later this summer.
Jakob Eisen, a Wraparound supervisor, worked with families and children at various agencies before he came to La Causa. He said that the Wraparound program distinguishes itself by making connections with clients and building on what they already do well.
By building on participants' strengths, staffers help their clients achieve progressively larger goals, according to Eisen.
For example, a common goal is to increase school attendance. To do this, the staff builds on smaller accomplishments such as getting the teen to go to school two or three times a week, until they eventually attend every day.
The agency works with parents to determine a course of care for their child. The Wraparound approach is the best way to address mental health issues that families face, according to Eisen. He added that La Causa strives to make each family feel appreciated, and aims to promote a sense of normalcy for clients.
The program helps clients "recognize that there is a light at the end of the tunnel, and it is indeed a light of their own making," Eisen said. "I like to think it is quite an honor that we have the opportunity to work with them."
Wraparound is one of a variety of social services offered by La Causa. La Causa also operates a charter school, early education center and free crisis nursery. It was originally founded in 1972 as a childcare agency run by several mothers from the community.
This story was originally published by Milwaukee Neighborhood News Service, where you can find other stories reporting on fifteen city neighborhoods in Milwaukee.
Milwaukee Neighborhood News Service