Bike Czar
Year's First Fatality, Bicyclist Hit by SUV
Bicyclists continue to be killed by negligent drivers, which is why Wisconsin needs a Vulnerable User Law.
//end headline wrapper ?>
Get a daily rundown of the top stories on Urban Milwaukee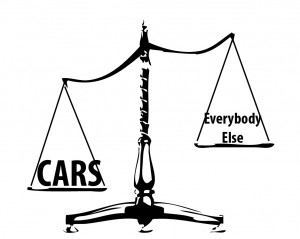 Last Saturday at 12:31 in the afternoon, a 41-year-old man riding a bicycle in Wisconsin Rapids was hit by a 75-year-old man driving an SUV when he attempted to cross Eighth Street.The victims was transported to Riverview Medical Center in Wisconsin Rapids, where he was pronounced dead. The driver of the SUV suffered no injuries.
According to a
Wisconsin Rapids Police Department press release
, the victim was hit when he attempted to cross 8th Street at the signalized intersection of 
8th Street South and Pepper Avenue
. The police report noted that neither alcohol nor speed was a factor in the crash, but that members of the Wisconsin State Patrol Crash Reconstruction Team were at the scene and their investigation remains ongoing.
This is the first fatal crash involving a person on a bicycle in 2013, but far from the first fatal crash involving a motor vehicle. According to today's "Daily Fatal Report," a cheery email I get from the Wisconsin Department of Transportation every day, the breakdown to date is as follows:
I suspect that the "unknown" refers to Saturday's crash still under investigation in Wisconsin Rapids. Given this crash occurred at a signalized intersection, I suspect the State Patrol is trying to determine if the bicyclist or the SUV driver failed to obey the light. The Bike Fed will report more details as they become available.
In a well-written post at his blog, The Active Pursuit, Tom Held makes an excellent case for why Wisconsin needs a Vulnerable Users Law. Held gives updates on six high-profile crashes over the last six years in which innocent people riding bicycles were killed and the person who killed them got off with comparatively minor penalties.
Most recently, Held notes,  22-year-old Andrew S. Yang paid a $126 fine for killing Robert Gunderson, 53, July 7, 2012. Yang told police he fell asleep while driving to work westbound on Woods Rd. in Muskego. He then crossed the centerline and hit Robert Gunderson, 53, head-on. Gunderson was riding his bicycle eastbound, near the shoulder. In October of last year, Waukesha County Dist. Atty. Brad Schimel wrote a letter to Roger Gunderson's widow, Antoinette, explaining why he had declined to issue criminal charges against the driver. Schimel expressed his condolences, but said he could not prove the driver, Andrew S. Yang, had driven in a criminally negligent or reckless manner. As a result, Muskego Police cited Yang, 22, for failure to keep his vehicle under control.
Despite his acknowledgment of fault, Schimel did not feel that he could prove Yang's actions rose the the level of criminal negligence that is necessary to prove  homicide by negligent operation of a motor vehicle, a felony that is predicated on proving the driver was "criminally negligent."  Criminal negligence is a much higher standard and very difficult to prove. The most common example of simple negligence I could find was "ordinary negligence occurs when a person fails to exercise ordinary care, such as if a person is driving a car and changing the radio station at the same time." Criminal negligence means reasonable people would believe that the actions that caused the crime create a substantial and unreasonable risk of death or great bodily harm to another.
On Tuesday, April 9,  Bike Fed staff and more than 100 concerned voters were in Madison to ask their elected representatives to pass a Vulnerable User Law that gives prosecutors the tools to seek punishment that more properly fits the crime when someone kills an innocent person with their motor vehicle. Read more about Lobby Day and the Bike Fed's proposed Vulnerable User Law on our Lobby Day page here.
On a more cheerful note, the Bike Fed also celebrated its 25th Anniversary with a party that evening. We appreciate all the members and supporters who have helped us to make progress for the cause of bicycling over the last quarter century!
This story was originally published by the Bicycle Federation of Wisconsin.