Murphy's Law
The African American Advantage
The county's black residents have $3.6 billion in annual income and black neighborhoods have far more purchasing power than suburbs.
//end headline wrapper ?>
Get a daily rundown of the top stories on Urban Milwaukee
Is it possible Walgreen's knows something that other retail chains don't? You can find a Walgreen's on the north side at 27th and North, at 22nd and Capitol, on N. Hopkins, N. Teutonia and Martin Luther King Drive. You can find a Walgreen's on the south side at 11th and Mitchell, 14th and Burnham and 24th and Forest Home.
But try to find a Pick'n'Save in certain black neighborhoods, or a Best Buy anywhere in the entire city. The central city is a desert when it comes to most kinds of retail stores. The assumption, of course, is that retail chains locate where they can sell more, in the wealthier neighborhoods. But that assumption is dead-wrong.
A new study by researcher Lois Quinn and the UW-Milwaukee Employment & Training Institute turns conventional wisdom on its head, finding that predominantly black and Latino inner-city neighborhoods have far more purchasing power than the wealthiest suburbs, for a very simple and obvious reason: density.
Suburbs have bigger homes, bigger lots, and far fewer wage earners per block or square mile. City neighborhoods have far more people per block, and so, even though the average household income may be smaller, the total purchasing power per square mile is far higher.
Based on household surveys by the U.S. Census Bureau, the study found that the 53206 zipcode, "generally viewed as the poorest neighborhood of Milwaukee," generated $115.8 million in income per square mile in 2011. The total household income of African Americans in Milwaukee County was a $3.557 billion, with $2.56 billion of the total generated by nine zipcodes where African Americans make up a majority of the population.
While the average black household is less likely to have two wage earners than a white suburban household, the density of city blocks means there are far more wage earners per block. "Contrary to the persistent — and totally inaccurate — urban myth that children are growing up in central city neighborhoods where they see very few employed families, state tax returns show the highest concentration of working families in the central city," the study notes.
The study found that in the poorest zipcode, 53206, there are 1,676 working families per square mile, compared to 137 per square mile in Franklin, 325 in the North Shore zipcode 53217, 443 in Saint Francis and 587 in South Milwaukee. This huge disparity in the number of wage earners gives even the poorest city neighborhood a huge advantage in purchasing power.
The study used the U.S. Census Bureau Consumer Expenditure Survey to estimate spending levels in city and suburban neighborhoods. Households in the 53206 zipcode spend $13.1 million per square mile for food from grocery and convenience stores, compared to just $1 million per square mile for Grafton, $2.4 million for Brookfield and $4.8 million for Greendale. Yet you will find far more grocery and convenience stores in the suburbs.
They are missing a huge opportunity, says Randy Crump, the CEO of Prism Technical, and chair of the African American Chamber of Commerce. "Those stores that go into the inner city — and obviously they may have to spend some money on better security — are able to generate tremendous sales. There is a tremendous opportunity for commerce in the inner city."
In numerous categories of retail spending, the 53206 zipcode is an economic powerhouse compared to outlying suburbs. It spends an estimated $973 per square mile for personal products (hair care, shaving needs, etc.), almost 15 times more than in Cedarburg, about 11 times more than Pewaukee and seven times more than Mequon/Thiensville. That difference may explain why you find so many Walgreens stores located in poorer city neighborhoods.
The 53206 zipcode spends 2 to 20 times more per square mile on apparel than various surrounding suburbs, 1.5 to 17 times more on TV and video-related purchases, up to 20 times more on home repair items, up to 10 times more for both non-prescription drugs and for computer hardware and software.
The potential market in predominantly black neighborhoods is huge, but they must go elsewhere to make their purchases. "You can go into the Target at 124th and Capitol or the Red Lobster on Mayfair Road and sometimes it's 80 percent African American customers," says Crump. "It's mind-boggling."
The study looked at what it called "retail leakage" — the estimated spending by black consumers in Milwaukee who must go elsewhere for retail or restaurants. It found that anywhere from 29 percent of retail spending (in the 53205 zipcode) to 68 percent of spending (53210 zipcode) leaves the neighborhood and gets spent elsewhere. This means less jobs created and less money circulating and building the economy in these neighborhoods.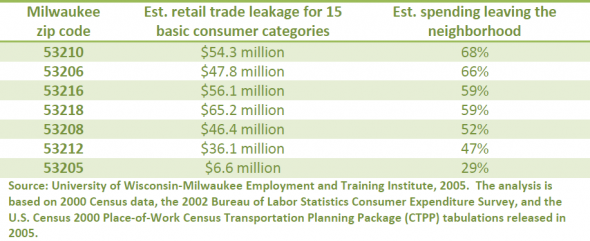 The study gets funny — in a grim sort of way — when it looks at marketing companies like Neilsen/Claritas, which rank sparsely-populated suburban areas with higher average household income as "winners" and densely-populated urban areas with far higher total income as "losers," Quinn notes.
Thus, Grafton is stereotyped as belonging to categories it calls "God's Country" and "Country Squires" while the 53206 zipcode belongs to categories called "Bottom-Line Blues" and "Low-Rise Living."  Grafton is an "oasis" of the "wealthiest residents" in America, while Neilsen/Claritas says this about the 53206 zipcode: "few rank lower when it comes to income," with a concentration of "single-parent families living in low-cost apartments." Grafton is illustrated by a white woman with a horse, while the 53206 zipcode offers the image of a young black basketball player at a pay phone.
In fact, Quinn's study shows, Grafton spends just $2.6 million per square mile on 16 different categories of retail spending, compared to $28.7 million per square mile in the 53206 zipcode. For that matter, Quinn can't resist pointing out, this zipcode has 64 churches, nearly six times more than the Grafton area described as "God's Country."
The issue of retail leakage is a crucial one for Milwaukee's black community. One MKE Summit and NAACP Young Adult Committee are also looking at this issue, along with the African American Chamber of Commerce.  Eve Hall, the chamber's president, says the issue is not just about attracting big retail chains but about supporting local black businesses, which can help grow the local economy.
"Research shows that at minority businesses grow, they tend to hire more minorities," Hall says. Her group, she says, want to "identify as many African American-owned businesses as we can and do whatever we can to help grow and strengthen these businesses."