Milwaukee Police District Boundaries Redrawn – Will Affect New UWM Dorm
Get a daily rundown of the top stories on Urban Milwaukee
Milwaukee Police Chief Edward Flynn has had his new police district boundaries approved by the Common Council Public Safety Committee.  The new boundaries will have the most significant affects on the East and South sides of Milwaukee.
A looming issue with the construction of the new UWM dorm on the Hometown site on North Avenue was that it it will sit on the dividing line of the first and fifth districts.  Concerns were raised at the public meetings preceding the approval of the dorm that policing may be an issue in the area.  The new boundaries should eliminate any potential communication issues by placing officers near the new dorm in the same district.
The existing UWM Riverview Residence Hall will be now be in District 5, which will encompass all of the Riverwest, Brewers Hill, and Harambee neighborhoods as well as a few more neighborhoods to the northwest.  While the existing Riverview Residence Hall was originally on the North Avenue dividing line as well, it did not draw the same concerns from neighbors as no one lives south of the dorm until you hit Commerce Street and the Beerline B neighborhood.
Old Districts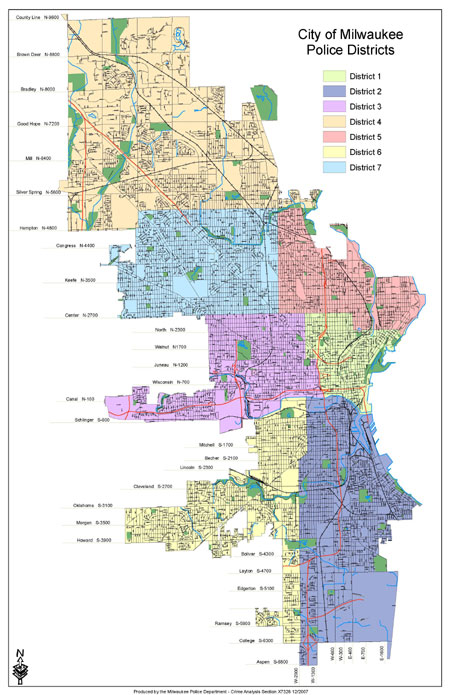 Larry Sandler at the Journal Sentinel has more information on the South Side redistricting.