//end headline wrapper ?>
Get a daily rundown of the top stories on Urban Milwaukee
Stumped about what to get your fave artist in 2009? Some ideas from Stella….
Nutcrackers: Jimmy Von Milwaukee is hardly ever around these days, but in days past, he's been notable for his crafty events, which sometimes featured his outrageous nutcrackers, to wit, figures resembling former Mayor Norquist, Marilyn What's-Her-Name, and uh oh, Mother Teresa. A recent posting from JVM featured piñatas designed to bash Pegi Taylor. Seems the two are running neck-in-neck in the race for media attention.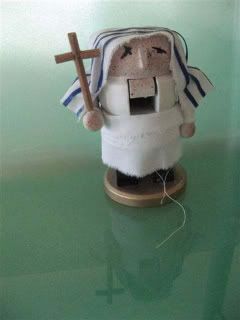 12-Hour Heated Socks: Perfect for smoking in sub-zero temps.
The Carnival Duck Shooting Game: For Colin Mathes, a Nohl Fellowship winner.
A Wrist Blood Pressure Monitor: For gallery dealers who are currently monitoring the fall of the art market, speaking of which, Dean Jensen attended the recent Outsider Art exhibit in NYC. Deb Brehmer went along too, with art from Manitowoc-based dentist-turned-artist, Rudy Rotter. She showed his work at her Marshall Building gallery recently, and it was such a hit that she apparently has rented additional space in a wee spot across the hall from her Portrait Gallery.
The Men's Extended Reach Body Hair Groomer: Dick Bacon is dead or I'd get it for him. Memba Dick? Mr. Nude America and a devoted local model who often posed for figure drawing classes.
The Classic Donegal Tweed Patchwork Cap: Poet Eddie Kilowatt, more recently known as Ed Makowski, poet & Riverwest dad.
The Remote Controlled Tarantula: Anything to inject a little life into Gallery Night & Day.
The Wireless Remote Pan & Tilt Surveillance Camera: Milwaukee Magazine's editor, Bruce Murphy, might find this helpful for fueling Murphy's Law.
The Maui Pocket Saxophone: For newlywed Folliard staffer, Nicole Hauser, who received her engagement ring on an island in the Pacific.
The Best Electronic Chess Game
: In case MAM exec. Daniel Keegan can't figure out his next move in a sagging art economy.
The Thomas Kinkade Music Box: Local writer/photographer Tom Bamberger will love it. It's so Tom.
Spring-Loaded Insoles: This for Gallery 218's Judith Hooks who walks everywhere.
1953 Corvette Pedal Car: Racine Sculptor Bill Reid built the Bee Bomb. Maybe he'd dig this. His work will be featured at Folliard Gallery this spring.
The Aviator's Duck Down Hat: Fockin Rockin for Art Kumbalek Comes with a matching Duck Down hip flask.
The Upside Down Tomato Garden: Painter Thea Kovac who continues to endure the terrible looking New Land Enterprise parking garage on Downer.
The Best Locating & Tracking Telescope: The Shepherd Express' Boris & Doris. An assortment of Kyle Cherek stickers in case they forget to mention his name one more time.
The Biofeedback Stress Relief Coach: Great for all those journalists hanging on by their thumbs.
The Continuously Freshening Feline Drinking Fountain: In case former gallery guy Kent Mueller ever opens another gallery with another cat. RIP Fred.