//end headline wrapper ?>
Get a daily rundown of the top stories on Urban Milwaukee
Just kidding. The former pizza joint on 15th & Farwell (east side of street) will reopen in mid-January '09, not as another pizza or tattoo parlor, but as Green Gallery East, brought to you steaming hot by gallerist/artist Riepenhoff who knows how to serve up a satisfying slice of art. The debut event will feature the work of David Robbins, described online as "international," and a former laborer at the Andy Warhol Factory. He's more than that, so I'm looking forward to his show.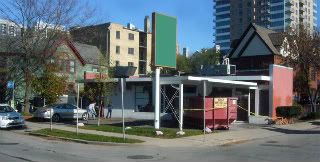 The modest modernist structure Green is re-doing had slipped into severe disrepair, so hey, on the street that developer Boris Gokhman (New Land Enterprises) is holding hostage, an art gallery sure trumps a tanning spa and yet another soaring condo. Across Farwell is the Pasta Tree, and to the north, the fab Maharaja eatery, the Beehive Beauty Salon, and well, a few blocks north of that is Brady Street itself, and even further north, the invova/Kenilworth art mecca. Did I mention "Mr. Shoe?" He's a neighbor of Green East too.
I'm hard pressed to think of a better location for an art adventure. Stroll out my front door, round the corner and there it is, in all of its one-story glory. Because it's a former drive-up place, the parking should be adequate. This is after all, the eastside where tempers rise during the on-going battle of who gets what. Hoof it, bus it, bike it. We'll be in a new year with a new president when the gallery opens. Suddenly 2009 seems downright hopeful. Galleries come and go, but Riepenhoff & his youthful crew have devoted fans.
It will be interesting to see who actually visits the space, set in a diverse area of the well-heeled and down-in-the-heels, and all points in between. Imagining that uber-condo types will experience it, is a bit of a stretch, but perhaps they'll stretch their minds and consider something other than boring pretty pictures for their walls, put in place by interior designers who don't have a clue what art is. One Riepenhoff idea that I hope doesn't go away, is his "Riepenhoff experience," a wonderful tree-house style small installation. Climbing up the ladder and peering in, is, in a word, sensational.