Arts alert
2008 Nohl Fellowships announced
//end headline wrapper ?>
Get a daily rundown of the top stories on Urban Milwaukee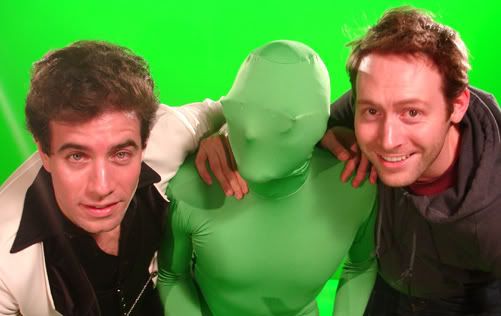 Bobby Ciraldo and Andrew Swant of Special Entertainment: two of the gazillions of filmmakers who had money thrown at them yesterday. Just kidding!
Yesterday, UWM's Peck School of the Arts announced grantees of the 2008 Mary L. Nohl Fellowships, and to our collective surprise here at VS HQ, fully five of the seven awards went to … filmmakers. In a town increasingly notorious for its thriving film community, it's tempting to see this as a kind of coup d'etat.
The press release follows, and I'm sure we'll hear lots from VITAL Source bloggers and the wider Milwaukee arts commentary world about the jury's decisions. Last year there was controversy when it was suggested that not enough women were represented in the show; will the arts community feel this year that the scales have been tipped too unfairly toward artists working in film and new media? And will the gender issue come up this year as well, as once again, only two of the nine selected artists are ladies?
Excerpts from the press release, including artist bios, follow. Each established artist receives a grant of $15,000; emerging artists receive $5,000. The 2007 Nohl Awards show is currently on exhibit at Inova/Kenilworth and will be up until January 18, and I highly recommend a visit – the show is fabulous.
Congratulations to all y'all!
MARY L. NOHL FUND FELLOWSHIPS FOR INDIVIDUAL ARTISTS AWARDED
Funded by the Greater Milwaukee Foundation's Mary L. Nohl Fund and administered by the UWM Peck School of the Arts in collaboration with Visual Arts Milwaukee! (VAM!), the Mary L. Nohl Fund Fellowships for Individual Artists provide unrestricted funds for artists to create new work or complete work in progress. The program is open to practicing artists residing in the four-county area (Milwaukee, Waukesha, Ozaukee, and Washington counties). The Mary L. Nohl Fund also supports a Suitcase Fund for exporting work by local artists beyond the four-county area.
The panel of jurors included Valerie J. Mercer, the first curator of African American art and head of the General Motors Center for African American Art at The Detroit Institute of Arts; Laurel Reuter, director and chief curator of the North Dakota Museum of Art; and Eva González-Sancho, director of the Fonds Régional d'Art Contemporain – Région Bourgogne (FRAC Bourgogne) in Dijon, France. The panelists were in Milwaukee October 30-November 1 reviewing work samples and artists' statements and visiting the studios of the six finalists in the Established Artist category.
Established Artists
BRENT BUDSBERG & SHANA McCAW
Shana McCaw and Brent Budsberg have collaborated for the past seven years constructing site-specific sculptural installations and performances. Their recent work focuses on realistic architectural miniatures utilizing narrative and mood to transform a site. Both are also founding members of the WhiteBoxPainters, a performance art group specializing in public projects. McCaw was born in Dubuque, IA and received an MFA from Cranbrook Academy of Art in Bloomfield Hills, MI in 1999. She currently teaches at the Milwaukee Institute of Art and Design and Cardinal Stritch University. Budsberg was born in Wausau, WI and earned a BFA from the University of Wisconsin-Milwaukee in 2000. He is a 3-D lab supervisor at the Milwaukee Institute of Art and Design, a carpenter, a musician, and has also built numerous set pieces for the theatre/film industry. McCaw and Budsberg's recent exhibitions include Escapisms at Galerie Sans Nom in Moncton, NB, Canada, Beloit and Vicinity at the Wright Museum of Art in Beloit, WI, for which they won first prize and a solo exhibition to be mounted in May 2009, Leading Edge at NML Gallery, Cardinal Stritch University, in Milwaukee, WI, Broken Down at The Soap Factory in Minneapolis, MN, and New Work/Emerging Artists at Inova at the University of Wisconsin-Milwaukee in Milwaukee, WI.
XAV LEPLAE
Xav Leplae, born in Belgium in 1966, is a Milwaukee based filmmaker, performer and artist. He is best known for his film I'm Bobby (official selection at Sundance Film Festival), and was creative consultant on Chris Smith's The Pool (Winner of the Special Jury Prize at Sundance Film Festival). Leplae attended art school at Cooper Union, studied cinema and animation in China, and was a member of Paper Tiger TV in New York. He is recognized locally as the owner of Riverwest Film & Video. Leplae is currently in post-production on Rasmalai Dreams, a 3-D talent video shot in India.
IVERSON WHITE
Iverson White is a native of Detroit, Michigan. While attending Cass Technical High School's Performing Arts program, he joined playwright Ron Milner's Spirit of Shango Theater Co. White attended Wayne State University where he acted in local productions, was a delegate to the Second World Festival of Black and African Arts and Culture, in Lagos Nigeria (1977), published several volumes of poetry, and produced Oracy, an LP album of poetry and music with long time collaborator Kamau Kenyatta. Oracy was re-released as a CD in 2005. After graduating from WSU with a degree in mass communications, White joined the Graduate Repertory Company at the University of New Orleans (1980-1981) before transferring to UCLA's film school. At UCLA he received the Donald Davis and Jack Nicholson Awards for screenwriting in 1982 and 1983. In 1985 he produced Dark Exodus, a short film that has been screened on PBS, the Southern Circuit Film Tour, and in national and international film festivals, and has received several major awards including the Dore Schary Award from B'nai B'rith, the Paul Robeson Award from the Newark Museum, the Black Filmmakers Hall of Fame Award, and the Prized Pieces Award. White's latest film, Self-Determination, was completed in 2008. It has screened at the Pan-African Film Festival, the San Diego Black Film Festival and at UWM. Iverson White is an associate professor in the department of Film at the University of Wisconsin-Milwaukee, where he has been on the faculty since 1987.
Emerging Artists
TATE BUNKER
Tate Bunker moved from Florida to Wisconsin to enter the film program at the University of Milwaukee-Wisconsin. The city's support for local filmmakers kept him here after he received his M.F.A. in 2001. Bunker has directed more than 30 films in the last 10 years. He balances directing his own films, freelancing (Bunker's lush images and mastery behind the lens make him one of Milwaukee's premier cinematographers), and teaching film production at UWM. His received an Emmy for his production work on Gumbo TV, two additional Emmy nominations, and two Milwaukee International Film Festival "Best Milwaukee Filmmaker" awards. He also won a Paris Film Festival "Best Cinematography" prize for his Stanley Kubrick-inspired short, Starlite. He is currently working on a feature film, Resurrection Ferns, which will be shot in early January.
FRANKIE LATINA
Italian American independent film director, producer and screenwriter Frankie Latina was born July 14, 1978 in Milwaukee Wisconsin. The son of counterculture parents Lisa Jordan and Thomas Latina, he was raised by his two sets of grandparents: Frank and Charlotte Latina and Alex and Shirley Jordan. This unique collage of grandparents, immigrant entrepreneur juxtaposed with a labor movement activist, exposed Latina to the contradictory yet inspirational values of the American dream. Using his Uncle Dave's Super 8mm camera, he began making movies when he was a teenager. He studied film at the University of Wisconsin-Milwaukee and is a graduate of MATA cable access. Away from show business, Latina is also a crepe chef, visual aid for the blind, and music writer for the Milwaukee Journal Sentinel. He also mentors and teaches film making to Milwaukee Public high school students. Latina is best known for directing the highly regarded art house epic, Modus Operandi. Latina aspires to explore the dark experiences of contemporary life and transform them into a phantasmagorical escape for his audience.
BARBARA MINER
Barbara Miner is a writer and print journalist with a 30 years' experience, with an emerging focus on photography. Her long-term artistic goal is to combine photography and writing in order to make the final product more powerful than either words or photos might be on their own. For the shorter term, her goal is to hone her photographic skills and use them in the tradition of social documentary: to help people see what is there for all to see, but which too often goes unnoticed and/or unacknowledged.Miner has written for publications including the
Milwaukee Journal Sentinel
,
Milwaukee Magazine
,
The New York Times
,
The Progressive
and
Rethinking Schools
. In May, she received an associate degree in photography from the Milwaukee Area Technical College. Among her photography awards, she was named 2008 Photographer of the Year, college division, by the Wisconsin News Photographers Association. Her photos were also selected in 2007 and 2008 for the college competition of the Lakefront Festival of the Arts.

SPECIAL ENTERTAINMENT (ANDREW SWANT & BOBBY CIRALDO)
Andrew Swant and Bobby Ciraldo have been collaborating since 2003. They share an interest in exploring and bending the rules of art, entertainment, and humor, and in new media especially with respect to how they relate to the field of memetics (the study of viral, evolving ideas). Swant (born 1976, raised in Madison, Wisconsin) is a writer and filmmaker who studied film at the University of Wisconsin-Milwaukee and art at the University of Wisconsin-Eau Claire. He was a Sundance TV Lab finalist and has exhibited work in New York, Los Angeles, and Brazil. Bobby Ciraldo (born 1974, raised in Michigan and Florida) is a filmmaker and web-based artist who attended Grinnell College and later collaborated with Chris Smith, Ray Chi, and Scott Reeder to create ZeroTV.com, a pre-cursor to MySpace and YouTube.
Working as Special Entertainment, their titles include The Robot Mousetrap, shown at White Columns gallery in New York; the award-winning Studying the Lie, with artist David Robbins; work on The Ice Cream Social, financed by the Sundance Channel; and Zombie Killer, a music video for the band Leslie & the Lys with guest vocals by Elvira, Mistress of the Dark. Their hit music video, What What (In the Butt), was recently featured on the television show South Park in an extensive shot-for-shot re-creation. Current projects include Hamlet A.D.D., a feature length comedy based on Shakespeare's Hamlet, with live-action characters in an animated world, and William Shatner's Gonzo Ballet, a feature length documentary about the making of Common People, a ballet choreographed for Milwaukee Ballet by Margo Sappington and set to the William Shatner/Ben Folds album Has Been.