//end headline wrapper ?>
Get a daily rundown of the top stories on Urban Milwaukee
Early this morning, the day after the third Presidential debate, my phone rang. On the other end an aggressive recorded voice, informed me that Obama consorts with terrorists, i.e. Bill Ayers. The voice did not identify itself as being aligned with any particular group. I slammed down the phone in disgust. How much lower can we sink into this cesspool of crap?
Years ago when I lived in a suburban tri-level, our sewage system consisted of a septic tank dug into the side of our yard. I'd never dealt with one before, but it wasn't long until I had to, and I soon learned that the Honey Wagon that came around each month didn't sell honey. No indeed. What it did was suck out the stinking contents filling the concrete receptacle.When the lid was lifted you could smell the shit all over the leafy confines of our block. The guy who serviced the shit removal, inserted a long hose into the tank, flipped a switch, and voila, the gunk disappeared into the bowels of his truck which hauled it off to god knows where.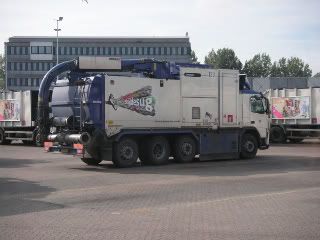 What disemboweled voices spewing shit need, is a long hose stuck down their throats. I envision it as a snake-like device that clamps onto their rotten mouths and then works its way into their intestinal tract. Not once in this arduous political race have I ever received a call from an Obama supporter that was anything less than polite.
Don't try calling me again whoever (or whatever) you are.