//end headline wrapper ?>
Get a daily rundown of the top stories on Urban Milwaukee
Recently I attended an art closing and heard people mention that they hadn't been to see the Gilbert & George show at the Milwaukee Art Museum. Their voices were tinged with "guilt," as if the G&G was something they should be interested in, but aren't.
I know the feeling. Years ago (25 more or less), I milled around a really big show when the splashy two hit Milwaukee and the Art Museum. Most people were there to be "shocked," or at least there to be part of the crowd waiting to be shocked. Was I shocked? I can't remember. These were the years of Russell Bowman at MAM, who brought in lots of cutting edge contemporary art. Theatre X was still around, performance art was a big deal, and there was a general air of excitement and change at the formerly staid venue.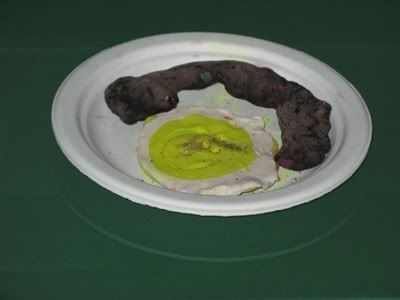 Bacon & Eggs for Gilbert & George
Play-Doh/paint
The other thing I missed out on was Tom Bamberger's recent take on curatorial efforts, which aired on Lake Effect. I hear it was great, but I didn't actually listen as I don't have my speakers hooked up, nor have I purchased a cheapo gizmo to tune into the world of What's Going On. I don't own a cell phone and last year I dumped the recorder on my land line. This makes me feel guilty about not being "with it." More and more, I find myself picking up The Onion and/or watching MAD T.V.
I've also been writing a weekly column for my old hometown newspaper in rural Iowa. They've been publishing for over 100 years, and the paper has hardly changed at all. The populace (1,000 and shrinking) consists of mostly Republican church-going types. They don't have any public art–unless you count the fiberglass hog standing at the rim of town. I find this oddly refreshing. They've never heard of Gilbert & George, and the closest the town has come to "fame" is when the 1912 axe murders took place and eight were slaughtered in their sleep. They do have the original axe, but that's about it. You can still buy a house in my hometown for less than $50,000. The house I grew up in recently sold for $35,000.