The Harley-Davidson Museum Celebrates an American Icon
//end headline wrapper ?>
Get a daily rundown of the top stories on Urban Milwaukee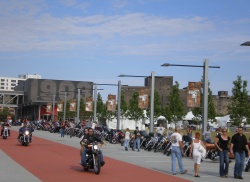 Today's opening of the Harley-Davidson Museum is a truly great day for the City of Milwaukee. The $75 million, 130,000 square foot complex, which was designed by James Biber of Pentagram Architects, celebrates the 105 year history of Harley-Davidson. The complex references both Milwaukee's industrial past and Harley-Davidson's motorcycle style by mixing modern elements and simple lines with an exposed I-Beam skeleton.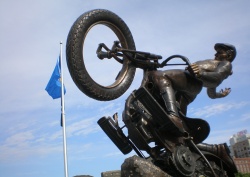 The grounds consist of three buildings situated on a urban street grid which allows the facility to support bike rallys and outdoor entertainment. The streets include a strip of orange concrete running down the middle which draws a direct connection to the rallys of Sturgis, South Dakota by indicating this area is for motorcycle parking. The riverwalk has two green pathways that act as an oasis among the heavy iron and roaring engines. The final section of the riverwalk gives you access to view along Canal St. that takes your vision past the bronze statue of a hill climbing motorcyclist through the museum complex into the Menomonee Valley. The years of planning and working towards the opening of this museum show through in its success at showcasing the history of an American icon and Milwaukee institution.
For more information on the Harley-Davidson Museum, Pentagram Architects has a good article on it here.