//end headline wrapper ?>
Get a daily rundown of the top stories on Urban Milwaukee
Free the Galazan 5!
Inova/Kenilworth
June 13 – July 27
Opening reception: Friday, June 13, 6 – 9pm
Gene Galazan left Milwaukee years ago and fled to Arizona. I remember him from the way back days when he and his artist spouse were active participants in Milwaukee art events, so I was intrigued to learn that Inova/Kenilworth will be exhibiting five of his Cor-ten steel sculptures in an exhibit titled Free the Galazan 5! (June 13 – July 27).
I found images of the 5! online at the antique and art site of Gary Gresl, who owns the sculptures and is offering them for sale. The spin surrounding the exhibit is pinned to the "story" behind the sculptures: that they were left to languish in a warehouse when deemed to be too "dangerous" and too "abstract" for public consumption. The sculptures, fabricated in 1980 for CETA, a federally funded jobs program, were shot out of the saddle. Here's an excerpt from an article written by Dean Jensen (yes, that Dean Jensen), in the Milwaukee Sentinel March 2, 1982:
"The pieces, fabricated from Cor-ten steel and weighing 200 to 250 lbs. each….are gathering dust in storerooms in the old Town of Lake water tower on S. 6th St., and in a Public Works Department structure in the Menomonee Valley."
The article goes on to note that Galazan was planning a demonstration outside of City Hall, "seeking to free the sculptures he claimed were being held by the city."
A friend of mine who attended UW-Milwaukee recalls Galazan's parents as being "civic-minded trendy art junkies with a big house on Lake Drive." They were active in Jewish Vocational Services (his mom ran the JVS pottery department) and were as "sweet as can be," or so remembers my friend.
Of course, most artists have tales to tell, particularly those with bones to pick, and Galazan was (like other artists of his era) highly theatrical. That said, Inova/Kenilworth decided these sculptures and their colorful history would be useful in enlightening viewers about the problems of making art for the "public." A good example of things gone awry is the current flap surrounding the proposed sculpture memorializing the sinking of the Lady Elgin. Most people involved in the arts will also recall when Dennis Oppenheim's proposal for the Blue Shirt sculpture was hung out to dry.
However, the basic question remains: are these five sculptures worth the effort of pondering, let alone building an exhibit around? Inova curator, Nick Frank, first saw the Galazan 5 during a visit to Gresl's home, where they sat among weeds and high grasses. He listened to the back story and decided to have all five hauled by truck and placed in Inova/Kenilworth's vast gallery space. The largest sculpture is priced at $2,000. You can view it and the others at www.greslartmarket.com. It's a shame that the five are being sold separately. They clearly belong together.
Prior to writing this and visiting the gallery, I went online to see what Galazan is up to in Arizona. I found various images of his "junkyard horses" installed in and about the Prescott, Arizona area. They are typical of the bad art known as Tourist Western and I would put them in the same category as garish paintings of noble Native Americans and weathered cowboys riding the range. To make matters worse, his horses are bad rip-offs of Deborah Butterfield's magnificent sculptures of horses, at least one of which is installed in the Milwaukee Art Museum.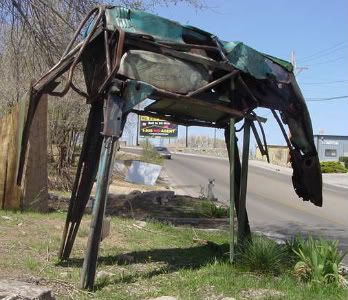 But what about the Galazan 5 installed at Inova/Kenilworth? Forget the documents surrounding their history, forget the spin, forget all of that and consider the sculptures. You may not want to forget that curator Frank has a big job trying to fill the voluminous gallery space with decent 3-D objects – no easy assignment with a zero to minus-zero budget. Add to that Inova's mission to "educate," and it's easy to imagine how tempting it is for a curator to grab at local straws, even ones made of Cor-ten steel.
The Galazan 5 do not disappoint. Beautifully installed in a row, defining a line moving from east to west (the largest sculpture to the smallest), each element in each sculpture is cut and welded to somewhat suggest origami, perhaps animal shapes mellowed with patinas of deep dark "skin." There are hints of Calder, touches of Serra (though on a more human scale), and lyrical moments where weld meets metal. I spent an hour in the gallery and viewed the grouping from every possible angle. It's wonderful to imagine them marching across a vast field or standing sentinel in a swatch of Kettle Moraine. If anyone reading this has the means to purchase the entire grouping, step forward please. The Galazan 5 deserve to be set free.
Curator Frank brought out a series of black and white photographs and asked if I could identify any of the persons in the group shots. Yes, there was artist Estherly Allen (Galazan's spouse), and photographer Francis Ford in the background, and perhaps (I said), that could be Julie Lindemann sporting bangs and a bob. Another photograph taken during a performance art event clearly showed Galazan in "white-face," and could it be? Dennis Coffey, also in white-face 28 years ago. It's depressing that we're still wrestling with the same old same old question of what public art should be.

The Galazan 5 at Inova/Kenilworth
You'll find the answer at this show.