Defiance
Body Worlds, Gunther Von Hagens & life itself
Get a daily rundown of the top stories on Urban Milwaukee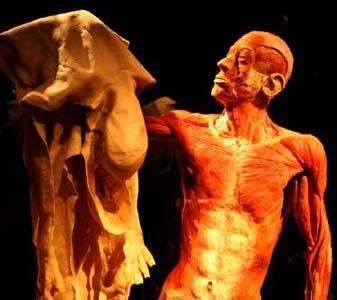 Since seeing the show at the Milwaukee Public Museum when it opened two weeks ago, I've been thinking a lot about Body Worlds, and I've been thinking a lot about Gunther Von Hagens, the German scientist and provocateur behind the international museum sensation.
His name (and his image) is plastered all over the exhibition, and his vision is not just overt – it's his signature. Von Hagens, with his trademark black fedora, sees himself as a maverick anatomist, a Renaissance man and an artist – a modern-day Leonardo da Vinci whose detractors are merely ignorant or unwilling to see the bigger picture. To the great writ of history, Vesalius is not a grave robber or an exhibitionist, a picture so many people are eager to paint of Von Hagens. Von Hagens, I assume, does not think history will treat him with such ill will, either, and in time, they will come to understand what we view now as grotesque eccentricities – his enduring fascination with public autopsy and dissection, for example.
The bio on the Body Worlds website says it all:
Gunther von Hagens' life reads like an archetypal scientist's resume — distinguished by early precocity, scholarship, discovery, experimentation, and invention. It is also the profile of a man shaped by extraordinary events, and marked by defiance and daring.
Von Hagens' two year imprisonment by East German authorities for political reasons, his release after a $20,000 payment by the West German government, his pioneering invention that halts decomposition of the body after death and preserves it for didactic eternity, his collaboration with donors including his best friend, who willed and entrusted their bodies to him for dissection and public display, and his role as a teacher carrying on the tradition of Renaissance anatomists, make his a remarkable life in science.


Body Worlds, amid all of its shock and bravura and bragging feats of technique, carried one-word message for me, a word the Von Hagens publicity machine has used to describe the mastermind himself: defiance. Body Worlds is full of real displays of things that kill us – aneurysms and hemorrhages, cancerous growths, lungs clogged with tar – but above all it attempts to suggest that with science (and in particular with plastination) we have found a way to make the decay of the mortal body avoidable and therefore impotent; moreover, we have managed to make it possible for bodies in death to do what they could not do in life. It is likely – even probable – that the bodies posed as ballet dancers, gymnasts, horsemen, basketball players, skateboarders or practitioners of Tai Chi never did such things when they were alive.
There's a defiance, too, of the way we practice science today – with our heads, and not with our hearts – that Von Hagens is trying to challenge. By displaying the body in all of its grace, it is written in a Body Worlds text panel, it becomes evident to the viewer that something is missing – the soul. "The presentation of the pure physical," it reads, "reminds visitors of the intangible and the unfathomable." Science as we know it is obsessed with dismantling the mystery of existence and creation; perhaps that is why Von Hagens above all identifies himself as an artist. And a defiant artist, at that.
I think Von Hagens has it all wrong, and I think Body Worlds confounds. It's full of whole bodies that walked, talked, hurt, felt good, loved other people, gave birth and ate amazing food, but it's one-note – because it's a one-man show. There's so much opportunity for delicacy, warmth, inviting moral ambiguity and open-ended questions, but Von Hagens and his team have instead opted for ham-fistedness, a chill in the air, avoidance of nuance and simple answers to all of the questions we might be tempted to pose.
But his defiance has captured me for weeks. I am in awe of it, astounded by it, impressed and almost covetous.
There is much to defy these days, mainly the deep, enveloping cold. But there's also a heavy air cynicism which is now, for the first time in a long time, open to us to defy. For whatever it means, at my little magazine in my little city in my little life – it is an act of defiance almost in its smallness – I am ready to personally endorse Barack Obama for President in 2008. Do I believe he will change everything? No, I don't. I was born in the Reagan years, grew up in the Clinton years, came into my own under the Bush regime, and I don't believe anything anymore. But I am ready to defy that, personally, just for now.
In fact, in a country that is losing its grip, in a human race that is ultimately ravaged on a planet that we have nearly destroyed in a universe that probably doesn't give a damn, I almost feel like anything even remotely affirmative can take on an air of defiance. Like this weekend's Brewcity Bruisers championship; I may have been the last person in Milwaukee (besides Matt Wild) who didn't know that roller derby was totally amazing, but I know now, and the extent to which I enjoyed myself was downright subversive.
Afterward we went to the Old German Beer Hall, which was a recipe for disaster: standing-room-only, drunk Water Street drinkers, a lecherous old accordion player, gigantic beers, waitresses in lederhosen and long, sticky wooden tables. But someone must have gotten the measurements wrong, because it turned out to be incredible. Beer steins were smashed, the accordion player hit on me, the bros at the next table kept standing up and shouting toasts for no reason, and by the end of the night I was dancing with strangers and declaring my infatuation with everything and everone.
I'm really starting to feel that the only thing that can save us now is dancing on tables, making every gesture – every shouted toast, every bang of a drink on the bar – a declaration of massive, radical love. Pumping cadavers full of polymers isn't going to do the trick, but total abandon might. We're going to die, for God's sake – by fireball or avian flu, nuclear warfare or massive heart attack, a fall down the stairs or a bad crash on the freeway. We'd better make this shit count – so that when some mad celebrity scientist turns us into a trapeze artist or a symphony conductor in death, the people that knew us in life can come see us and say, "Please. Show us something really impressive."