Murphy's Law
Why Scott McCallum Is In Big Trouble
//end headline wrapper ?>
Get a daily rundown of the top stories on Urban Milwaukee
It was amusing to see the photo of Gov. McCallum that ran on the front page of the Milwaukee Journal Sentinel last week. McCallum sported a scratch on his face, which he had gotten from basketball, the newspaper explained. Otherwise, readers might have imagined the wound was simply evidence of the relentless battering the governor has suffered from opponents, the media and even fellow Republicans.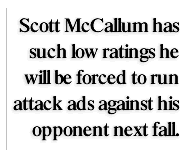 Scott McCallum is in serious, serious trouble. As the recent poll for the Wisconsin Policy Research Institute showed, the better we get to know the governor, the less we like him. The percent of respondents with a negative rating of McCallum has gone from 7% in June 2000 to 21% in August 2001 to 40% in March 2002. In just a year as governor, McCallum has lost all the advantages of incumbency, and now has far less people (34%) who support him than oppose him.
Years ago, Charlie Sykes referred to Tony Earl as the "Velcro governor," offering an amusing contrast to Ronald Reagan, who had been the "Teflon president." Everything bad seemed to stick to Earl, while it bounced off Reagan. But Tony Earl never had such a run of bad press or low poll ratings as the current governor. Scott McCallum is Gov. Boomerang: everything he throws at opponents flies back and smacks him. McCallum gets scratches every day, whether he goes to the gym or not.
Even after Republican legislators eliminated most of the cuts in shared revenue in McCallum's budget, the governor has continued to suffer criticism for this. A recent story in the Racine Journal Times castigated McCallum for telling a "white lie" and alienating city officials there. The article suggested the governor was a bonehead and was beholden to big money Republicans. McCallum's predecessor assiduously cultivated the Racine Kenosha area and turned this into Thompson country. McCallum is quickly turning it back into Democratic turf.
The poll showed any Democratic candidate for governor would run a strong race against McCallum, which says very little about the Dems and everything about McCallum. The governor is in such trouble that anyone stands a chance of defeating him.
The iron law of politics is that television ads can always drive up your name recognition, but can do little to overcome high negatives. Unless there is a political earthquake in the next five months, McCallum will have to run a Kasten race this fall. Former U.S. Senator Robert Kasten always had relatively low approval ratings (though never anywhere as low as McCallum's). Kasten's strategy was to run attack ads against his opponent and drive up that candidate's negatives, so the voters saw Kasten as the lesser of two evils.
If McCallum follows that approach – and it's difficult to see what other choice he will have – the fall race for governor could be an orgy of mudslinging.
On Sykes show Sunday, he suggested no one is interested in whether the candidates for county executive have a college degree. That's wishful thinking by Sykes, who would doubtless prefer to see fellow conservative Scott Walker win. The county executive is the manager of the second largest government in Wisconsin, with a budget in excess of $1 billion. The fact that Walker and Tom Nardelli lack a college degree, and Walker has no management experience, are clearly relevant considerations in this race.
The recent poll reported in the Journal Sentinel suggested voters are concerned about competence. They want to have their cake and eat it: they want a reformer for county exec, yet they want an experienced insider who knows the county as well. Jim Ryan has communicated the clearest message as to competence and knowledge of county government, while Walker has offered the sharpest message of reform. The ultimate winner in this race may be the one who seems most likely to offer both qualities.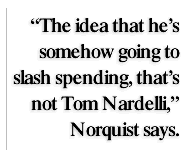 The big surprise in the poll was how well the low-profile Ryan did. With 16% of the vote, he was not that far behind Nardelli (at 19%) and Walker (at 23%). Ryan called it "a miracle," and he may make the mistake of assuming his message of competence is enough to get elected.
Ryan has been awfully mushy in his statements about how he would handle the executive position and what reforms he might embrace. He has begun announcing endorsements, including that of District Attorney E. Michael McCann, who stands to gain a lump-sum pension of nearly $1.5 million should he serve until 2005, and has yet to sign a waiver of that benefit. That's not the sort of endorsement a reformer would embrace.
It has constantly surprised me how many people, from Tom Ament on down, have underestimated the fury of Milwaukee voters over the pension deal. This is not the Iran-Contra deal or Whitewater. It's very easy to understand and very hard to forget a one or two million dollar pension. People are tremendously aware of this race, to judge by the recent poll, and they are very unlikely to elect someone they think will not change county government.
Nardelli Says Yes
Count Mayor John Norquist as one of those who doubts Tom Nardelli's reputation as a tight-fisted alderman. "This idea of Nardelli saying he's against spending, it's always small things that have relatively little impact on the budget," Norquist notes. "He hasn't been one that's stood up to public employees. That's why he's getting endorsed [by unions]. The idea that he's somehow going to slash spending, that's not Tom Nardelli."
This article was originally published by Milwaukee World.