Murphy's Law
The Real Story Behind The Sheriff's Departure
//end headline wrapper ?>
Get a daily rundown of the top stories on Urban Milwaukee
There is bad smell surrounding the retirement of Sheriff Lev Baldwin. He seems to be running away before the truth comes out about how the Sheriff's Department mishandled the escape of accused murderer DeCarlos Young. And there is evidence that along with Human Resources director Gary Dobbert and others, Baldwin was pressuring county supervisors to pass the outrageous pension benefit, as well as other goodies for administrators like him.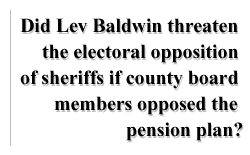 As reported in the Journal Sentinel, County Board Chair Karen Ordinans says the sheriff encouraged her to include elected officials in the controversial pension package. But one supervisor claims Baldwin warned that the sheriffs would oppose Supervisor John Weishan, Ordinans brother, in an election, unless Ordinans included elected officials in the pension package.
"That never occurred," Ordinans told me last fall. "Lev Baldwin and I never had that conversation." Ordinans suggested elected officials were included as a matter of equity.
But last week, Ordinans told me she was in fact opposed to including elected officials. "I did not want any change for elected officials. I had numerous conversations with Dobbert on elected officials. Dobbert would say this is not agreeable to others. Supervisors and other elected officials wanted it."
Last fall, one board member told me Supervisor
Robert Krug
knew all about Baldwin pressuring Ordinans. When I asked him whether this happened, Krug declined to answer. When I asked again, he said this: "The people who were eligible [for the pension package] wanted to see it happen."
Another supervisor says during last fall's budget deliberations, one year after the massive pension hand-out, Baldwin lobbied against a board proposal to reduce bonuses for high-level administrators. When board members proposed a reduction in that request, "Baldwin called a supervisor and said if you do that, I'll make sure you're not elected and tell Sheila the same," the source says. Supervisor Sheila Aldrich was among those who wanted to cut back the bonus. Another board member says Baldwin threatened three supervisors with the electoral opposition of the sheriffs if they did not back off on the bonus reduction. In fact, the board backed off.
"When there was a proposed pay raise in 1995, Baldwin strongly lobbied supervisors for it," Supervisor Lynne DeBruin recalls. "His lobbying is very forceful, kind of a bull-in-a-china shop."
"He'll try to browbeat you into doing it," says a board member. "I've heard from several supervisors that they've been threatened with losing the sheriff's endorsement."
If there was any doubt of how badly Baldwin wanted his benefits, consider the timing of his departure. Now that County Executive Tom Ament has asked his cabinet and department heads to sign a form foregoing the backdrop pension benefit, Baldwin has chosen instead to retire, claiming a $300,000 lump sum payout and $57,000 annual pension. "You have to look at not only what's in your best interest, but what's in the best interest of your family and your own health, and I'm leaving because of that," he said.
Then there is the jail controversy. The escape of DeCarlos Young occurred on December 6, but the Sheriff's Department has yet to release a report on the internal investigation it has conducted. Sheriff's Department spokesperson Sherrie Weber says it will be released in a few days. Conveniently, it will come out right after Baldwin's retirement.

But details of the internal investigation were leaked to members of the press and have gotten considerable play on the talk show of WTMJ's Jeff Wagner. What the internal report shows is that several weeks before the break-in Deputy Albert Jensen received a call from an anonymous caller, who warned him "There is going to be a break-out in the jail. I am very close to this girl and she is going to help him break out … She is going to bring in a six pointed screwdriver and also hide a razor in her mouth and … cut out the caulk of the visiting booth … The visitor is Albertina Jackson and the inmate is DeCarlos Young."
Jensen said he found the call very believable because of "the knowledge of the caller regarding our screws used on the visiting window and also the caulk going to be cut with the razor blade." Moreover, the sheriff's department had previously found a razor blade in the visiting side of the booth after an outsider visited DeCarlos Young. As for Jackson, she had previously been found to be a problem after exposing her breasts on a visit to Young.
While the sheriffs did search Jackson on the day of the telephoned tip (and found nothing), she came back several weeks later and did precisely what the anonymous caller predicted. Yet the sheriffs did not search Jackson or even keep a close watch on her when she visited Young. They didn't even notice that an extra person, inmate Young (now dressed in civilian clothes) left the jail with Jackson.
Almost none of these details about the anonymous caller have been reported in this city's daily newspaper, nor were they raised when Baldwin announced his retirement. When I asked Weber if Baldwin could be contacted for questions over the weekend, she said "I don't know what to tell you. He retired yesterday. He's out of town."
Meanwhile, Supervisor Jim McGuigan, the chair of the judiciary committee that oversees the jail, doesn't seem to be keeping sharp watch on the situation. "They did have an internal investigation [of the break-out]," he says. "I have not seen it. I don't even know if there was a report."
"It looks pretty bad for [Baldwin] to be bailing out now," McGuigan adds. "I'd prefer that he finish his term. Typically an elected representative doesn't leave in the middle of their term, unless there's a good reason."
Baldwin, however, seems to have several good reasons for leaving.
This article was originally published by Milwaukee World.