Murphy's Law
How The County's Pension Fund Grew And Benefited A Few
//end headline wrapper ?>
Get a daily rundown of the top stories on Urban Milwaukee
Last year was a terrible year for stock funds, but it wasn't so bad for Milwaukee County's pension fund. The fund dropped only slightly, from $1.8 billion to $1.7 billion. This was a tiny setback for a fund that has ballooned in ten years, rising from just $762 million in 1991. "We doubled the sucker," crows Jac Amerell, secretary to the county pension fund.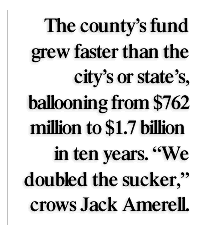 "The return on investments has been 13% a year," notes County Supervisor Rich Nyklewicz.
Amerell says the state's Legislative Audit Bureau did a study of pension funds some years ago. "We came out with the highest rate of return and the lowest administration cost of city, state and county."
The county has been doing so well it has gradually decreased its annual contribution to the fund, from $19.3 million in 1991 to $2.8 million in 1999 to zero in the current year. As county officials looked at this growing mother lode, they decided to cash in on it. "It is an old boys' network there and they really take care of themselves," says a city official.
As my last story noted, the old boys decided to increase their pension benefit, and County Executive F. Thomas Ament is one of those who benefits. It turns out our previous estimate of what Ament will get was too low by a long shot. Because the county did not adopt its "Rule of 75" until 1995, Ament was not eligible for retirement until then. This later date actually benefits him because it allows him to claim the salary he made as county executive (rather than as county board member) when computing his "backdrop," the complicated new bonanza that Ament's negotiators threw into last year's employee settlement.
Under the backdrop provision, Ament can retire in 2004 and claim 8.5% interest compounded monthly on all the retirement he would have earned had he retired in 1995.
If he retires then, he will earn a lump sum payment of $1.2 million, and still collect $92,040 annual pension for life. But if Ament wins another term (as is his intention) and serves until 2008, he can claim a lump sum payment of $2.04 million and still collect a $98,200 annual pension for life. (Click on related documents for the full details on how to compute Ament's extraordinary windfall.)
The backdrop provision is one part of a new deal that also gives employees hired or elected before 1982 a 7.5% annual increase in pension benefits from Jan. 2001 through April 2004, for a total increase of 25%. The annual increase is prorated monthly for those who retire in mid-year, and when combined with backdrop, has been a boon even to employees who retired recently and received only a small portion of the new benefit. Amerell says that through the end of July, 2001, 45 new retirees elected to take the backdrop and received pay-outs totaling $4 million, or an average of $88,888, which they will receive in addition to an annual pension.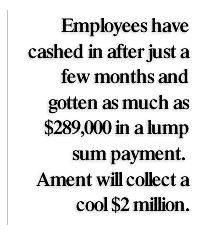 "$289,000 was the top pay-out," Amerell says. "We had some getting $230,000, $200,000, $140,000." For those employees who stay on three more years, the total backdrop payout should be sensational.
Who had the idea to create this new benefit? "It was an idea that was put together by my department working with the director of labor relations," says Gary Dobbert, head of the county's Human Resources. Dobbert and Henry Zielinski, the director of labor relations (who would not return my phone calls) both report directly to Ament.
"The county presented [the idea] to us," says labor negotiator Wayne Krueger. "That wasn't something we asked for. The only thing we came up with [to explain it] is Ament and [longtime Ament aide] Tom Mollan and others have been there since a long time ago."
The negotiations are typically handled privately. "For collective bargaining, you can go into closed session," says Robert Murphy, an aide to the county board. "The negotiations come under the personnel committee so it doesn't need to be discussed by the full board." Supervisor Kathleen Arciszewski, who runs the committee, was unavailable for comment.
"It wasn't even debated on the county floor," recalls Supervisor Penny Podell, who says she voted for it as part of a larger package.
Dobbert says the new pension was "part of a recruitment and retention strategy." But why would the county need to hold on to employees? It has been shutting down or losing departments to the State of Wisconsin for years. The county, Dobbert says, now has 7,574 employees, compared to nearly 10,000 just five years ago.
Several officials suggested the county has had some trouble recruiting new employees for corrections, deputy sheriffs and nurses. But that was a short-term problem back when the economy was flush. "We now have 420 people on a waiting list" for some of those jobs, Dobbert says. In any event, retaining old timers like Ament will do nothing to stem a shortage of new employees, unless he's planning to go into nursing.
Murphy claims more pension money was needed as a carrot because "the county has some very talented people and the private sector often wants them." But no one I talked to could think of many long-term employees the county is having trouble retaining. Ament could think only of Richard Cox, former head of the House of Corrections, but Cox retired; he wasn't wooed away by the private sector.
And even early retirement hasn't been a problem. "We have not had a large number of people retire," Dobbert says.
No, the real reason for the big pension increase was explained by Nyklewicz: "They could shift some costs from the tax levy to the pension fund."
Krueger and other union negotiators accepted a one-year wage freeze and an increase in health insurance co-payments (which lowered the potential hit on property taxes) in exchange for the pension increase. This compromise certainly benefited the taxpayer, but it doesn't explain why the old time employees received so much more of a pension increase than those hired after 1981.
More importantly, it doesn't explain why this bonanza was handed to elected officials, who already enjoyed a pension benefit higher than both regular and veteran county employees. Courthouse sources tell me there are only 16 elected officials who will gain the new pension benefit for those who assumed office before 1982. Ament may be at the top with his $2 million dollar bonanza, but officials like District Attorney E. Michael McCann or Register of Deeds Walter Barczak are likely to collect in excess of $1 million each from the backdrop if they continue in office until 2008.
Any strategist handling an election challenge against these incumbents has been handed a wonderful weapon. If you defeat Ament, taxpayers will save $845,350 in additional backdrop he can collect by working until 2008. McCann's defeat could save, say, a half million, while throwing Barczak out might save taxpayers a few hundred thousand dollars. Now that's a campaign issue.
This article was originally published by Milwaukee World.