Building Info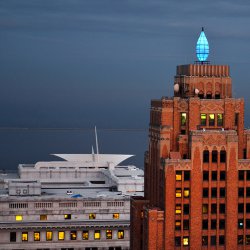 Address

:

626 E. Wisconsin Ave.

Taxkey

:

Architect

:

Eschweiler & Eschweiler

Architectural Style

:

Art Deco

Status

:

Assessment

:

$15,388,000 (2015)

Year Built

:

Size

:

151,930 sq-ft
The Wisconsin Gas Building is a historic office building in Downtown Milwaukee. The building is sometimes referred to as the Milwaukee Gas Light Company Building. It is a well-known building for its weather flame on top, which signals the expected change in temperature tomorrow.
A common saying is used to understand what the flame is indicating…
When the flame is red, it's warm weather ahead!
When the flame is gold, watch out for cold!
When the flame is blue, there's no change in view!
When there's a flickering flame, expect snow or rain!
From Guides to Historic Milwaukee: Juneautown Walking Tour by Mary Ellen Pagel and Virginia Palmer (1965)…
This is an excellent example of the cubical architectural forms, ornamented with stylized, geometrical motifs popular in America during the 1920's and 1930's. The weather flame atop the Milwaukee Gas Light Company is visible for several miles after dark. For passersby on the street, the company has placed an identical flame in the lobby. A gold flame forecasts cold or cooler weather; read means hot or warmer; blue indicates no change; flashing forecasts precipitation.
The building features a 213-stall parking garage that was built in 2003.
Photos
Activity
| | | | |
| --- | --- | --- | --- |
| ID | Date | Type | Description |
| 1166457 | 2016/01/05 | Permit | Plumbing-Addl Fee |
| 1166240 | 2015/12/29 | Permit | Temporary Occupancy |
| 1164560 | 2015/12/08 | Permit | Fire Suppression r |
| 1163889 | 2015/12/01 | Permit | Fire Suppression r |
| 1163851 | 2015/12/01 | Permit | Fire Alarm-Alteration |
| 1163454 | 2015/11/24 | Permit | Occupancy |
| 1161834 | 2015/11/06 | Permit | Plumbing-New |
| 1161312 | 2015/11/03 | Permit | Electrical-New |
| 1161046 | 2015/10/30 | Permit | Low Voltage-New Install |
| 1159267 | 2015/10/13 | Permit | Alteration |
| 1158847 | 2015/10/08 | Permit | Repair |
| 1156324 | 2015/09/15 | Permit | Fire Suppression r |
| 11522311 | 2015/06/04 | Violation | ~~WI REG #11978~~~~Conduct 5 year safety test~~~~ASME A17.1, Rule 8.11.3.4 Perform category five test as required by the State of Wisconsin. / 222-01 /SPS 318.1003 /~~WI REG #11979~~~~Conduct 5 year safety test~~~~ASME A17.1, Rule 8.11.3.4 Perform category five test as required by the State of Wisconsin. / 222-01 /SPS 318.1003 /~~WI REG #11980~~~~Conduct 5 year safety test~~~~ASME A17.1, Rule 8.11.3.4 Perform category five test as required by the State of Wisconsin. / 222-01 /SPS 318.1003 /~~WI REG #11981~~~~Conduct 5 year safety test~~~~ASME A17.1, Rule 8.11.3.4 Perform category five test as required by the State of Wisconsin. / 222-01 /SPS 318.1003 / |
| 223030 | 2015/04/25 | Recording Application | new recording application |
| 222867 | 2015/04/23 | Recording Application | new recording application |
| 1141324 | 2015/04/10 | Permit | Boza Certificates |
| 11297251 | 2015/01/29 | Violation | ~~Provide a final air clearance of <.01 f/cc |
| 11256281 | 2015/01/06 | Violation | ~~Room m-4 East Wall~~~~Provide a performance test report for the rpp bfp |
| 1129047 | 2014/11/18 | Permit | Asbestos Project |
| 210344 | 2014/04/17 | Recording Application | new recording application |
| 1106089 | 2014/04/07 | Permit | Alteration |
| 1098915 | 2014/01/20 | Permit | Fire Suppression r |
| 1098767 | 2014/01/15 | Permit | Electrical-New |
| ID | Date | Description | Type |
Press Releases Referencing Wisconsin Gas Building