Building Info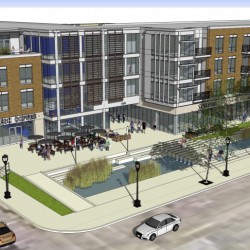 Address

:

1320 S. 1st St.

Status

:
Under construction 76-unit apartment building as part of the Freshwater Plaza mixed-use development at the northeast corner of N. 1st St. and E. Greenfield Ave. The project is being developed by Wangard Partners. The building will contain 15,900 square-feet of retail space on the first floor.
In July of 2015, Wangard amended their plans to add an additional four apartments to the proposed 72-unit building.
A condition of the project's New Market Tax Credits financing will require Wangard to set aside 20 percent of the units at below-market rents for moderate-income residents.
Photos
Show All
Press Releases Referencing Freshwater Plaza Apartments