Activity at The Moderne Site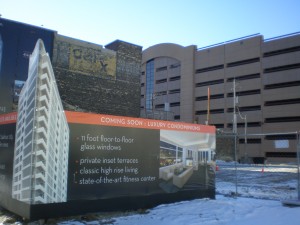 The $55.24 million The Moderne high-rise development has begun preparing for construction.  Recently, the shipping container building that housed The Moderne's sales office was packed up and removed from the site.  Additionally, utility work is ongoing adjacent to the site as the property is being staged for construction.  When complete the 30-story high-rise will have 203 apartments, 14 condominiums, and first floor retail.  This project is located adjacent to the Park East redevelopment corridor and kitty corner from the recently completed Aloft Hotel.
The project is being funding with $9.3 million in loans from the City of Milwaukee and a $41.4 million loan from the AFL-CIO Investment Trust.  The city loans were approved despite concerns over the potential risk to the city, and the potential for over-saturation within the residential market in downtown Milwaukee.  To obtain the city loans the development team, led by Rick Barrett, agreed to an Emerging Business Enterprise goal of 25%, a Residents Preference Program goal of 30%, and secured the personal guarantee with a first lien on assets of $3.3 million.