Press Release
Timing of Wisconsin Conservatory of Music renovation positions it as unique DNC entertainment venue
Construction of the Conservatory's back lot expansion, expected to cost $1.3 million to $1.6 million, will begin in July.
Milwaukee, Wis. — June 24, 2019
When the Wisconsin Conservatory of Music at 1584 N. Prospect Ave., began planning a community space expansion on the grounds of its historic mansion overlooking Lake Michigan, no one imagined that Milwaukee would host a high-profile, glitzy convention of the Democratic National Convention's magnitude in summer 2020.
But the Conservatory did envision that doubling the size of its compact, main campus parking area behind the mansion and enhancing it with landscaping and a shade shelter  could serve an important, dual purpose.
The Conservatory on Milwaukee's densely populated east side is one of the nation's fastest growing community music schools. Most of its work happens in the community, miles from the mansion, as a dramatic renaissance over the past few years has expanded its reach to serve more than 16,000 students — 14,000 of them in public, private, charter and choice schools, Boys & Girls Clubs, senior living communities and daycare centers. These Milwaukee area students at 80-plus partner sites are part of an innovative, mission-centric Conservatory Connections community outreach program, funded by private fundraising and fee-for-service contracts. The Conservatory fills a gap in the community, sending its highly trained faculty members to community sites that otherwise would not have music because of budget cuts or the national shortage of qualified music teachers.
Doubling the main campus's 24-space parking area with decking that will extend onto the bluff will allow it to more comfortably accommodate students for private lessons and community members who attend faculty resident ensemble concerts. The Conservatory has about 1,000 students who study at the main campus, and three faculty resident ensembles: the Prometheus Trio, the We Six Jazz Sextet, and the Philomusica String Quartet.
"As we thought about our expanded space behind the Conservatory, we anticipated the primary use would be for increased access to our main campus," said Wisconsin Conservatory of Music President and CEO Eric Tillich.
"Our expansion east will allow us to provide more space for our community to utilize," Tillich said. "But we also saw a dual purpose in a secondary use as an event venue for our students, faculty and staff."
When the city of Milwaukee rolls out the red carpet to a high-profile national convention next summer, the grand mansion where such famous musicians as Liberace and Oscar-winning composer Justin Hurwitz studied will be ready to welcome more  luminaries to a classy entertainment venue.
All revenue generated by the venue would support the Conservatory's mission: Inspiring individuals and communities through exceptional music education, accessible to all.
Construction of the Conservatory's back lot expansion, expected to cost $1.3 million to $1.6 million, will begin in July. The project is scheduled to be completed by late January. Project architect is Uihlein/Wilson-Ramlow/Stein Architects (please credit site renderings to the architect). The general contractor is Gilbane Building Co.
ABOUT WISCONSIN CONSERVATORY OF MUSIC 
The Wisconsin Conservatory of Music, founded in 1899, is the largest nonprofit community music school in Wisconsin, providing high-quality music programming to over 16,000 students of all ages and experience levels each year. The Conservatory offers voice and instrumental instruction in all styles of music, from classical to jazz, and gospel to contemporary rock.The Conservatory this year awarded $200,000 in need-based financial aid and scholarships to its students.
ABOUT THE MCINTOSH/GOODRICH MANSION
Industrialist Charles L McIntosh built the Neo-Classic, eclectic-style mansion in 1903 with the finest and most expensive materials available at a cost of $140,000. The 13-bedroom mansion, including servants' rooms at the rear of the second floor and guest suites on the second and third floors, is now owned by the Wisconsin Conservatory of Music, and is used for music instruction and performances. The mansion's original, spectacular ballroom today is known as the acoustically perfect Helen Bader Recital Hall with stained glass Tiffany windows, gilt French rococo hardware, domed ceilings, large bay windows and many crystal chandeliers and wall sconces. Other original features of the 22,000-square-foot space include a grand, mahogany-and-enamel staircase which pauses on a wide landing illuminated by a stained glass Tiffany window; a dining room facing the lake that features hand-painted leather wallpaper, curved-glass windows, mahogany paneling and a parquet floor; a library finished in Circassian walnut, with a jade-tile fireplace mantel; a billiard room, German room, two wine cellars, 10 handsome, unique fireplaces, gold-plated fixtures and hand painted or gilded ceilings. The building features a circular drive, a four-column Corinthian portico, Michigan raindrop brownstone trim with copper cornices and a tile roof. It was declared a historic landmark in 1985 by the City of Milwaukee Common Council upon the recommendation of Milwaukee's Historic Preservation Commission.
Mentioned in This Press Release
Recent Press Releases by Wisconsin Conservatory of Music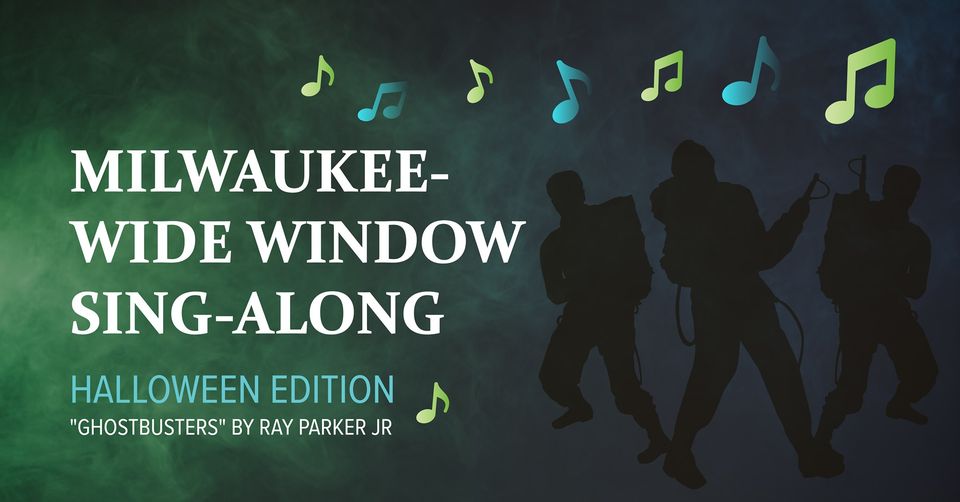 Oct 23rd, 2020 by Wisconsin Conservatory of Music
Nonprofit community music school's virtual #MKEsingalong asks residents to create and share "Ghostbusters" video, give $5 for musical recorders instead of trick-or-treat candy.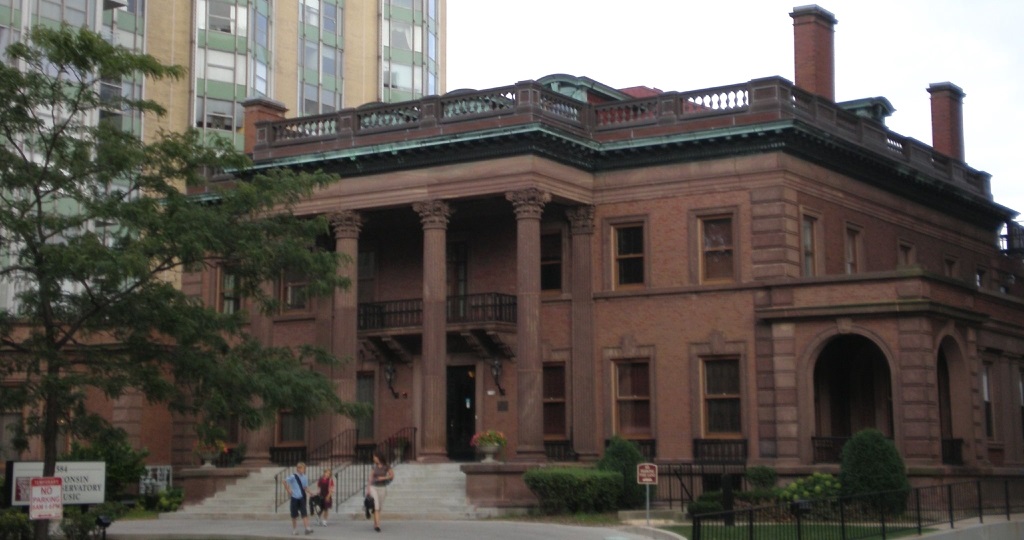 Apr 7th, 2020 by Wisconsin Conservatory of Music
Community music school's virtual candlelight vigil asks Milwaukeeans to sing and shine a light for healthcare workers battling the COVID-19 pandemic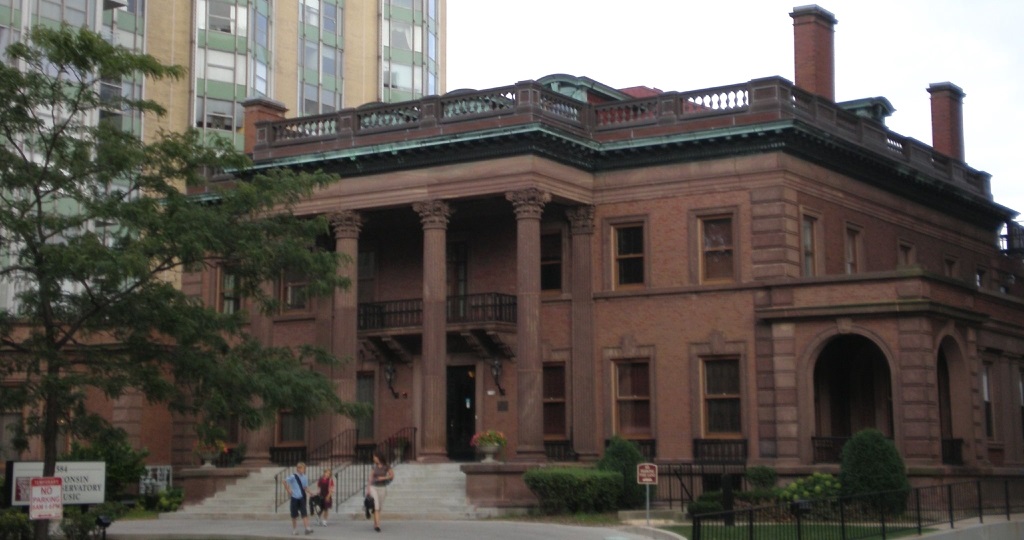 Mar 26th, 2020 by Wisconsin Conservatory of Music
#MKEsingalong joins #ChicagoSingAlong and others around the world, bringing people together through music to beat the Covid-19 stay-at-home blues