Press Release
Three Sculpture Milwaukee artists to speak on the importance of public art
Michelle Grabner, Tony Tasset and Jason Yi visit MIAD for Oct. 11 panel discussion
MILWAUKEE, Wis. (October 2, 2017) – Sculpture Milwaukee artists Michelle Grabner, Tony Tasset and Jason S. Yi will delve into a wide-ranging discussion about their own social practice, as well as their works along Wisconsin Avenue during a panel discussion at Milwaukee Institute of Art and Design on Wednesday, Oct. 11 at 7 p.m.
Art in the Public's Way: Why Public Art Matters, will explore how the panelists link their practice to larger artistic and cultural movements within their communities and its impacts. The discussion will be moderated by Marilu Knode, Project Manager for Sculpture Milwaukee and former Executive Director of Laumeier Sculpture Park, St. Louis.
This event is free and open to the public. The panel discussion is part of the ongoing community collaboration between Sculpture Milwaukee, and the region's arts and cultural organizations. Sculpture Milwaukee will be on display along Wisconsin Avenue until Oct. 22.
Oshkosh-born artist Michelle Grabner one of Wisconsin's leading artists, teachers, critics and curators. Grabner draws from each of her realms of daily activity to produce paintings, sculpture and weavings based on the domestic textiles (blankets, kitchen towels) that quietely help us live our lives. In her Untitled piece for Sculpture Milwaukee, Grabner elevates a hand-made, hand-me-down kaftan into an intimate sculpture, capturing its irregularities and glitches. Grabner reminds us to honor the art works that populate our everyday lives.
Chicago-based artist Tony Tasset is known for his surreal sculptures that draw imagery from American pop culture. Tasset has two works of art along Wisconsin Avenue,
Mood Sculpture
and
Arrow Sculpture
. In his totemic
Mood Sculpture
, Tasset uses the original American emoji—the 1963 smiley face—to show the rainbow range of moods that afflict our days.
Arrow Sculpture
points to American obsession with rankings, like the "10 Best Lists" that are sprinkled across the media landscape at the end of each year.
Jason S. Yi, professor at Milwaukee Institute of Art and Design, applies his architectural training to his works, which compare the different scales of nature with human construction. Yi's Sculpture Milwaukee piece, Legend of the White Snake, is based on an ancient Chinese folk tale that morphed as it traveled across the region, each country emphasizing a different lesson. Yi's densely packed screen of pvc pipe suggests how history and time mask original intentions. In his tangled web of extruded plastic, Yi highlights the tension between our imaginary landscapes and the reality of the worlds we have created.
About the Panalists
Michelle Grabner plays many roles in the arts in the Midwest and the country, from artist, teacher and curator to parent, homeowner and gardener. Grabner draws from each of her realms of activity, life experience and work practices to produce paintings, sculptures and weavings.
Grabner has had one-person exhibitions at the Museum of Contemporary Art, Cleveland; the Indianapolis Museum of Art; INOVA, University of Wisconsin-Milwaukee; the Ulrich Museum, Wichita; and University Galleries, Illinois State University, Normal. Her works have been included in group exhibitions at the Museum of Contemporary Art, Chicago; the Walker Art Center, Minneapolis; Tate St. Ives, United Kingdom; and the Kunsthalle Bern, Switzerland. Her work is included in the permanent collections of the Walker Art Center; the Museum of Contemporary Art, Chicago; the Grand Duke Jean Museum of Modern Art [MUDAM], Luxemburg; the Milwaukee Art Museum; the Madison Museum of
Contemporary Art; the Daimler Contemporary, Berlin; the Smithsonian American Art Museum, Washington; and the Victoria and Albert Museum, London. For more information on Michelle Grabner visit: http://www.michellegrabner.com/, http://www.mocacleveland.org/exhibitions/michelle-grabner-i-work-home, or http://brooklynrail.org/2012/03/art/michelle-grabner-with-barryschwabsky.
Over the past decade, Chicago-based artist Tony Tasset has been making surreal sculptures that draw imagery from American popular culture. Like Pop artist Andy Warhol before him, Tasset looks for images or ideas that are simple and easily understood, allowing the visitor to bring their own set of meanings to each work.
Tasset's works have been in museum and gallery exhibitions in Austria, Finland, Germany, Italy, Portugal, South Korea, Sweden, Switzerland, the United Kingdom and the United States. His work has been collected by the Art Institute of Chicago and the Museum of Contemporary Art, Chicago; the Museum of Contemporary Art, Los Angeles; the Museum für Moderne Kunst, Frankfurt, Germany; and the San Francisco Museum of Modern Art. His public sculptures are on view at SONY Studios, Culver City, California; the Nasher Sculpture Park, Dallas; the Nathan J. Manilow Sculpture Park, University Park, IL; and Laumeier Sculpture Park, St. Louis. He was the subject of his first survey at inova, Institute of Visual Arts at the University of Wisconsin-Milwaukee, in 1998. For more information on Tony Tasset, visit: http://www.interviewmagazine.com/art/tony-tasset-dallas-eye/#_ or https://www.youtube.com/watch?v=f-0zX4dcDjk. Jason S. Yi merges Western European and Asian landscape traditions in his paintings, sculptures, videos and drawings. In his most recent sculptures, Yi uses the most fake-looking materials—plastic, metallic tape—to create his works, or to shroud common objects like chairs to create his precarious, if regal, landscape sculptures, trapped between floor and ceiling, earth and sky. Yi acknowledges the long human tradition of romanticizing the landscape while exploiting its products.
Yi has shown his work in galleries and museum in Austria, China, Japan, Korea, Vietnam and the United States, including the Madison Museum of Contemporary Art, WI; Blue Start Contemporary Art Museum, San Antonio; Milwaukee Art Museum; Inside-out Art Museum, Beijing; and the Moran Museum of Art, Seoul, South Korea. He received the Kamiyama Artist-in-Residence, Japan, in 2003; a Mary L. Nohl Fellowship, Milwaukee, for Established Artists in 2005; and a Joan Mitchell Foundation, New York, grant in 2014. In 2006, the Milwaukee Arts Board named him Milwaukee Artist of the Year. For more information visit: http://www.jasonyi.com/, https://www.youtube.com/watch?v=IemugiM3uII,
http://archive.jsonline.com/entertainment/arts/jason-yi-fashions-pieces-of-a-world-in-terraform-b99736607z1-382488951.html.
Marilu Knode is a seasoned arts professional with nearly three decades of museum curatorial and leadership work. Areas of research and expertise include global contemporary artistic practice, new forms of museum, community, artistic collaboration, and cultural sustainability.
From 2009-2016, Knode served as Executive Director at Laumeier Sculpture Park and Aronson Endowed Professor of Modern and Contemporary Art History at the University of Missouri St. Louis. She was the convener of the region-wide consortium Sculpture City Saint Louis 2014, and co-organized the international conference Monument/Anti-Monument in 2014, to explore the role sculpture has in making place.
Knode has organized dozens of shows with regional, national and international artists, was the U.S. Commissioner for the 7th International Cairo Biennale with Nancy Spero in 1998, and co-founded a curatorial practice program at the American University in Cairo. Knode has an extensive record of lectures, panel and jury activities including the Cape Town Art Fair, ArtForum Berlin and the Yale School of Architecture, and has written for Art in America, Flash Art, Tema Celeste, Public Art Review, the Bass Museum of Art, the Savannah College of Art and Design, CA2M Centro de Arte Dos de Mayo, Madrid, the Neuer Aachener Kunstverein, Germany and Townhouse Gallery, Cairo, among others. Knode, principal at Cultural Compound LLD, began working with the Sculpture Milwaukee team as Project Manager for its inaugural year in spring 2017, expanding the range of processes used by the coalition of experts to bring world class art work to Wisconsin Avenue.
About Sculpture Milwaukee
Sculpture Milwaukee is the vision of Steve Marcus, a Milwaukee-based philanthropist and chairman of the board of The Marcus Corporation. Milwaukee Downtown, Business Improvement District #21, a 501(c)(3) organization, serves as the administrative arm of the project with many Milwaukee organizations and institutions lending their support. This tremendous gift to the community is made possible through grants, in-kind donations and sponsorships. For more information, visit www.sculpturemilwaukee.com or call 414.220.4700.
Mentioned in This Press Release
Recent Press Releases by Sculpture Milwaukee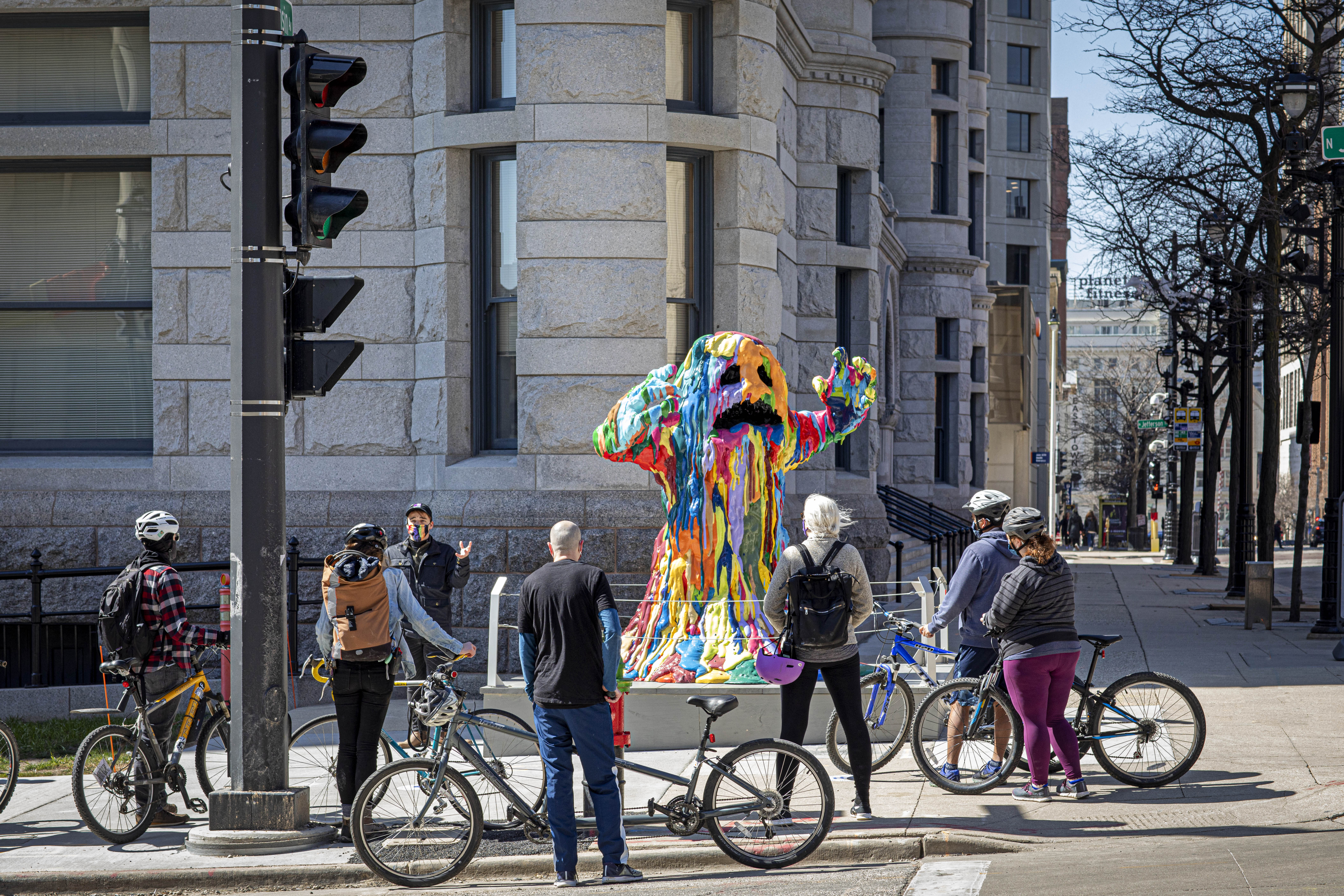 May 4th, 2021 by Sculpture Milwaukee
invites the community downtown to explore contemporary global issues through the lens of extraordinary public art