Press Release
The Manhattan Transfer meets Take 6 in The Summit Concert Coming to the Marcus Center on Wednesday, October 26
In 1982 and 1983 the group won consecutive Grammy Awards in the Best Jazz Vocal Performance, Duo or Group category for, respectively, "Route 66" and "Why Not!"
MILWAUKEE, WI (Wednesday, May 11, 2016) – The Marcus Center Presents series, sponsored by Envoy Restaurant and Lounge, is excited to bring the two- mega groups, The Manhattan Transfer and Take 6, to the intimate Wilson Theater at Vogel Hall for The Summit Concert. This one night only performance is on Wednesday, October 26 at 7:30 pm.  Tickets are $75 and go on sale on Friday, May 20 at 12:00 pm. Tickets can be purchased at the Marcus Center Box Office at 929 North Water Street, online at Ticketmaster.com or MarcusCenter.org or by phone at 414-273-7206. Group are available for 10 or more by calling Group Sales at 414-273-7121 x210.
Combining forces for the first time, The Manhattan Transfer and Take 6, two of the most acclaimed, award-winning vocal groups in pop music, create an unforgettable concert event that will thrill audiences of all ages. Between them, the two groups boast a remarkable 20 Grammy Awards, and a range of styles that covers nearly every genre of popular music; from jazz to swing, from gospel to R&B. As The Manhattan Transfer mark the 40th Anniversary of their debut, while Take 6 shares their crystal clear harmony, demonstrating why this sextet is recognized as the pre-eminent A cappella group in the world.  No ordinary double bill, this is a show combining unexpected twists & turns to create a once-in-a-lifetime event!
THE MANHATTAN TRANSFER
With worldwide sales in the millions, Grammy Awards by the dozen, and as veterans of sold-out world tours, The Manhattan Transfer has proven timeless! The 40th Anniversary of this group that is restless, adventurous, limitless and, as the Philadelphia Inquirer so aptly put it, a group that "still can sound dangerous!
Tim Hauser may well be called "The Boy From New York City," as The Manhattan Transfer 's Founder, a former Madison Avenue marketing executive who paid his bills by driving a New York City cab while aspiring to form a harmony vocal quartet sui generis that could authentically embrace varied musical styles, and still create something wholly unique in the field of American popular song."
In the Fall of 1972, Hauser's taxi fare was an aspiring young singer named Laurel Massé, who was looking to form a group. A few weeks later, another of Hauser's fares invited him to a party where he met Brooklyn native Janis Siegel. As Hauser, Massé and Siegel began rehearsing, Massé's then-boyfriend, who was drumming in a Broadway pit band, introduced Hauser and Siegel to Alan Paul, and the rest, as they say, is history.
By the end of 1974, The Manhattan Transfer were the number one live attraction in New York City, prompting Newsweek to send a writer to their show at Reno Sweeney's in Greenwich Village to report on this growing phenomenon.
Signed to Atlantic Records by the legendary head of the label, Ahmet Ertegun, the group released their self-titled debut in 1975; the second single from the album, a remake of the Friendly Brothers gospel classic "Operator," gave the group their first national hit. "Operator" took radio stations by storm!
As "Operator" rose up the charts, the group was invited to make guest appearances on various variety shows and television specials. Hollywood took notice; and the band was soon tapped to helm a weekly hour-long summer replacement comedy-variety show, broadcast in CBS' old Ed Sullivan time slot, Sunday nights at 8:00PM. Their next two albums, Coming Out and Pastiche, brought them a string of Top 10 hits in Europe and produced a #1 smash in Britain and France with "Chanson d'Amour."
In 1978, Massé was injured in a car accident and during her convalescence, decided not to rejoin the group that had since moved to California. One of many who auditioned for her slot was Cheryl Bentyne, a stunning singer from Mt. Vernon, Washington, and a four-year veteran of The New Deal Rhythm Band. At Bentyne's dazzling audition, the other Manhattan Transfer members immediately felt her impact, invited her to join, and, as Paul puts it, "The Transfer's second phase began."
The first album featuring the now legendary quartet of Hauser, Siegel, Paul & Bentyne was 1979's Extensions which earned the band another smash (#1 in New York and #2 in Los Angeles) with "Twilight Zone/Twilight Tone" – their updated take on, and, if you will, extension of, the theme to the Rod Serling hosted program of the same name. The album also featured a vocal remake of the Weather Report classic "Birdland," with lyrics by Jon Hendricks, that would go on to be recognized as the group's anthem, and earn them their first two Grammy Awards for Best Jazz Fusion Performance, Vocal or Instrumental and Best Arrangement For Voices for Siegel's work on the song.
The group went from strength to strength, when in 1981, they became the first group ever to win Grammy Awards in both Pop and Jazz categories in the same year – Best Pop Performance by a Duo or Group with Vocal for "Boy From New York City," and Best Jazz Performance, Duo or Group for "Until I Met You (Corner Pocket)," both from their fifth studio long player, Mecca for Moderns.
In 1982 and 1983 the group won consecutive Grammy Awards in the Best Jazz Vocal Performance, Duo or Group category for, respectively, "Route 66" and "Why Not!"
The critical praise and commercial success of the group's first seven studio albums could hardly have prepared them for the monumental 12 Grammy nominations they received in 1985 for the album Vocalese. Those 12 nominations made Vocalese the single greatest Grammy nominated album in one year, and cemented the group's status as one of the most important and innovative vocal groups in the history of popular music.
Not willing, or able, to rest on their laurels, the band's next studio album was the ground breaking Brasil featuring songs by Ivan Lins, Milton Nascimento, Djavan, and Gilberto Gil. The album won the Grammy for Best Pop Performance by a Duo or Group with Vocal.
The Manhattan Transfer closed out the decade by completing a ten-year sweep (1980-1990) as the "Best Vocal Group" in both the annual DownBeat and Playboy jazz polls.
The group's restless creative energy found them writing more original material (The Offbeat Of Avenues which earned them yet another Grammy for Best Contemporary Jazz Performance), and tackling seasonal standards (The Christmas Album arranged by Johnny Mandel, became one of the five best selling Christmas albums on Columbia – the label with the largest Christmas catalogue, and is an annual shopping mall favorite to this day), children's music (The Manhattan Transfer Meets Tubby The Tuba), 1950's & 1960's popular music (Tonin'), and, foreshadowing the success of "Dancing With The Stars," different genres of swing music (Swing).
If one is judged by the company they keep, the group has recorded with some impressive company indeed – Tony Bennett, Bette Midler, Smokey Robinson, Laura Nyro, Phil Collins, B.B. King,Chaka Khan, James Taylor, and the original Jersey Boy, Frankie Valli.
TAKE 6
The most awarded a cappella vocal group in history (10 Grammy Awards, 10 Dove Awards, a Soul Train Award, and more) recently celebrated their 25th Anniversary with a World Tour and heads to Las Vegas in "Georgia On My Mind: A Ray Charles
Tribute" for a multi-week run!
Heralded by Quincy Jones as the "baddest vocal cats on the planet!', Take 6 (Claude McKnight, Mark Kibble, Joel Kibble, Dave Thomas, Alvin Chea and Khristian Dentley), is the quintessential a cappella group and model for vocal genius. Six virtuosic voices united in crystal clear harmony, against a backdrop of syncopated rhythms, innovative arrangements, and funky grooves that bubble into an intoxicating brew of gospel, jazz, R&B, and pop.
With praise from such luminaries as Ray Charles, Stevie Wonder, Brian Wilson, Ella Fitzgerald and Whitney Houston, the multi-platinum selling sextet has toured across the globe, collaborated across genres, and is recognized as the pre- eminent a cappella group in the world.
With the popularity of televised vocal competitions such as the explosive a cappella show The Sing Off and the mania over singing driven comedy-dramas like Glee and Smash, Take 6 is the original torchbearer. Two major recent events reminded everyone of this as Take 6 triumphed among a gathering of stars including Celine Dion, Lionel Richie, Justin Timberlake, Stevie Nicks, Ne- Yo, and more. At Walmart's 50th Anniversary celebration, Take 6 captivated the audience with their rendition of the Louis Armstrong hit, What A Wonderful World. Showing the global reach of this phenomenal group, Take 6 closed the show with Ladysmith Black Mambazo to a standing ovation! Two weeks later at the behest of legendary Producer Phil Ramone, Take 6 thrilled a sold-out audience at the Songwriters Hall of Fame Awards performing with and honoring legendary singer-songwriter Ben E. King on his classic "Stand By Me." As a group that knows no musical bounds, they then brought the house down with their tribute to folk icon Woody Guthrie with This Land Is Your Land. In addition, Take 6 has come a long way from their days at Huntsville, Alabama's Oakwood College where McKnight formed the group as The Gentleman's Estate Quartet in 1980. When tenor Mark Kibble heard the group rehearsing in the dorm bathroom, he joined in the harmonies and performed on stage that night. When Mervyn Warren joined shortly afterward, they took the name Alliance. Yet, when they signed to Reprise Records/Warner Bros. in 1987, they found that there was another group with the same name, so they became Take 6. Says McKnight: "Take 6 was all about a democratic process of sitting in a room together and throwing a couple of hundred names at each other and Take 6 was the one that got the most yay votes [laughing.] It pretty much was a play on the Take 5 jazz standard and the fact that there are six of us in the group, so it became Take 6 ." Their self-titled debut CD won over jazz and pop critics, scored two 1988 Grammy Awards, landed in the Top Ten Billboard Contemporary Jazz and Contemporary Christian Charts, and they've never slowed down. Additional notable honors include the Medger Evers Memorial to commemorate the 50th anniversary of this civil rights icon's assassination. Held in Lorman, MS at Mr. Evers alma mater Alcorn State University in June 2013, Take 6 as featured performer honored and celebrated Mr. Evers life and the impact of his legacy on the world.
What makes the music and the group last this long? The answers are direct and simple: faith, friendship, respect, and love of music. Such qualities garnered them awards beyond musical category – a Soul Train Award and two NAACP Image Award nominations. From their exceptional live performances to their recordings, these qualities remain at the heart of the Take 6 phenomenon.
ABOUT THE MARCUS CENTER FOR THE PERFORMING ARTS
Established in 1969, the Marcus Center for the Performing Arts is the premier performing arts community gathering space in Southeastern Wisconsin. As the Marcus Center moves into its 47th year, it continues to build bridges between diverse members of our community through high-quality arts entertainment in the region and the state. The touring Broadway series, sponsored by Associated Bank, is recognized as bringing the best of Broadway entertainment to Milwaukee for the past 20 years and provides opportunities to educate, entertain and engage audiences. The Marcus Center is also the home to the Milwaukee Symphony, Milwaukee Ballet, Florentine Opera, First Stage plus a variety of other important community and family events throughout the year. For more information about events visit the Marcus Center website at www.MarcusCenter.org.  The Marcus Center is a private non-profit 501(c) 3 corporation and is a dedicated veterans memorial in Milwaukee.
Experience Relaxed, Sophisticated Fine Dining at Envoy Restaurant & Lounge, Milwaukee
Envoy, located in the iconic Ambassador Hotel, offers classic American cuisine with global influences.  Ingredients feature artisan, local and seasonal products.  Envoy offers breakfast and lunch dinner in an atmosphere that transports guests to a time when patrons "tripped the light fantastic".  Guests of Envoy experience the legendary service that generations have come to expect from a staff that is simply "the bee's knees".  Envoy offers nostalgic cocktails from the hotel's original menu, written in 1928.  In addition to half priced appetizers, Envoy Lounge's happy hour offers buy one martini or nostalgic cocktail and receive the next at 1928's price.  Guests who dine at Envoy are invited to enjoy complimentary parking and shuttle service to and from destinations in the downtown Milwaukee area, including the Marcus Center for the performing Arts. Visit envoymilwaukee.com for more information and reservations.
Mentioned in This Press Release
Recent Press Releases by Marcus Performing Arts Center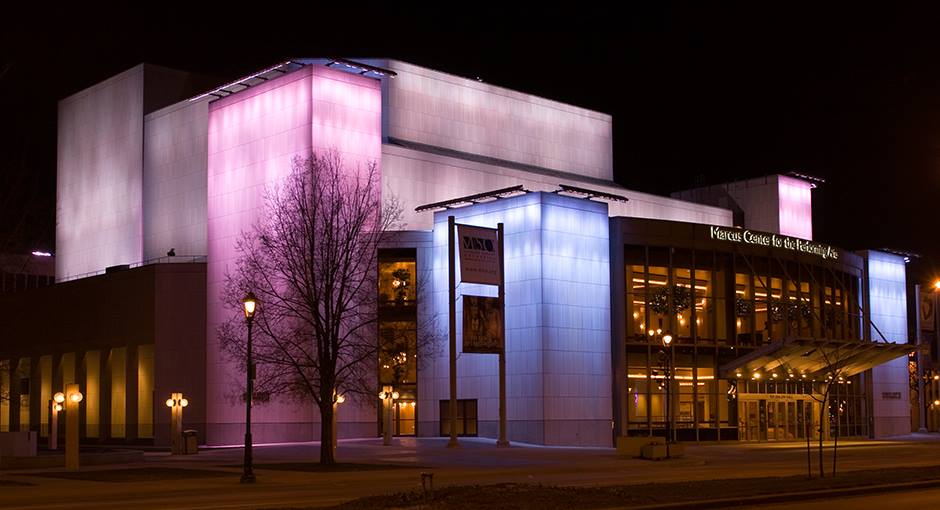 Feb 14th, 2020 by Marcus Performing Arts Center
Company members of DISNEY'S THE LION KING will present a ONE NIGHT ONLY cabaret performance to benefit Vivent Health and Broadway Cares/Equity Fights AIDS.