Press Release
Milwaukee Symphony Orchestra Presents Brahms's Requiem
Concerts are culmination of Symphony360 initiative
MILWAUKEE, WIS. 09/17/2014 – The Milwaukee Symphony Orchestra presents Brahms's Requiem on October 10-12, 2014 at the Marcus Center for the Performing Arts. Led by conductor Robert Spano and featuring soprano Jessica Rivera, baritone Nmon Ford, and the Milwaukee Symphony Chorus, the concerts include Brahms's German Requiem and Jennifer Higdon's "river sings a song to trees" from City Scape.
All concerts include Meet the Music, a free, interactive pre-concert discussion held one hour prior to concert start time in the Anello Atrium. Following Friday evening's concert, a Talkback Q&A session will be held in the Anello Atrium.
These concerts are the culmination of the MSO's Symphony360 initiative, a multi-week program designed to encourage conversation about great works. The MSO will host free, public listening parties around metro Milwaukee from September 28 – October 7 to listen and discuss both Brahms's German Requiem and Jennifer Higdon's "river sings a song to trees." Details, including listener's guides, recordings, and more listening party information, are available at mso.org/symphony360.
Jennifer Higdon's "river sings a song to trees" from City Scape was composed and premiered in 2002 as a result of a commission from the Atlanta Symphony Orchestra. A sweeping ode to the city of Atlanta, City Scape portrays different aspects of the city, from the infrastructure to the bustling roadways. The middle movement of the work, entitled "river sings a song to trees," is the most expansive. About the movement, Higdon wrote, "The waters represent constant change, under calm waters and over powerful currents, doing so with exquisite beauty. This is 'river sings a song to trees.'"
Brahms's Ein deutsches Requiem (A German Requiem) was premieredin 1869. Starting two months after the death of his mother, the work took Brahms 14 years to complete. He chose to forgo the traditional structure of the Roman Catholic Mass and instead assembled non-liturgical sacred texts from Martin Luther's German translation of the Bible. Brahms's intention seems to have been a message of consolation to those left behind. The German Requiem is a model of orchestrational efficiency, using only the forces absolutely necessary to create maximum effect.
ABOUT THE ARTISTS
Robert Spano, conductor, pianist, composer, and pedagogue, is one of the most imaginative talents of his generation. Serving Atlanta as music director of the Atlanta Symphony Orchestra since 2001, he has created a sense of inclusion, warmth, and community that is unique among American orchestras. As music director of the Aspen Music Festival and School, he oversees the programming of more than 300 events and educational programs for 630 students, including Aspen's American Academy of Conducting. The Atlanta School of Composers reflects Spano's commitment to American contemporary music. He has led ASO performances at Carnegie Hall, Lincoln Center, and Ravinia, Ojai, and Savannah music festivals. Guest engagements include the New York and Los Angeles philharmonics; San Francisco, Boston, Cleveland, Chicago, and Philadelphia symphony orchestras; and Orchestra Filarmonica della Scala, BBC Symphony, and Amsterdam's Royal Concertgebouw Orchestra. Recordings for Telarc, Deutsche Grammophon, and ASO Media have received six Grammy Awards, with an all-Vaughan Williams disc released in September. Spano is on faculty at Oberlin Conservatory.
Soprano Jessica Rivera, possessing a voice praised by the San Francisco Chronicle for its "effortless precision and tonal luster," is established as one of the most creatively inspired vocal artists before the public today. The intelligence, dimension, and spirituality with which she infuses her performances on the great international concert and opera stages has garnered the Grammy Award winner unique artistic collaborations with many of today's most celebrated composers. Ms. Rivera's 2014.15 season features performances of Beethoven's Ninth Symphonywith Peter Oundijan and the Toronto Symphony Orchestra, Falla's Siete Canciones Populares with Nicholas Carter and the Dallas Symphony Orchestra, Mahler's Second Symphony with Laura Jackson and the Reno Philharmonic, and Theofanidis's Creation Oratorio with Robert Spano and the Atlanta Symphony Orchestra. She also reprises her critically acclaimed portrayal of Kitty Oppenheimer in John Adams's Doctor Atomic for her debut with Teatro de la Maestranza in Seville, Spain. Rivera most recently added two recordings to her extensive catalogue this season – an exclusive iTunes release of Robert Spano's Hölderlin-Lieder and her sophomore release with the Urtext label entitled "Classical Spanish Songs" with pianist L. Mark Carver.
Panamanian-American baritone Nmon Ford, a featured soloist on the 2010 Grammy Award-winning Transmigrations (Telarc) and the three-time Grammy Award-winning (including "Best Classical Recording") Songs of Innocence and of Experience (Naxos), has enjoyed many successful major debuts. In recent seasons, he sang both Scarpia (Tosca) and the title role in a new production of Billy Budd with Hamburg Opera, and with the Atlanta Symphony conducted by Robert Spano, he recorded Jennifer Higdon's Dooryard Bloom (written for Mr. Ford) and Vaughan Williams's Serenade to Music for Telarc. He made his Ravinia Festival debut with James Conlon conducting the Chicago Symphony in Shostakovich's Symphony No. 13, Babi Yar, which he also performed with Maestro Conlon and the Los Angeles Philharmonic at Disney Concert Hall. Additional engagements include Orff's Carmina burana with the Pittsburgh Symphony conducted by Rafael Frühbeck de Burgos and the role of Amfortas (Parsifal) with Los Angeles Opera, in a production by Robert Wilson starring Plácido Domingo and conducted by Kent Nagano. He received critical acclaim at Spoleto Festival USA in the title role of Mozart's Don Giovanni, in a production by Günter Krämer conducted by Emmanuel Villaume.
Milwaukee Symphony Chorus, directed by Lee Erickson, has become one of the finest symphony choruses in the country. Founded in 1976 by Margaret Hawkins at the request of the MSO's second music director, Kenneth Schermerhorn, the 150 volunteer members are dedicated to artistic excellence and performances of the highest caliber. The Chorus performs with the MSO throughout each season and also performs regularly at Ravinia with the Chicago Symphony Orchestra. In addition, the chorus is featured on many of the MSO's recordings, including the current MSO Classics digital series. The 2014.15 season includes performances of Mozart's Don Giovanni, Brahms's German Requiem, and Orff's Carmina burana. Chamber groups from the chorus also perform Handel's Messiah in December. The 2013.14 season included performances of Ravel's Daphnis et Chloé, Schubert's Mass No. 6, and Beethoven's Ninth Symphony.
ABOUT THE PERFORMANCE
Brahms's Requiem
Robert Spano, conductor
Jessica Rivera, soprano
Nmon Ford, baritone
Milwaukee Symphony Chorus, Lee Erickson, director
Uihlein Hall, Marcus Center for the Performing Arts
Friday, October 10 | 8:00 p.m.
Saturday, October 11 | 8:00 p.m.
Sunday, October 12 | 2:30 p.m.
Tickets range from $25-105. For more information, please call 414.291.7605 or visit mso.org. Tickets may also be purchased through the Marcus Center Box Office at 414.273.7206.
ABOUT THE MSO
The Milwaukee Symphony Orchestra, under the dynamic leadership of Music Director Edo de Waart, is among the finest orchestras in the nation and the largest cultural institution in Wisconsin. Now in his sixth season with the MSO, Maestro de Waart has led sold-out concerts, elicited critical acclaim, and conducted a celebrated performance at Carnegie Hall on May 11, 2012. The MSO's full-time professional musicians perform over 135 classics, pops, family, education, and community concerts each season in venues throughout the state. Since its inception in 1959, the MSO has found innovative ways to give music a home in the region, develop music appreciation and talent among area youth, and raise the national reputation of Milwaukee.
Mentioned in This Press Release
Recent Press Releases by Milwaukee Symphony Orchestra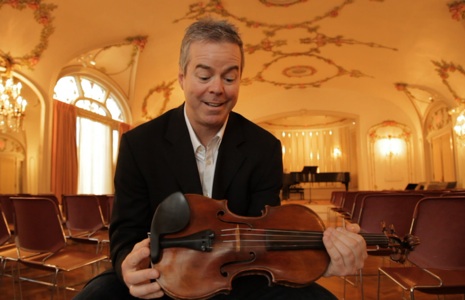 Sep 20th, 2019 by Milwaukee Symphony Orchestra
As the Charles and Marie Caestecker Concertmaster Chair of the MSO, Almond holds arguably the most prestigious and visible role within the orchestra.