Press Release
Milwaukee Symphony Orchestra Pops Season Opens With Classical Mystery Tour
Performing with the orchestra are Jim Owen, Benjamin Chadwick, David John, and Chris Camilleri.
MILWAUKEE, WIS. 09/09/2014 – The Milwaukee Symphony Orchestra Pops series opens with Classical Mystery Tour on September 26-28, 2014 at the Marcus Center for the Performing Arts. Guest conductor Martin Herman will lead the orchestra in the best of The Beatles, including "Penny Lane," "Yesterday," and "I Am the Walrus."
Performing with the orchestra are Jim Owen, rhythm guitar, piano, and vocals; Benjamin Chadwick, bass guitar, piano, and vocals; David John, lead guitar and vocals; and Chris Camilleri, drum set and vocals. Conductor Martin Herman transcribed the scores from recordings to create a concert of Beatles favorites mixed with a symphony orchestra.
ABOUT THE ARTISTS
A resident of Los Angeles, Martin Herman is an active conductor/composer and arranger. As a long time Beatles and McCartney fan, Martin was commissioned to provide the orchestral transcriptions heard on the Live and Let Die show. Since 2000, Martin has appeared as a guest conductor with such orchestras as the Detroit, Sydney, Melbourne, Pittsburgh, Dallas, Vancouver, Edmonton, San Diego, New Jersey, Fort Worth, Florida, and Berlin symphonies, and the Philharmonia Chamber Orchestra in the Czech Republic.
Martin studied conducting and composition at Duke University, University of Pennsylvania, and University of California at Berkeley, and he spent two years in Paris on a Fulbright Grant where he worked as a composer and conductor with the New American Music in Europe and American Music Week festivals. He has awards from the American Music Center, the Camargo Foundation, Trust for Mutual Understanding, and the National Endowment for the Arts.
Jim Owen was born and raised in Huntington Beach, California. He gained rich musical experience from his father who played music from the classics on the piano and from his extensive library of recordings by great classical artists. He was eight years old when he first heard The Beatles and promptly decided to take up the study of the guitar. At age 18, he began touring internationally with various productions of Beatlemania, visiting Japan, Korea, China, Canada, Mexico, and much of South America. In 1996, Owen began working on his idea for a new show with orchestra. It has long been his dream to share with the public live performances of some of the greatest music ever written and recorded. Classical Mystery Tour is the result. Most recently, Jim became associate producer of the dance musical Shag with a Twist, which premiered in Los Angeles in 2005 and debuted in Las Vegas in July 2006.
Benjamin Chadwick first heard the Beatles around the house when he was growing up, but once he witnessed "Twist and Shout" in the movie "Ferris Bueller's Day Off," he was instantly hooked on all things Beatles. Benjamin has been performing music in some form or another for more than 20 years (since he first picked up a tennis racket at the age of 10 and pretended it was a guitar). Self-taught in voice, guitar, bass, piano, drums, and ukulele, he brings experience and talent to every appearance. There is nothing more important to him than sharing music with others and his unique brand of entertainment will allow him to continue doing this as long as there are people listening.
David John, originally from Nebraska but now living in Salt Lake City, Utah, has been performing in various musical acts since the age of 17. From rock, blues, country, progressive, and guitar orchestra pit, he's covered it all, and has shared the stage with such notable names as Beach Boys, Chicago, Peter Noone & Herman's Hermits, Young Rascals, Glen Campbell, America, Kansas, Styx, Peter Frampton, Hall & Oates, Hootie & the Blowfish, John Waite, Big Bad Voodoo Daddy, and the Temptations. But David's main musical love captured his attention when The Beatles performed in America for the first time on the Ed Sullivan show. Inspired by what he saw and heard, David focused on singing and playing guitar and feels privileged to portray the "quiet, spiritual" one in the group. Since 1993 he has taken the stage with a variety of Beatle tribute bands, but especially enjoys teaming up with a full orchestra to authentically reproduce the original recordings in a live concert setting.
Born and raised on Long Island, New York, Chris Camilleri had a convenient drum teacher, his dad. He started listening to Beatles records at a young age, and for many years played drums and sang along to the recordings. Gradually, Chris gravitated to progressive rock bands, but retained a fondness for The Beatles and eventually formed the internationally-renowned Beatles cover band Liverpool, which still reunites to perform at the Fests for Beatles Fans (formerly Beatlefest). Chris has played drums for a variety of touring artists, including Peter Noone (of Herman's Hermits fame), Badfinger, Micky Dolenz, Joe Walsh, and other Beatles-era bands. When not playing music, Chris has an active commercial and voice-over career. While he doesn't have a favorite Beatles song in the Classical Mystery Tour show, Chris admits he favors the material that features the full orchestra. "It's like playing in my living room at age 13 again – there's the wonderful 'pop' music, but with this huge orchestral background, which is just as important to the tune as the band. It's completely enlightening."
ABOUT THE PERFORMANCE
Classical Mystery Tour
Martin Herman, conductor
Jim Owen, rhythm guitar, piano, vocals
Benjamin Chadwick, bass guitar, piano, vocals
David John, lead guitar, vocals
Chris Camilleri, drum set, vocals
Uihlein Hall, Marcus Center for the Performing Arts
Friday, September 26 | 8:00 p.m.
Saturday, September 27 | 8:00 p.m.
Sunday, September 28 | 2:30 p.m.
Tickets range from $25-105. For more information, please call 414.291.7605 or visit mso.org. Tickets may also be purchased through the Marcus Center Box Office at 414.273.7206.
ABOUT THE MSO
The Milwaukee Symphony Orchestra, under the dynamic leadership of Music Director Edo de Waart, is among the finest orchestras in the nation and the largest cultural institution in Wisconsin. Now in his sixth season with the MSO, Maestro de Waart has led sold-out concerts, elicited critical acclaim, and conducted a celebrated performance at Carnegie Hall on May 11, 2012. The MSO's full-time professional musicians perform over 135 classics, pops, family, education, and community concerts each season in venues throughout the state. Since its inception in 1959, the MSO has found innovative ways to give music a home in the region, develop music appreciation and talent among area youth, and raise the national reputation of Milwaukee.
Mentioned in This Press Release
Recent Press Releases by Milwaukee Symphony Orchestra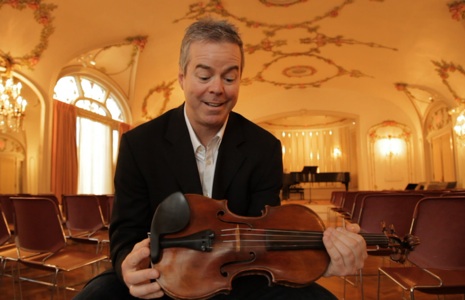 Sep 20th, 2019 by Milwaukee Symphony Orchestra
As the Charles and Marie Caestecker Concertmaster Chair of the MSO, Almond holds arguably the most prestigious and visible role within the orchestra.