Press Release
Milwaukee Symphony Orchestra Announces the 2014 Holiday House Nov. 6-9
Proceeds benefit Milwaukee Symphony Orchestra
MILWAUKEE, WIS. 10/10/2014 – Forte, the Milwaukee Symphony Orchestra Volunteer League, announces the 2014 Holiday House from November 6-9, 2014 at 2597 N. Maryland Avenue, Milwaukee. The restored Victorian home in Murray Hill, built circa 1891 and currently owned by Dr. Mark Hackbarth and Eric Nelson, will be open to the public daily from 10:00 a.m. to 4:00 p.m. to showcase the holiday transformation by top Milwaukee designers. Admission is $20 for the general public and $10 for volunteers and groups of 10 or more.
Highlights of the Holiday House include:
Thematic décor featuring ten of Milwaukee's top interior designers
Decorator items, fresh holiday greenery, and homemade cookies, candies, and other goodies available for purchase
Holiday Raffle with proceeds benefitting the Milwaukee Symphony Orchestra
Opportunity to Sponsor-A-Musician with a $300 donation
In addition to daily tours, the Holiday House will host two special events: a Red Tie Preview Party on November 6, 2014 with cocktails, appetizers, and music by MSO Principal Bassoon Ted Soluri; and a Wine and Cheese Evening on November 7, 2014 with wine, cheese, holiday treats, and music by MSO first violinist Dylana Leung.
TICKET INFORMATION
November 6-9, 2014 | 10:00 a.m. to 4:00 p.m.
$20 per person at the door ($15 if pre-purchased by November 4 at the MSO offices)
$10 for volunteers or groups of 10 or more
Thursday, November 6, 2014 | 6:00 p.m. to 9:00 p.m.
$100 Premier Admission (includes $25 donation to Audrey G. Baird Education Endowment Fund)
$75 General Admission
Friday, November 7, 2014 | 6:00 p.m. to 9:00 p.m.
$45 General Admission
To purchase tickets or with questions, contact June Terrasi at terrasij@mso.org or call 414.291.7839.
EVENT PARTICIPANTS
Designers:           Aubrey Johnson & Lance Kleeba (living room)
Susan Fredman Design Group Ltd. (master bedroom and bath)
Johnson's Nursery (front entrance)
Peabody's Interiors (dining room)
Remington Ideas (den and guest room)
Renaissance Design & Renovation (kitchen and butler's pantry)
Room Revival/Holiday Helper (martini lounge, foyer, staircase, kitchen)
Sue Wiechmann (martini lounge, foyer, and staircase)
Winkie's (den and guest room)
Wreath Factory/Otter Creek Landscape (sunroom and deck)
Event Chairs:      Matt Pamperin & Linda Tojek
Sponsors:            Ellenbecker Investment Group
Roundy's
ABOUT FORTE
Forte, the MSO Volunteer League, supports the Milwaukee Symphony Orchestra and its goals through fundraising projects, educational programs, and audience development. For over 50 years, Forte has supported the MSO with enthusiasm, a broad range of talents, and generous philanthropy. The commitment of the Forte volunteers and members is proudly reflected in its national, award-winning projects. These achievements are the direct result of those with experience and community interests who value the MSO's contribution to the quality of life in Milwaukee.
ABOUT THE MSO
The Milwaukee Symphony Orchestra, under the dynamic leadership of Music Director Edo de Waart, is among the finest orchestras in the nation and the largest cultural institution in Wisconsin. Now in his sixth season with the MSO, Maestro de Waart has led sold-out concerts, elicited critical acclaim, and conducted a celebrated performance at Carnegie Hall on May 11, 2012. The MSO's full-time professional musicians perform over 135 classics, pops, family, education, and community concerts each season in venues throughout the state. Since its inception in 1959, the MSO has found innovative ways to give music a home in the region, develop music appreciation and talent among area youth, and raise the national reputation of Milwaukee.
Mentioned in This Press Release
Recent Press Releases by Milwaukee Symphony Orchestra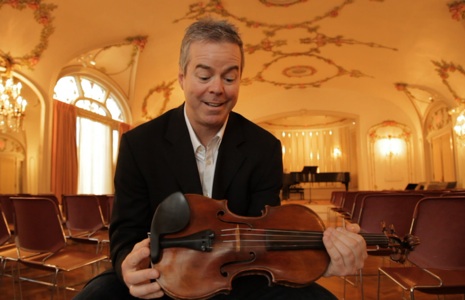 Sep 20th, 2019 by Milwaukee Symphony Orchestra
As the Charles and Marie Caestecker Concertmaster Chair of the MSO, Almond holds arguably the most prestigious and visible role within the orchestra.